Ariana Grande recalls Manchester bombing, holds back tears in first TV interview since attack
Ariana Grande teared up during her first TV show appearance since the Manchester arena bombing last year.
On Wednesday night, the singer sat down with Jimmy Fallon on "The Tonight Show" and became visibly emotional while in the guest chair.
"I haven't seen you in over a year probably and I haven't seen you since the tragic events that happened in Manchester," Fallon said to Grande. "I know it's just tough for everybody, tough for fans and tough for you, and I know you haven't done any interviews, and I understand that."
Fallon continued to praise Grande, who performed her hit song "No Tears Left to Cry" during the show, for her bravery during the tragic event where 22 people were killed.
"I just wanted to say thank you so much for coming on the show and for being strong and for entertaining and for showing up and going back to Manchester and doing a benefit," Fallon told the 24-year-old.
Grande, who began to tear up as Fallon commended her, responded with a simple, "Thank you."
Since the May 22, 2017 attack, Grande has continued to perform and honor those lost during her show in Manchester on that fatal day.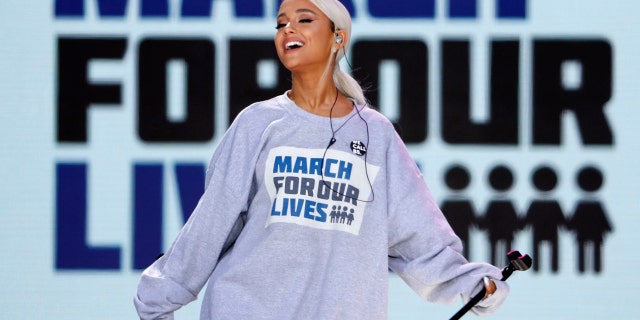 The singer organized the One Love Manchester Benefit concert on June 4, 2017, which featured performances from Grande, Katy Perry, Justin Bieber, Coldplay, Miley Cyrus, Pharrell Williams, One Director and more. The concert raised $3 million for the or the Manchester Emergency Fund.
Grande was also one of the celebrity performances at the recent March For Our Lives protest in Washington, D.C. on March 24. The protest, which advocated for stronger enforced gun laws, was organized by students of the high school where 17 people were killed in the February 14 shooting in Parkland, FL.
While on Fallon, the "Side to Side" singer also revealed that her new album, "Sweetener," will be released this summer.