'America's Got Talent' semifinals recap: Singers underwhelm compared to everyone else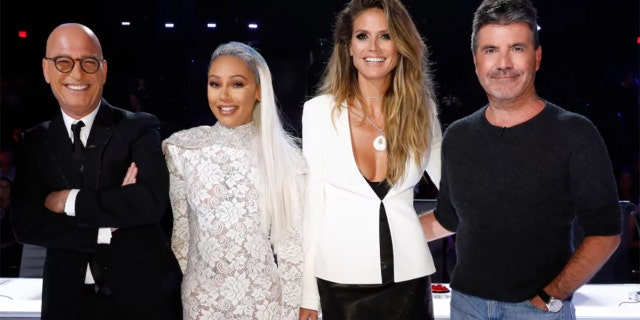 It's down to the wire on this season of "America's Got Talent" as the semifinals kick off to whittle the crop of performers down to just 5 finalists.
All 11 acts gave it their all on stage with singers, magicians and more trying to impress both the judges and the American voting public. Things kicked off with 9-year-old diva Celine Tam. Spurred on by her quest for fame and her desire to meet her idol, Celine Dion, she took the stage for a much more musical performance from the film "Moana." Simon loved her, but Mel B felt that the song overpowered her and didn't give her a chance to showcase her voice. Fortunately, Simon and the crowd seemed thoroughly on Tam's side.
After that, things took a turn for the surreal with the odd detective act that is Colin Cloud. Last week, he was told that his performance was a bit too convoluted and lacked showmanship. This week, he compensated by adding more levity and action to his performance, but didn't get any less complicated. Fortunately, it worked in his favor.
On September 7th, the performer asked fans on Twitter to suggest a celebrity, city and object. He gave each audience member a card with some replies to said tweet. Out of literally a quadrillion potential options, he had the judges select just the one that he wanted. And, to prove that he wasn't just making it up, he disguised himself for a week and stood in the background of the judge's interviews and even stalked Howie Mandel at lunch, with signs predicting the winner. That, coupled with jokes like him being the evil twin of Neil Patrick Harris, earned him his highest marks from the judges yet.
Christian Giordano took the stage next. Another singer, he opted for a more stripped down performance that showcased his voice and got the judges on their feet. Mel B was his biggest proponent saying that he should be put through immediately to the next round. However, the singers were really coming out to play tonight, as he was closely followed by the group In The Stairwell, made up entirely of members of the U.S. air force. They opened with a tribute to the victims of the 9/11 attacks and how it inspired them to join the armed services. They dedicated their rendition of Ed Sheeran's "Castle On The Hill" to those in the military and their families as well. They too received a standing ovation and even brought a tear to Mel B's eye. It's clear that, especially for the singers, the competition is tough.
It was clear that if anyone had a chance, they'd have to take things up to the next level. No one took that to heart more than Merrick Hanna, who did his usual robot dancing, but this time incorporated a bit of high-wire. Not only did the judges love it, but the crowd seemed to as well.
From there, it was back to singers, but no ordinary singer. Mandy Harvey lost her sense of hearing, so every time she comes on stage and masterfully carries a tune, it's more than impressive in and of itself. Simon praised her song as "breathtaking" and compared it to the first time he heard Adele sing. Again, the competition is very difficult for the musical acts.
It simply wouldn't be an episode of "America's Got Talent" without a small mishap. During the Pompeyo Family's dog dance performance, the critters broke from their routine and ran toward the judges' table. The family was back as a wild card act after being voted off the show. The act went on flawlessly after that, still earning praise from the judges. However, it's tough to see them moving on to the next round. Especially with acts like Diavolo remaining in the competition, who brought yet another acrobatic party to the stage.
Kechi came next. The singer has made a name for herself by chasing her dreams in the wake of her terrible plane accident. Undeterred by her scarring, she's showing the world that her art transcends her looks and her past. She gave a stripped down performance that showcased her voice and earned glowing praise from the crowd.
However, it was difficult to look at singers like Angelica Hale, who closed out the show, over impressive acts like the episode's penultimate act, Light Balance. The group uses lights and dance to tell a story and put on what Howie called a million dollar show. With so many singers watering each other down, it was impressive to see something with genuine work and artistry behind it. The question now is, will it be enough to win America's vote?
Fans can vote for their favorite act until 7 a.m. EST on Sept. 13.