Alanis Morissette grows up, sings about love toward her child over angst for her exes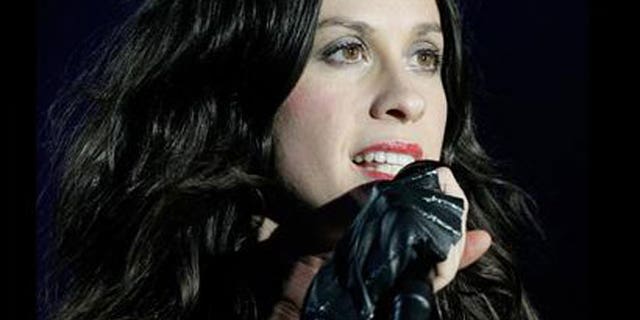 In 1995, at barely 21 years old, Alanis Morissette helped to transform the genre of female rock with the cataclysmic release of "Jagged Little Pill," a powerfully bitter, angst-filled, world-renowned album that spoke of lying ex-boyfriends, the ironies of life and the pressure to be perfect.
But fast forward to 2012, and the married mother of one has changed her tune with new album "Havoc and Bright Lights" – still a soulful search into the many aspects of life and love, but a prominent departure from "inappropriately" going after those former flames.
"The first song that I wrote for the record was called 'Guardian.' The chorus is about this mama-bear, this super appropriate maternal energy going towards my son as opposed to ex-boyfriends in a really inappropriate way," she told FOX411's Pop Tarts column. "The verses were about me noticing that I wasn't offering that sort of love to myself and that I might benefit from doing that. Just the bravery, marriage and becoming a mom has allowed me to be braver in terms of being vulnerable and intimate and committing."
However, the journey has had many bumps in the road including battles with food addiction and postpartum depression – but it seems Morissette has finally found a happy balance in her life.
"With a newborn, there's no schedule but I do believe discipline and structure meets inspiration halfway for me. It gets things done," she continued. "One of the sweetest moments for me is when the song is finished and I feel like the four minutes, or somewhere in there, really marks a theme or an idea that I really wanted to share. Performing them for the first time too becomes quite exciting, because it renders them really physical and visceral, and the emotion can go into the body. The baby is on tour with me, and my husband, so it is personal, professional and vocational all coming together in a lovely integration."
But if you thought Morissette was all about exploring deep-seated emotions and exerting social activism, think again. This rocker has learned not to judge her "girly girl" side, and doesn't turn her back on the tabloids.
"I love purses as much as music. I love looking at what people wearing," she noted with a cheeky smile at her Los Angeles listening party last week. "I love knowing who was just born."
"Havoc and Bright Lights" is slated for U.S. release Tuesday, August 28