A year of glory: Gold medalist Laurie Hernandez wins 'Dancing with the Stars'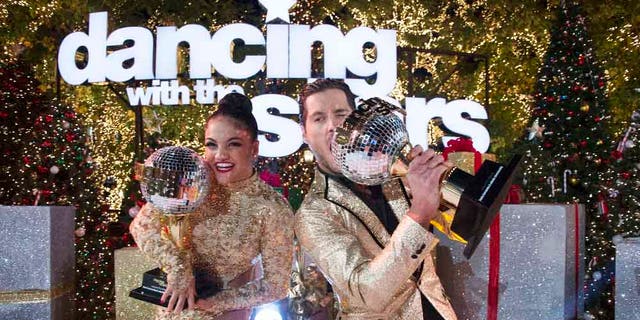 Laurie Hernandez, the Olympic gold medalist with a great smile, has added one more crown to her 2016 haul, after winning the two-episode finale of "Dancing with the Stars" crown Tuesday night.
Hernandez, 16, and partner Val Chmerkovskiy received a perfect score for one of their dances during the finale and 38 points out of a possible 40 for another.
They beat out Canadian race car driver James Hinchcliffe and his partner, Sharna Burgess, for the crown. Former NFL star wide receiver Calvin Johnson and partner Lindsay Arnold came in third.
Hernandez told host Tom Bergeron that the trophy is another step in her goal to "inspire others" as she goes on with her journey.
In a recent interview with Fox News Latino, Hernandez said the most challenging aspect of the competition was not the physicality.
"The heels played a big role. For gymnastics you're barefoot 100 percent of the time," she said.
Hernandez is known for her dazzling floor exercise routine, where she has been nicknamed "baby Shakira" and the "human emoji" for her vivacious facial expressions and for her grace and artistry on the balance beam.
In the whirlwind of the last few months, Hernandez has met numerous celebrities as well as President Obama and first lady Michelle Obama.
She's been invited to be in this year's Macy's Day Parade, which she said is just "insane."
"For Thanksgiving it was our [family] tradition top watch the parade ... and yeah, I am going to be in the parade this year ... It's like insane!" she said. "My 5-year-old self is giving me a high five right now."
With reporting by the Associated Press.