World leaders react to inauguration: Russia aims to fix relations that 'fell apart'
Russia says relations with the United States "completely fell apart" during President Obama's second term -- but Moscow is confident that "reason will prevail" as Donald Trump takes office Friday.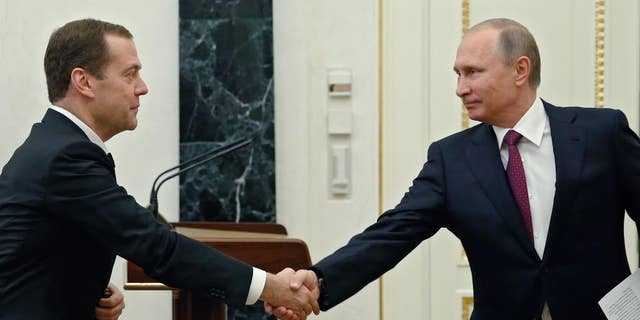 RUSSIAN BUSINESSMAN MINTS 'IN TRUMP WE TRUST' COIN
Prime Minister Dmitry Medvedev was one of the world leaders weighing in on America's transfer of power Friday. He promised in a Facebook message, "We are ready to do our share of the work in order to improve the relationship." He referenced "the new administration," but did not mention Trump by name.
President Vladimir Putin probably didn't watch the inauguration, spokesman Dmitry Peskov told reporters. "It is a long event. But of course he will familiarize himself with it."
OBAMA POSTS FINAL TWEETS FROM OFFICIAL PRESIDENTIAL TWITTER ACCOUNT
However, people across Russia had plenty of opportunities to watch President Trump's swearing-in. State TV stations carried flattering reports Friday all about Trump's business and political achievements.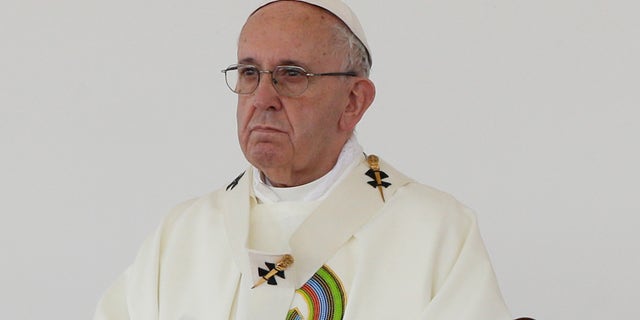 Russian officials did not mince words about the Obama administration. Medvedev said the U.S. hit Russia with economic penalties of "unprecedented proportions," adding, "It doesn't get any dumber than restricting entry to the United States for the leadership of the Russian parliament, ministers and businessmen, thus deliberately reducing the possibility of full-fledged contacts and closing the window to cooperation."
President Vladimir Putin took his own parting shot this week. He said the Obama administration was trying to undermine Trump's legitimacy with false accusations, including the unverified dossier released by Buzzfeed, "binding the president-elect hand and foot to prevent him from fulfilling his election promises."
Medvedev, who served as president in 2008-2012 when Putin had to shift into the premier's seat due to term limits, led during a period of warmer ties during Obama's first term. In 2009, then-Secretary of State Hillary Clinton publicly presented Russian Foreign Minister Sergei Lavrov with a "reset" button signaling an attempt at cooling off any hostilities.
China responded with caution. No stranger to censorship, the country reportedly blocked its media from showing photos or video from the inauguration.
Meanwhile, Japanese Prime Minister Shinzo Abe congratulated Trump in a statement Friday, saying, "Please accept my best wishes for your great success."
Abe pledged to return to the U.S. as soon as he could, "to further strengthen the bond with new President Trump." He was also among the first world leaders to personally congratulate Trump after his election in November.
Pope Francis added, "Under your leadership, may America's stature continue to be measured above all by its concern for the poor, the outcast and those in need who, like Lazarus, stand before our door." The Catholic leader seemingly alluded to Trump in recent months by urging against the politics of "building walls."
The Associated Press contributed to this report.