WikiLeaks Posts Huge Encrypted 'Insurance' File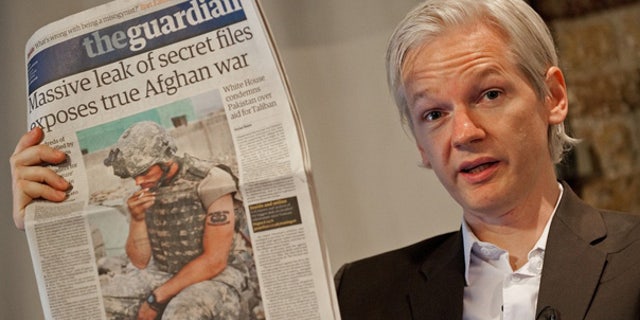 LONDON -- Online whistle-blower WikiLeaks has posted a huge encrypted file named "Insurance" to its website, sparking speculation that those behind the organization may be prepared to release more classified information if authorities interfere with them.
At 1.4 gigabytes, the file is 20 times larger than the batch of 77,000 secret U.S. military documents about Afghanistan that WikiLeaks dumped onto the Web last month, and cryptographers say that the file is virtually impossible to crack -- unless WikiLeaks releases the key used to encode the material.
"There's no way that anyone has any chance of figuring out what's in there," Paul Kocher, president of US-based Cryptography Research, said Thursday.
That hasn't stopped bloggers and journalists from speculating. Some say the files could be the 15,000 or so intelligence reports which WikiLeaks says it's held back for vetting. Others, pointing to its enormous size, say it could be a compilation of the 260,000 classified diplomatic cables allegedly accessed by Army intelligence analyst Bradley Manning.
State Department spokesman P.J. Crowley acknowledged Thursday that the government suspects that WikiLeaks is sitting on at least some of its message traffic. The organization itself is keeping mum, at least in public.
"We do not discuss security procedures," WikiLeaks said in an e-mail response to questions about the file.
Editor-in-chief Julian Assange was a bit more expansive -- if equally cryptic -- in his response to the same line of questioning in a television interview with independent U.S. news network Democracy Now! earlier this week.
"I think it's better that we don't comment on that," Assange said, according to the network's transcript of the interview. "But, you know, one could imagine in a similar situation that it might be worth ensuring that important parts of history do not disappear."
Cryptographers say that the file was likely made using a 256-bit encryption standard known as AES256, which the U.S. government and others employ to mask some of their most sensitive data.
"It is widely viewed as extremely strong," said cryptography pioneer Whitfield Diffie, of Britain's Royal Holloway College. He said there were no known instances of anyone being able to beat the standard.
Kocher, of Cryptography Research, agreed, saying that the only conceivable way anyone outside of WikiLeaks could decode "Insurance" was if Assange and his colleagues had used a blatantly obvious password or experienced some kind of "catastrophic algorithm error."
"We're not going to find out what's in that file unless somebody reveals the key," Kocher said.
It's not clear when -- if ever -- that might happen. WikiLeaks has so far refused to discuss the file, its contents, or when they might be released. And while the group has boasted about sitting on a huge wealth of leaked data from all over the world, Assange has declined to answer questions about whether WikiLeaks has the State Department cables, and, if it does, whether and when it plans to publish them.
Manning, currently jailed on suspicion of leaking classified material to WikiLeaks in a previous case, has been quoted as saying that the cables would expose "almost criminal political back dealings" and that Secretary of State Hillary Rodham Clinton would "have a heart attack" when the files went public.
Both Diffie and Kocher said that the size of the file indicated that there was a huge amount of data being encrypted, although what the original file actually contains is anyone's guess.
"The question is," Kocher said, "is it a bluff or is it something more substantial?"