Venezuelan Elections: The Stakes Are High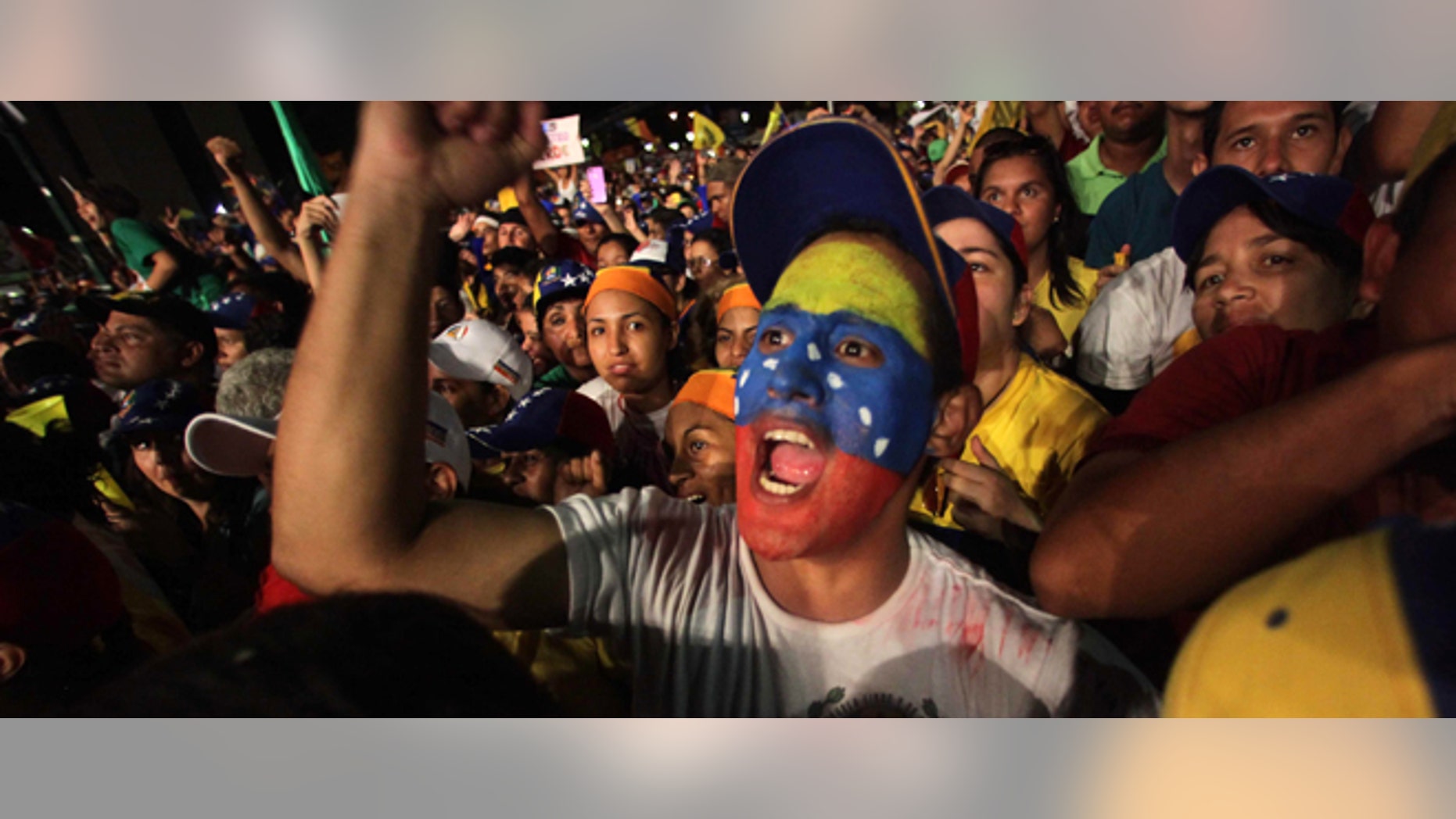 Venezuelans are heading to the polls in what is considered one of Latin America's most important elections in years.
After 14 years in power, the polarizing and controversial socialist President Hugo Chávez faces his toughest challenger yet -- the center-right candidate Henrique Capriles.
When Chávez came to power in 1999 he was the first a wave of left-wing Latin America leaders known as the "Pink Tide" to gain high political office in the region.
Along with Bolivia's Evo Morales and Ecuador's Rafael Correa, Chávez has established a firm ideological base in the region based on a strong opposition to the United States, support for Cuba's Fidel Castro, a nationalizing of many sectors of the economy and the pursuit of socialist policies under his so-called "Bolivarian Revolution."
Chávez's policies and social reforms have won him the adulation of many of Venezuela's underprivileged, but he has become a pariah for the country's business class and the U.S. government.
Capriles has posited himself throughout the election season as a moderate voice a reason who will return democracy to Venezuela.
The 40-year-old politician cites former Brazilian President Luiz Ignácio Lula da Silva as his political inspiration because of his ability to develop social programs to help the country's poor while still successfully courting businesses and investors.
On the campaign trail, Capriles has criticized Venezuela's soaring violent crime rate and attacked Chávez's ability to rule after the 2011 announcement that he had cancer.
Bad blood between Capriles and Chávez dates back to 2002 when Capriles, then the former mayor of Baruta, a district within the capital of Caracas, was imprisoned during a failed coup attempt.
Despite the Movimiento Primero Justicia (Justice First) party candidate's opposition to Chávez's nationalization push, Capriles said that he would not immediatly return assets appropriated to private owners if elected. He has also praised Chávez's push to construct health clinics and schools in lower-income neighborhoods.
"It's going to be a very close election," said Christopher Sabatini, the editor-in-chief of the Americas Quarterly. "For the first time Venezuela has a candidate that can defeat Chavismo, not Chávez, but Chavismo."
As the election looms Sunday, here is a breakdown of what is at stake for Venezuela – and the rest of the region – as the country goes to the polls:
U.S. Relations: Since Hugo Chávez took office in 1998, dealings between the U.S. and Venezuela have been icy, to say the least. Tensions between the two countries rose in 2002, when Venezuela accused the administration of George W. Bush of supporting the Venezuelan failed coup attempt in 2002 against Chávez. Relations continued to sour when Venezuela broke off diplomatic relations with the U.S. in September 2008. It was Chavez's show of solidarity with Bolivia's Morales government after the U.S. ambassador in Bolivia was accused of cooperating with violent anti-government groups. Relations improved somewhat  under the presidency of Barack Obama, with whom Chávez said he wanted to be friends. But tensions are still high between the nations, due in large part to U.S. foreign policy and Chávez's support of countries such as Iran and Cuba, as well as his inflammatory statements about the U.S.
If Chávez wins re-election, the status quo likely will remain the same, but a Capriles victory could lead to an opening in relations between the two countries. "A Capriles win would also likely spur a shift in Venezuela's foreign relations," wrote Brianna Lee of the Council of Foreign Realtions. "If Capriles wins the presidency, it could 'put Venezuela on a more democratic course' and allow the country to revise these relationships."
As of now, U.S.-Venezuelan relations are still economically strong as the U.S. is still the country's largest trading partner, but the countries could use some work in all the other areas.
Regional Politics: Under Chávez, Venezuela has forged strong ties with other leftist countries, especially with Bolivia, Ecuador, Nicaragua and Cuba. Culminating in the formation of the Bolivarian Alliance for the Americas (ALBA, in Spanish), Venezuela has set up a base to counter U.S. influence in Latin America and through the Organization of American States (OAS).  While Chávez has become close friends with members of  ALBA – and to lesser extent with Brazil and Argentina – he has also made enemies with neighbors, most notably Colombia.
As the U.S.'s closest ally in South America, Colombia has butted heads with Venezuela for years – especially during the administration of former President Alvaro Uribe. In 2008, the Andean Diplomatic Crisis –which arose after Colombian troops incurred on Ecuadoran territory during a raid on a Revolutionary Armed Forces of Colombia camp – saw Venezuela send troops to its border with Colombia and sever diplomatic ties with the country. While no military action was taken, there were threats and the crisis shaped relations in the waning days of the Uribe administration.
During the first days of his tenure Colombian President Juan Manuel Santos restored ties with Venezuela and the two leaders met to work out their nation's differences. While relations are currently far from ideal - especially given the 2010 diplomatic stand-off over allegations in July by Uribe that the Venezuelan government was actively permitting guerrillas to seek safe haven in its territory – the two countries appear to be on amiable terms.
"Santos has played a huge role with Venezuelan relations, which has led to things that not have happened under his predecessor," Sabatini said.
A Chávez reelection leaves the door wide open for anything to happen. While Colombia's Santos seems content to keep relations friendly, the unpredictable Chávez is prone to quick changes of heart and something similar to the Andean crisis could happen again. Capriles has already made strides to gain friendship with Colombia, as he recently pledged to help Colombia in its peace talks with the FARC, distance the country from Iran and demand the freedom of some 30 Venezuelans kidnapped in Colombia. Capriles also said that he would review the presence of more than 40,000 Cuban workers who are in Venezuela in exchange for oil supplies with Cuban leader Raúl Castro.
Regional relations with Chávez may be unpredictable, but Latin American nations expect that. A Capriles victory could bring more stability, but as an untested leader on the world stage he still remains an unknown to many in the region.
Business Sector: The OPEC nation's economic growth and unemployment levels have actually remained stable under Chávez, but a Barclay's Capital report found that the county was on an unsustainable fiscal path under the socialist leader. If re-elected, Chávez will need to make sharp adjustment in the economy and that won't be easy, given he has almost no support from the country's dwindling business sector, the report stated.
For his part, Capriles understands the dire straits the country faces, and has argued that he will try to reverse Chávez's nationalization moves and other reforms, but only gradually so as to not tip the scales of the country's fragile economy.
Capriles has also said that he won't give any oil to other nations – a trademark move of Chávez – until Venezuela's own needs are met. Venezuela's lack of oil is paradoxical for a nation that is estimated to have had 21 billion barrels of oil in reserves in 2011, according to the Oil and Gas Journal, and that only 10 years ago exported gasoline to other countries, including the United States.
Crime: The biggest concern for Venezuelan voters is certainly crime. With one of the highest violent crime rates in the world and 92 homicides per 100,000 residents, Caracas has the third highest homicide rate of any large city in the world. There have also been 118,541 homicides in Venezuela between 1999 and 2010.
Capriles has preached that he will bring down the crime rate in the country and get tough on violent criminals, but an approach like that is a long-term strategy and the effects of his ideas would take years to show.
"There is a sense of the decay of law and anarchy in Venezuela," Sabatini said.