Venezuela Riots Claim Two More Lives In Caracas, U.N. Demands Investigation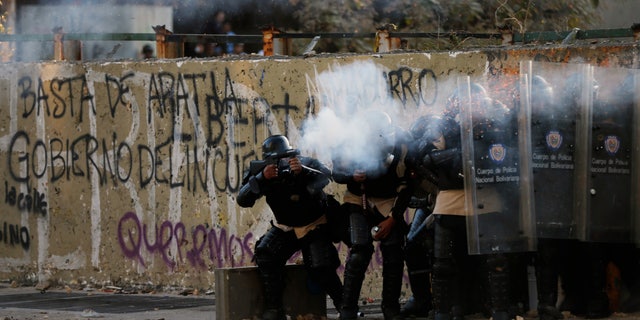 A National Guardsman and a civilian were killed Thursday in a clash between residents of a Caracas neighborhood and armed men who tried to remove a barricade, Venezuelan officials said.
National Assembly President Diosdado Cabello identified the guardsman as 25-year-old Acner Isaac Lopez Lyon, and said that motorcycle taxi driver Jose Gregorio Amaris was also killed while removing debris from the road.
Both were apparently shot Thursday morning after area residents began banging pots and throwing bottles at people taking down a street barricade. The opposition accuses the government of using armed civilian groups on motorcycles to break up demonstrations.
Just before the deaths were announced, the country's chief prosecutor said the death toll from the protests stood at 19 after weeks of student-led protests.
Barricades of garbage, furniture and burning tires have become a daily occurrence, snarling traffic in cities.
In a televised speech at a new government apartment building attended by actor Danny Glover, President Nicolas Maduro said the motorcyclist was removing debris so he could go about his job. After he was shot, the National Guard arrived to secure the area and Lopez Lyon was killed.
Maduro said a second motorcyclist was also seriously injured.
"Where are the opposition politicians to condemn these events, to search for peace like we're searching?" Maduro asked. He called those building the barricades "vandals who hate the people."
Meanwhile, United Nations human rights experts are demanding answers from Venezuela's government about the use of violence. Six experts with the U.N.'s top human rights body wrote to the administration of President Maduro about allegations of protesters being beaten and in some cases severely tortured by security forces, and taken to military facilities, cut off from communication and denied legal help.
"The recent violence amid protests in Venezuela need to be urgently and thoroughly investigated, and perpetrators must be held accountable," the experts said in a joint statement Thursday.
The Venezuelan economy's downward spiral helped trigger a wave of protests against Maduro in mid-February that has claimed more than a dozen lives.
Also on Thursday, the Venezuelan government declared the Panama ambassador and three other diplomats as "persona non grata" and gave them 48 hours to leave the country.
The previous day, Maduro announced he was breaking diplomatic relations with Panama and freezing bilateral economic links.
The announcement came after the Organization of American States said it is studying a request by Panama to call a meeting of foreign ministers regarding the situation in Venezuela.
The Venezuelan leader chided the Panamanian government for being a "lackey" and had harsh words for President Ricardo Martinelli, whom he accused of not being "worthy of his people" and of having been "actively working against Venezuela, creating conditions so that the OAS and other organizations take a step toward intervention" in the South American country.
"Nobody is going to conspire with impunity against our country to ask for an intervention against our homeland. That's enough, enough. I call on the people to unite in defense of sovereignty, of independence," Maduro shouted.
"Venezuela will be respected and I'm not going to accept anyone conspiring against Venezuela to ask for an international intervention against our peace and our sovereignty," he said.
The Venezuelan president made the announcement next to Chavez's coffin on the day commemorating the first anniversary of the death of the creator of the so-called "Socialism of the 21st Century" in Caracas.
Based on reporting by The Associated Press and EFE.
Follow us on twitter.com/foxnewslatino
Like us at facebook.com/foxnewslatino