US, UN push Europe to make strong return to peacekeeping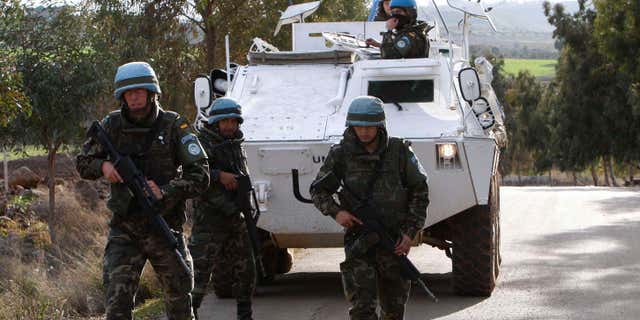 UNITED NATIONS – Russia's aggressiveness in the east. The Islamic State group's sudden rise in the south. As Europe finds new threats close to home, it's now being asked by the United States to make a strong return to peacekeeping around the world as well.
The U.N. on Friday convenes an unprecedented meeting of defense officials from more than 100 countries to seek support for the largest peacekeeping effort ever deployed, with nearly 130,000 personnel in 16 missions from Congo to the Golan Heights. They face growing threats from groups like the Islamic State that have little regard for traditional ideas of war and peace.
Following up in September, President Barack Obama will chair a meeting on the sidelines of the annual U.N. General Assembly of world leaders, with the goal of collecting countries' peacekeeping pledges after Friday's pitch by Secretary-General Ban Ki-moon and other top officials.
Obama's envoy to the U.N., Ambassador Samantha Power, this month made it clear that Europe is expected to step up and is needed "more than ever." Two decades ago, European nations contributed more than 40 percent of U.N. peacekeepers, she said in a speech in Brussels. It's less than 7 percent now.
This call from the United States, easily the biggest contributor to the U.N.'s peacekeeping budget at $2.5 billion, comes as tens of thousands of troops from European and other countries emerge from years of war in Iraq and Afghanistan. In her speech, Power envisioned the German and Dane helicopter pilots from Afghanistan doing similar work in Darfur, or Romanian and Czech patrols guarding bases in South Sudan.
If the U.N. had asked for this kind of help earlier, it would have been seen as competing with the U.S.-led military effort of the past decade, said Jean-Marie Guehenno, a former U.N. peacekeeping chief and the current president of the International Crisis Group.
"Now, when the U.S. says, 'You're our allies, and one of the best ways to show friendship is to contribute to the U.N.,' that's quite a signal," he told The Associated Press.
Europe may need some convincing. The image many still have of U.N. peacekeeping is of twin failures two decades ago. In the Rwandan genocide, an existing peacekeeping force was swiftly reduced from 2,000 to 270 after 10 Belgian peacekeepers were killed. In Bosnia, Dutch peacekeepers were overwhelmed by Bosnian Serb forces who went on to massacre 8,000 Muslim men at Srebrenica.
The U.N., which has no standing army, now heavily relies on troops from South Asia and Africa, whose countries make up the top 10 contributors. Bangladesh led the way with 9,446 peacekeepers as of the end of February. The United States had 119, less than any other permanent member of the Security Council except Russia, which had 72.
One problem in today's peacekeeping, officials and observers say, is that sheer numbers are not enough against groups like al-Qaeda that blur borders.
"Who of you would have thought a few years ago we would not see gruesome videos of hostages being beheaded on Mediterranean beaches?" Dutch Defense Chief Gen. Tom Middendorp told an international military conference this week, referring to the Islamic State group's emergence this year on Libya's shore.
Beyond manpower, the U.N. now needs peacekeepers who are skilled in, and equipped for, tasks such as intelligence work, strategic airlifts, medical evacuations and the growing use of drones.
"Many member states are still skeptical towards the U.N.'s ability to keep information classified and to prevent leaks," said Joachim Koops, the director of the Brussels-based Global Governance Institute and the coordinator of a new research network called Europe's Return to U.N. Peacekeeping.
That's on top of wider concerns, some real and some outdated, about the U.N.'s ability to protect its peacekeepers and about the gap between European and non-European troops in funding, training, equipment and even language, Koops said.
The deaths of two Dutch peacekeepers this month in a helicopter crash during the U.N. mission in Mali didn't help the call for Europe's assistance. The crash came just days after Power in her Brussels speech praised the Netherlands' recent deployment of 450 troops in its biggest return to peacekeeping since Bosnia.
The broader the base of troop contributors, the better, Guehenno said. U.N. peacekeeping shouldn't be seen as an extension of any of the powerful permanent members of the Security Council, but "it's hard to see how traditional peacekeeping would continue to take more and more risks if the countries that pushed them were not prepared to share that risk."
Both he and Koops pointed to Germany as a possible source in the coming years, and Koops said smaller European states like Ireland, Sweden and Austria are actively showing interest.
The demand to reshape U.N. peacekeeping has also led to the first major review of its operations in 15 years. Nobel peace laureate Jose Ramos-Horta leads the panel that is expected to present recommendations in September, as Obama is set to chair the U.N. meeting.
Ramos-Horta said he was struck by the fact that a U.N. peacekeeper costs about $2,000 a month, while a NATO soldier costs 10 times that. NATO does its own peacekeeping operations but also has strong interest in collective defense at home.
"This is not part of our mandate, but we believe richer countries should contribute more to the global effort to end wars, protect civilian population, building viable states and long-lasting peace," including through peacekeeping, Ramos-Horta said in an email.