US Navy plane joins hunt for 32 sailors after Iranian tanker collides with freighter off China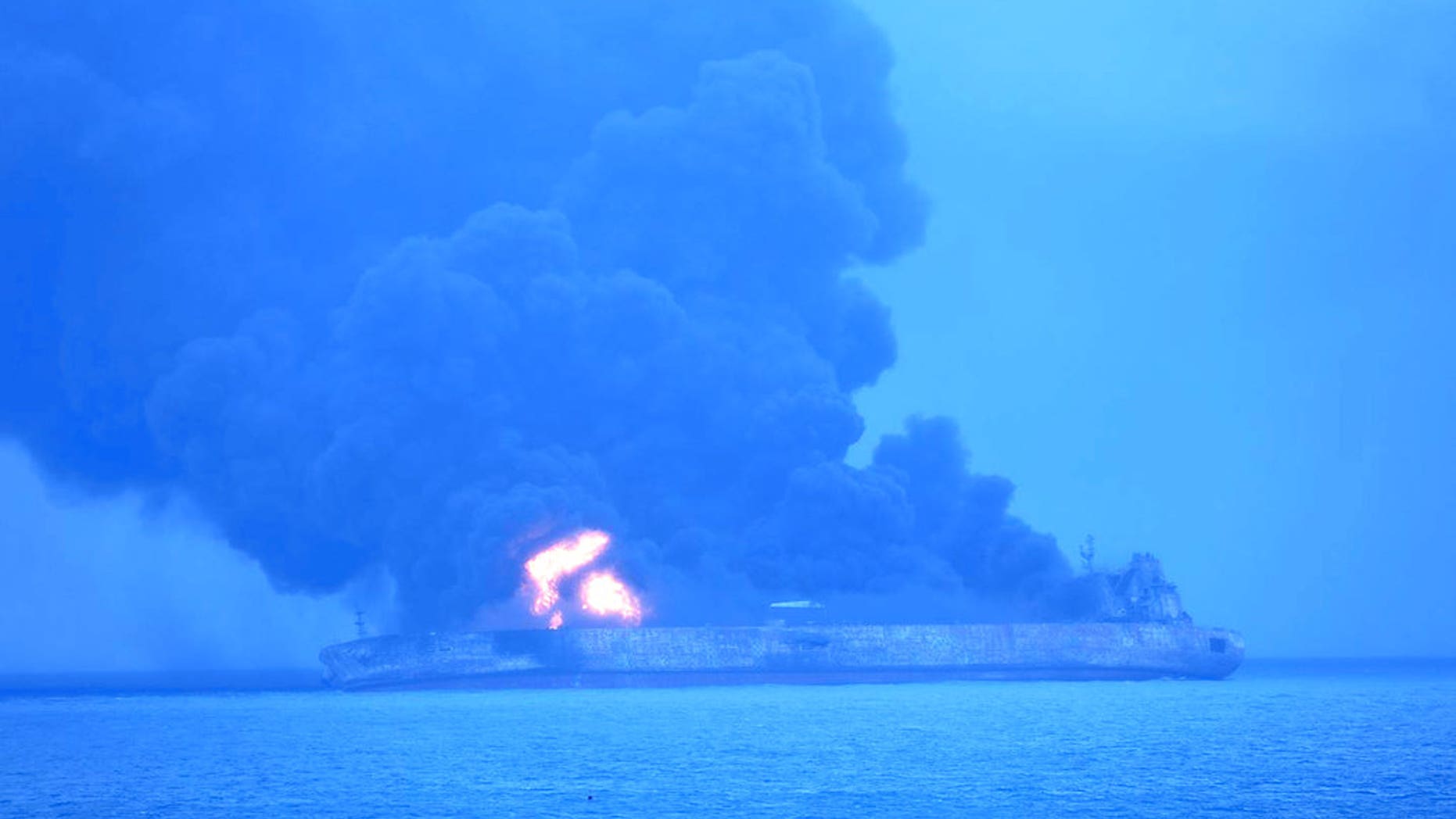 A U.S. Navy reconnaissance plane joined the hunt Sunday for 32 sailors after an Iranian tanker collided with a Chinese freighter off China's eastern coast, catching fire and spilling oil into the sea.
The crew — 30 Iranians and two Bangladeshis — on the tanker Sanchi was traveling from Iran to South Korea when it crashed into the Hong Kong-registered freighter CF Crystal in East China Sea, 160 miles off the coast of Shanghai, China's Ministry of Transport said. All 32 people on the Sanchi were missing as of Sunday, but the 21 crew members of the Crystal — carrying grain brought from the United States — were rescued.
"We have no information on their fate," an official in Iran's Oil Ministry told The Associated Press on condition of anonymity. "We cannot say all of them have died, because rescue teams are there and providing services."
The U.S. sent a P-8A aircraft which searched nearly 3,600 square nautical miles -- but did not find any of the missing crew, the Navy reported.
The Chinese Ministry of Transportation sent at least four rescue ships and three cleaning boats to the collision scene Sunday morning, according to Reuters. The South Korean Coast Guard also assisted with rescue efforts by sending an airplane and ship for the search.
Sanchi, run by Iran's top oil shipping operator, was carrying nearly 1 million barrels of condensate, a type of ultra-light oil, Chinese authorities said. The tanker went ablaze shortly after the collision, sending plumes of black smoke into the air as oil spilled into the sea. It's unclear how much oil was leaked and if it was still pooling out of the tanker as of Sunday.
By comparison, the Exxon Valdez was carrying 1.26 million barrels of crude oil when it spilled 260,000 barrels into Prince William Sound off Alaska in 1989.
An official told the AP the tanker was owned by the National Iranian Tanker Co. and had been rented by a South Korean company, Hanwha Total Co.
Saturday's collision was the first major maritime incident since January 2016, when international sanctions on Iran were lifted, Reuters reported. It was the second one for a ship from the National Iranian Tanker Co. in less than a year and a half.
In August 2016, one of its tankers collided with a Swiss container ship in the Singapore Strait, damaging both ships but causing no injuries or oil spill. No one was killed in the incident.
The USS Carl Vinson aircraft carrier strike group left San Diego Friday on its way to the western Pacific.
Fox News' Lucas Tomlinson and The Associated Press contributed to this report.