US, NATO thumb noses at Russia with massive war games in Ukraine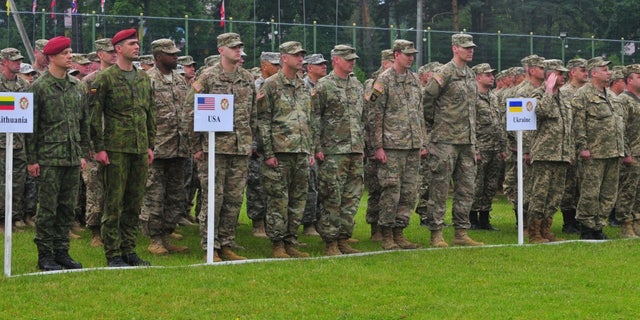 Nearly 2,000 troops from the United States and allies launched a massive military exercise in Ukraine Monday, the latest in a series of war games that NATO officials say would simulate counterattacks against "Russian aggression."
"Today's presence here of such a powerful cohort of our partners and comrades in arms demonstrates the broad international support for the struggle of the Ukrainian nation for sovereignty and territorial integrity as a democratic European state," Ukrainian Col. Eduard Moskalyov said.
The exercise, known as Rapid Trident 16, is set to last two weeks in western Ukraine. It includes troops from Ukraine and 12 other nations, members of NATO or its Parnership for Peace program: Bulgaria, Canada, Georgia, Great Britain, Moldova, Lithuania, Norway, Poland, Romania, Sweden, Turkey and the United States. U.S. officials say it includes situational and field training drills.
Russia, which took over the Crimean Peninsula in 2014, ramped up the pressure earlier this month after NATO defense ministers agreed to station additional forces in Estonia, Latvia, Lithuania and Poland -- all near Russian borders.
"Those measures significantly erode the quality of regional security, in fact turning central and eastern Europe into an arena of military confrontation," Russia's ambassador to NATO Alexander Grushko said, adding that NATO's decision "directly infringes on our legitimate security interests" and "won't be left unanswered."
The NATO allies also discussed establishing a Romanian-led multinational "framework brigade" of ground troops to help defend the Black Sea area.
Grushko also criticized NATO's pledge to offer non-lethal assistance to Ukraine, saying it could encourage its reluctance to abide by the Minsk peace agreement. The deal has helped reduce hostilities in eastern Ukraine, but fighting has continued and a political settlement has stalled.
More than 9,300 people have been killed in fighting between Ukrainian forces and Russia-backed separatists in eastern Ukraine, which erupted in April 2014 weeks after Moscow's invasion of Crimea.
The Associated Press contributed to this report.