UN puts new momentum behind its radical green agenda for 'climate change'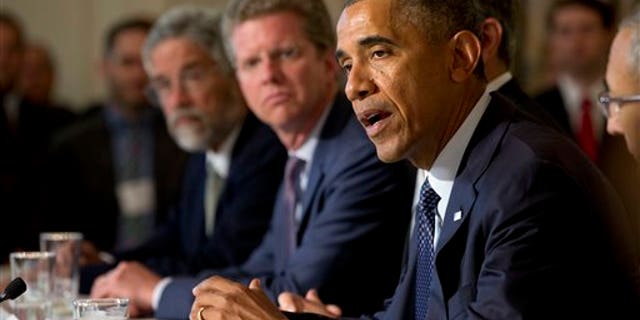 EXCLUSIVE: The United Nations is putting new momentum behind the radical green effort to reduce global carbon emissions and drastically reshape the world's economy — a campaign that is wobbling badly due to international defections and the huge cost of cutting back economic growth in the name of controlling "climate change."
The world organization is doubling down — hoping to breathe new life into the current effort, but also to keep the juggernaut rolling toward a much more ambitious climate change treaty to be negotiated by September 2015 and take effect in 2020.
"We know that we are not on track, and time is not on our side," declared U.N. Secretary General Ban Ki-moon this month, as he unveiled a U.N.-backed report proposing drastic — and very hypothetical — ways to carry out the successful "deep de-carbonization" of the world's energy systems by 2050, the projected end of the new treaty period.
The report, put together by research teams in 15 countries, is an interim document, intended to rekindle interest in advance of a special Climate Summit that Ban intends to hold on September 23, where a final version of the report will be unveiled.
That gathering, held in conjunction with the opening of a new session of the U.N. General Assembly, will, according to its website, bring together "world leaders from government, finance, business and civil society" in order to "galvanize and catalyze climate action" toward negotiation of the new accord, to be revealed at yet another Climate Summit in Paris 12 months later.
[pullquote]
Whether the time-honored and now highly over-used U.N. method of cheerleading via summitry will do the trick again is a good question. At the same time as the ballyhoo is building, officials at the United Nations Framework Convention on Climate Change (UNFCCC), the U.N. body charged with coordinating the anti-greenhouse gas effort, estimate that the world is running about 25 percent behind the effort currently needed to pull some 58 billion tons of carbon dioxide equivalent out of the atmosphere by 2020.
That is the goal that the U.N. and most climate change supporters say is hypothetically required to keep global temperatures from rising more than 2 degrees C. above pre-industrial levels, with even more painful cuts in greenhouse gases required to sustain that theoretical achievement by 2050.
For industrialized countries, those reductions are estimated to reach anywhere from 60 to 80 percent of greenhouse gas output by mid-century.
But even though the Obama administration, among others, appears more strenuously committed to the draconian climate change battle than ever, "there is a challenge to bridge that gap," a UNFCCC spokesman told Fox News last week.
The organization intends to meet the challenge, according to internal documents, by exhorting not only nations, but local regions, cities and communities to step up further in the climate control effort and extending the campaign into broader but still unspecified areas of rural and urban life.
The increased "level of ambition" includes still uncodified regulatory measures involving land use and urban planning, as well as the sweeping restrictions on greenhouse gas output in manufacturing and energy production that most people have associated with the climate change effort.
One reason for the challenge is the fact that despite the continuing growth in carbon emissions, global temperatures have not risen significantly since 2000, according to a variety of satellite and other measurements. Many climate experts refer to this as a "hiatus," but skeptics note that most computerized models used in global climate prediction have greatly overshot the actual readings.
Another reason is the defection of Russia, Canada and Japan, among others, from the extension of the Kyoto Protocol to combat greenhouse gases, which is the basis of the UNFCCC's effort, largely due to the gap between the economic costs of greenhouse gas suppression and the benefits.
So far, in fact, only 11 countries have agreed to take part in what is formally called the "second commitment period" of the Kyoto Protocol, which extends greenhouse gas reductions through 2020. (One of those, however, is China, which only agreed to join last month.)
A further sharp blow was struck in mid-July, when the newly elected conservative government of Australia became the first country formally to repeal its two-year-old national carbon tax, which Prime Minister Tony Abbott during his campaign called "a useless, destructive tax which damaged jobs, which hurt families' cost of living, and which didn't actually help the environment."
UNFCCC officials underline, however, that the carbon tax repeal did not mean that Australia has abandoned the commitment made by its previous socialist government to cut carbon emissions by 5 percent from their levels in 2000. (In fact, the Australian commitment could range from 5 percent to 25 percent, according to U.N. documents.)
"We look forward to the alternative way of reaching the same target, which would be proposed by the government and have to be approved by Parliament," a UNFCCC spokesman told Fox News.
Despite the brave front, an informal UNFCCC document published in July admitted — amid a morass of dense technical and bureaucratic prose — that "deep concerns remain about the significant gap between the aggregate effect of pledges and pathways" to meet the climate change targets.
It said that yet another meeting in October would offer "opportunities to consider ways to accelerate the full implementation of the decisions constituting the agreed outcome." These will include some form of still unspecified grand bargain to transfer technology and financing to developing countries in scaling up the deployment of renewables and energy efficiency policies, initiatives and actions.
All in all, the expectations are that trillions of dollars in investment and tech transfers are going to be required to meet the 2020 stretch goals.
An even bigger test will come, however, in an extended series of opaque bureaucratic sessions over the coming year as countries negotiate the next climate treaty—assuming that the agreement is reached.
Just what the stakes are in that negotiating round was the point of Ban's show-and-tell "deep carbonization" exercise earlier this month.
The unveiling of the interim think tank report attempted the double feat of arguing that huge changes in humanity's way of life were attainable — even while they "will require deep transformations of energy and production systems, industry, agriculture, land use, and other dimensions of human development," not to mention "profound changes in the prevailing socio-economic development frameworks."
The report, titled "Pathways to Deep Decarbonization," was prepared under the supervision of Jeffrey Sachs, head of Columbia's Earth Institute and formerly the chief U.N. salesman for its anti-poverty Millennium Development Goals.
Sachs' record in the anti-poverty area has been, at best, mixed: his most widely touted development effort, known as the Millennium Villages Project, cost more than $100 million and has been widely criticized for overreaching and failing to achieve the results he expected. Sachs claims the project has been a success.
Now, however, Sachs is the head of a U.N.-sponsored think tank array known as the Sustainable Development Solutions Network, which co-sponsored the interim Pathways report and commissioned teams of networks in 15 countries to analyze how to drastically reshape them in line with long-range climate change goals.
That process, the report claims, is "indispensable for promoting a national dialogue on de-carbonization and launching a process of intense and complex problem solving."
The interim report takes a look at the economies of 12 countries — three more will be added before the report becomes final in September— ranging from Australia to China to South Africa and the United States, in order to help them "explore options and develop a long-term strategy" to stay under the 2-degree temperature ceiling.
All of the changes, the report claims, are "technically feasible,"— even if in many cases the technology required may not yet exist at an appropriate scale.
In the case of the U.S., the Pathways report argues that the country needs to reduce its carbon emissions to no more than 10 percent of its 2010 level of 18 metric tons per person.
It can be done, the report says — more or less — through a variety of drastic means.
These include dropping the amount of U.S. energy produced through burning fossil fuels from the current 78 percent to 30 percent, with the remainder coming from renewable sources like hydro, solar, wind and "biomass" (40 percent) and nuclear (30 percent). All cars and most trucks would convert to electricity or natural gas, except for aviation and military use. Residential and commercial buildings would be "nearly completely electrified"— meaning no more gas or oil heating.
The report admits that "certain end uses remain technically challenging to electrify, especially in industry and long-distance transportation (commercial and freight trucks, freight rail, shipping), where battery electric energy densities appear insufficient for the foreseeable future."
The answer, it says, is to switch from coal, diesel, gasoline and fuel oil to "pipeline gas"— meaning natural gas at the moment, but switching 55 percent of the pipeline gas supply by 2050 to gas produced from sustainable "biomass," meaning "energy crops and waste material."
The report does not say so, but that would amount to a mammoth reshaping of the most important energy trend in the U.S. — the oil and gas drilling revolution that has turned around the country's oil and gas dependence in the past decade.
How would this vast transformation be paid for, even as rich countries help poorer ones make the same transformations, as the U.N.'s agenda currently insists?
The Pathways report does not say. Instead, it notes that, "At this stage, we have not looked in detail at the issue of costs and benefits, not considered the question of who should pay for them." All that will be addressed, it says, by the time of a second major report in 2015.
George Russell is editor-at-large of Fox News and can be found on Twitter:@GeorgeRussell or on Facebook.com/George Russell