U.S. Navy Warship Saves Sick Baby Trapped On Sinking Sailboat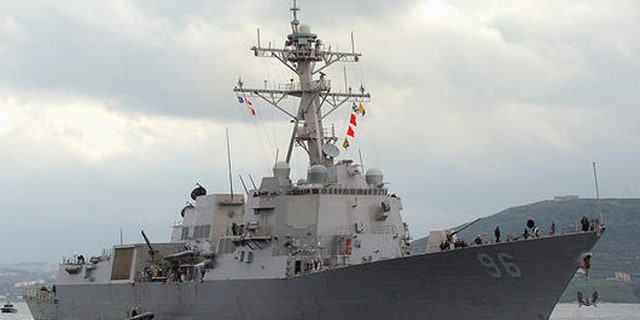 SAN DIEGO (AP) – Rescuers stabilized the condition of a sick baby on a crippled sailboat hundreds of miles off the coast of Mexico and a U.S. Navy warship was steaming toward the vessel, officials said Friday night.
The 36-foot Rebel Heart was about 900 nautical miles southwest of Cabo San Lucas when it sent a satellite call for help to the U.S. Coast Guard Thursday morning that a 1-year-old girl aboard was ill.
The boat was owned by a San Diego family and was on a trip around the world, according to a website, therebelheart.com.
The California Air National Guard sent an aircraft with four pararescuemen from Moffett Federal Airfield near San Francisco, and they plunged into the water and reached the ship Thursday night, said 2nd Lt. Roderick B. Bersamina, spokesman for the Air National Guard's 129th Rescue Wing.
When they arrived, Rebel Heart was "for all intents and purposes dead in the water and drifting south" away from land, Bersamina said.
The rescuers were able to stabilize the girl, get the boat turned around and it was moving "slowly but surely back to shore," Bersamina said.
Rebel Heart carried the girl, her parents and a sibling, Bersamina said.
"Everyone on board is doing well, in good spirits," he said.
Rescuers were staying aboard the boat until a Navy frigate, USS Vandegrift, reached the sailboat, which was expected Saturday night, and helicopters were standby in case they were needed, Bersamina said.
He said he had had no information about what was wrong with the girl or the boat but a relative said a California Air National Guard officer called her Friday morning to provide some details.
"She had a rash covering most of her body, fever, vomiting and diarrhea" and had stopped responding to antibiotics, Sariah Kay English, a sister of the child's mother, told The Associated Press on Friday night.
The New Mexico woman said she did not know what was wrong with the boat.
Therebelheart.com website and related blogs indicated that the boat set sail March 20th from Mexico with Charlotte and Eric Kaufman of San Diego. Also aboard were their daughters, 1-year-old Lyra and 3-year-old Cora, according to the blogs.
Bersamina said he had no information about the sailboat or the people on board.
The family will be taken either to Cabo San Lucas or to San Diego, depending on the medical condition of the girl, Bersamina said.
Follow us on twitter.com/foxnewslatino
Like us at facebook.com/foxnewslatino