Two years in hell: Ex-ISIS sex slave reunited with children, family
NEWYou can now listen to Fox News articles!
DOHUK, Iraq – A dusty Land Cruiser bounces down a pale, tent-lined lane at the back of a remote displacement camp, stopping near a small circle of women and children.
A fragile, young woman with a toddler in her arms climbs out of the vehicle and is enveloped by the waiting throng. A bittersweet commotion follows, with weeping, hugs and cries of confusion from young children.
The new arrival is Gazal, a 22-year-old Yazidi who has spent the last 27 months of her life as an ISIS sex slave. But on Thursday, she was plucked from the depths of hell in Syria, and in the final phase of a complex rescue operation, delivered to what is left of her community.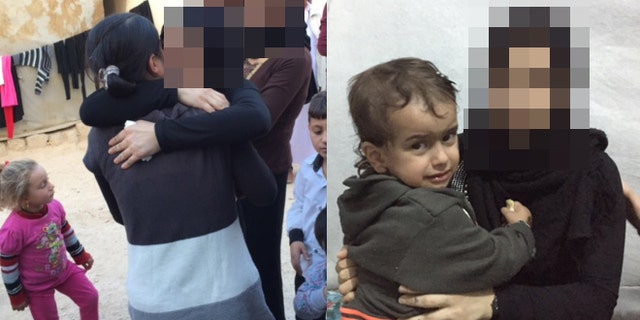 KURDS CULTIVATE SPIES DEEP WITHIN ISIS

"Thanks to God," Gazal would repeat moments later, as she cowered in the corner of a flimsy, prefabricated cabin for the displaced. She was joined by her sister-in-laws, Nadifa, 22, and Basima, 17, who were also captured by ISIS and rescued a year ago.
"Our father and brother, Gazal's husband, were taken by ISIS at the same time we all were," Basima told FoxNews.com. "Since then, we haven't seen or heard from them."
It was Aug. 3, 2014, when the barbaric terrorist army overran the predominantly Yazidi city of Sinjar in Iraq's Nineveh Plains, calling the residents "devil worshippers" due to their ancient religion.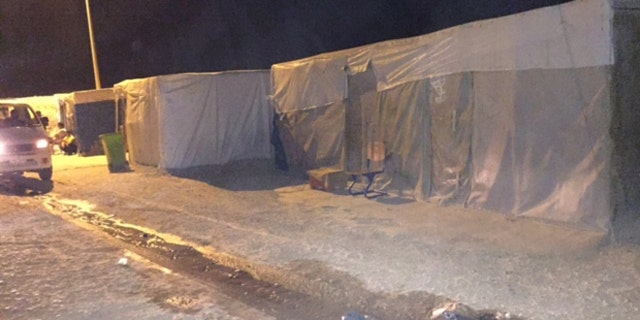 Thousands had nowhere to flee to but up the mountain, yet with the deadly summer heat, the family would sneak back down each day to collect water for survival. On Aug. 8, the jihadists caught them.
"First they put us in a school in Tel Afar and held us for 20 days," Basima said. "They didn't let us to eat or drink. Only the children were given a little bread, but we had to go to bathrooms to share it, if they caught us sharing we were tortured.
"The children were dying of starvation," she continued, dulled of emotion and speaking as if she is a tour guide reconstructing someone else's story. "They wouldn't drink the little amount of dirty water. So we found some toothpaste and put it in the water to pretend it was milk so they would drink and not die from dehydration."
Basima recalled the events down to the most minor detail: how they were then transferred to Mosul in cattle trucks and held in a traditional ceremony hall, how the elderly had to give the children their urine to drink "to keep them alive and how everyone became so sick and malnourished that clumps of hair littered the floor.
But the worst was yet to come.
"In the middle of the night, the ISIS men were coming in and demanding to know who was still a virgin," Basima whispered. "And from the age of eight, they were taking girls to the market to sell for a cigarette."
Basima and other young women sought to evade the degradation by "trying to look like ugly boys," she said. Using a piece of broken plate, they shaved their heads. They dressed in men's clothes.
"We thought that if they mistook us for boys, we would be taken out and killed rather than raped," she said. "But instead, when they knew our trick, the men came in and stripped us in front of everybody. In front of everybody, hundreds, they touched us everywhere, sexually abused us. My father and brother had to watch. And that was the last I saw of them."
When initially snatched, Gazal was with her then 6-month-old son, Bakhtyar, and 5-year-old daughter Darin. Basima claimed to be the mother of the young girl, in the hope that the ISIS operatives wouldn't sell her if it they believed she was no longer a virgin.
As the women talked, Darin was brought into to the tent for a mother and child reunion as sad as it was beautiful. Even as the women resumed their story, and Gazal held her daughter tightly, it was evident that healing the bond broken by the merciless terror army will not be quick or easy.
After their capture, Basima, Nadifa, Gazal and their other close relatives were transferred to a prison in the caliphate capital of Raqqa, Syria. They were put in a line, they were again made to remove their clothes.
"it was ordered everyone had to be looked at by the Wali," Basima said, describing a man named Abu Habis, an Iraqi blind in one eye and with an evil leer "like a devil."
"But he choose her, he said she is the most beautiful," Basima said, motioning to Gazal, whose large, pale eyes were cast down.
Gazal spoke softly to FoxNews.com of her ordeal, relentlessly tugging at her dress and glaring at her raw, cracked hands. At first, she said, she refused to go with the Wali but he dragged her by her hair and took her and Bakhtyar to a town called Minbij on the Turkish border. They found themselves in a house that was "like the headquarters," where there were already two other Yazidi slaves.
"The Wali said I must marry him but I refused, so he took my son and I didn't see him for two days. After that, I begged and cried. He started torturing me, and said I had no option but to marry him," Gazal said. "Only it wasn't a real marriage. There was no contract, no real ceremony. It was just rape. I was forced to be a Muslim, to pray five times a day."
After Gazal was gone, Basima said that she and scores of others - including young Darin - were wounded in an airstrike on the prison, shrapnel piercing her head. They were forced down 22 crooked steps into an underground weapons storage "filled with guns and bombs" which would be their living quarters for more than a year.
"We were tortured. There were no toilets. We had to eat, sleep and 'do the necessary' all in the same place. All kinds of insects and flies were in there," Basima said. "They forced us to convert to Islam. We were made to look at beheaded bodies through the little window. We didn't know when our time was up. All we could think about was whether it was better to live or to die."
Finally, on Oct. 13, 2015 several of the women and girls were piled into an old van and told they were being traded at a market. Instead, they were left on the Kurdish border, their freedom secured in a delicately negotiated rescue operation.
Meanwhile, Gazal's agony persisted.
"The Wali gave me so many birth control pills my kidney hurt. After five months, when I got so hopeless, I wouldn't let him have sex with me anymore, so he sold me cheap to another fighter and I was taken to Mosul," she said.
That fighter was a 28-year-old Jordanian named Batar, who was married to a local Sunni woman, Sadr. Together, they beat her - she was his "sex tool" and her full time "maid."
"They threatened to hurt my son if I didn't obey. But still," Gazal paused, pulling her screaming son closer. "They hit him and tortured him. Now he is always hungry and aggressive and can't understand my language, Kurdish, only Arabic. When he sees a bunch of men together he gets angry and cries."
After about a year, Batar gave her his phone and told her to find someone to buy her for $25,000. Her brother scrounged for weeks pulling the money together from others, including strategic support from the KRG Prime Minister's Office of Kidnapped Affairs. Earlier this month, she was taken to a home in Raqqa and held for 10 days.
Late last week,, she was taken to a remote location in the rugged desert on the Syrian-Iraqi border, and transferred into the Land Rover that would bring her to her remaining loved ones.
They are not home. Their village and the life they knew is in ruins.
"Location is not important to us anymore. We survived," Basima said. "Our only hope is that we get back our father and brother. And that maybe someone will help us here. We haven't been helped yet. We don't know what to do."