Two US combat amputees climb Mount Everest in less than a week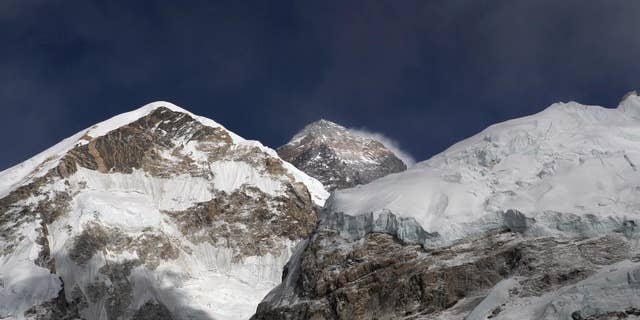 NEWYou can now listen to Fox News articles!
A U.S. Army veteran who lost his leg to a roadside bomb in Iraq became the second combat amputee to reach the top of Mount Everest in the past week, amid a climbing season marred by deaths and bad weather.
Chad Jukes, 32, finished the climb Tuesday with a prosthetic leg, a veterans group that sponsored the expedition told USA Today. Last Thursday, Thomas Charles "Charlie" Linville, a 30-year-old Marine who also lost his leg to a roadside bomb in Iraq, reached the summit, becoming what is believed to be the first combat amputee to conquer the world's highest mountain, the newspaper added.
Jukes was sponsored by U.S. Expeditions and Explorations, a group aiming to raise awareness about post-traumatic stress disorder and military suicides. Army Capt. Elyse Ping Medvigy, 26, and 2nd Lt. Harold Earls, 23, also reached the summit alongside him.
Bad weather on the 29,029-foot mountain Wednesday prevented the retrieval of two bodies of climbers who died on mountain over the weekend and the search for two who disappeared near the summit, The Associated Press reported.
Most climbers have finished their attempts to reach the summit, but those still trying were having problems with the low visibility, wind and snow.
Pemba Sherpa of the Seven Summit Treks agency in Kathmandu said a helicopter waited all day at base camp for weather to clear so it could fly to a higher camp.
A Dutch climber's body was brought to Camp 2 at 21,000 feet, while an Australian climber's body is at Camp 3 located at 23,620 feet.
The Sherpas who are attempting to carry the bodies were struggling because of the weather condition on the slopes of Everest.
Wangchu Sherpa of the Trekking Camp Nepal agency in Kathmandu said his team was searching for two Indian climbers missing near the summit since the weekend and rescuers were also attempting to reach the body of a third Indian died to bring it back to lower camp.
Nearly 400 climbers have scaled the 29,035-foot peak since May 11. However, three climbers have died and two are missing on the unpredictable slopes of the world's highest mountain.
The spring climbing season generally ends in May after which the monsoon season brings bad weather that makes climbing the mountain impossible.
The Associated Press contributed to this report.