Trying to cash in on 'El Chapo's' fame, drug lord's family trademarks name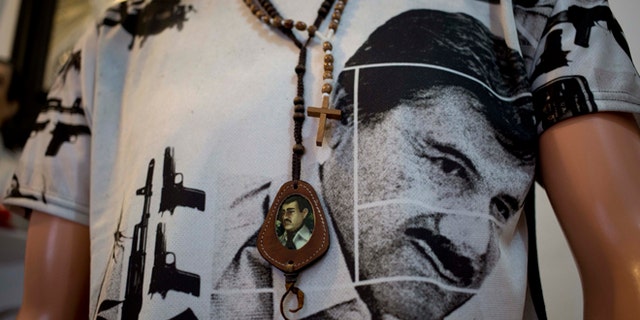 Hip hop artists are notorious for taking the name of famous gangsters and crooks for their stage names. There's Houston's Scarface, the New York duo of Capone-N-Noreaga and Nas would sometimes refer to himself as Escobar after the late Colombian drug lord with the same surname.
Well, any aspiring rappers should be wary if they want to call themselves "El Chapo"… and not for the reasons one might expect.
According to El País, the trademark requests by the drug lord's daughter Alejandrina Gisselle Guzmán have been approved to sell items bearing the drug lords name and image.
The Mexican Institute of Industrial Property, or IMPI, in 2011 rejected a request by Guzman's daughter on the grounds that the drug lord was at the time a wanted man.
The denied trademark requests – 12 in all – were purportedly meant for merchandising items such as clothing, watches, walking canes, hats and even Christmas tree ornaments. The trademark request also asked for trademarks in services such as publicity and "commercial administration" – leading some to believe that this was the first rumbling of much-talked about Guzmán biopic.
In response to the rejection, José Antonio Magaña Jiménez, the applicant's legal representative, wrote: "The name Joaquín does not belong to any narcotics trafficker wanted by the authorities, since the name of this person is only ARCHIVALDO GUZMÁN LOERA…The name GUZMÁN is a common surname in Mexico" and the trademark wasn't trying to "apologize for crime."
The daughter, according to El Paso, has trademarked El Chapito, Don Chapo, El Chapo Guzmán, Joaquín Archivaldo Guzmán Loera.
This is not the first time that a drug lord's name has been involved in a trademark dispute.
In 2012, Pablo Escobar's son released a clothing line featuring an image of his late father – although the Colombian government rejected the family's attempt to use his full name on the clothing.
Guzmán escaped last July through a mile-long tunnel dug to what authorities say was a building set up for the prison break in plain sight of the Altiplano prison. The tunnel leading from the drug lord's cell to the building was equipped with a ventilation system and a customized motorcycle.
The cartel boss was recaptured by Mexican Marines during a raid early January in the city of Los Mochis. During the raid, five suspects were killed and six – including Guzmán –were arrested. Marines seized two armored vehicles, eight rifles, one handgun and a rocket-propelled grenade launcher.
"Mission accomplished: we have him," Peña Nieto tweeted the day of the capture." I want to inform Mexicans Joaquín Guzmán Loera has been arrested."
Like us on Facebook
Follow us on Twitter & Instagram