Trump's leadership style - and his likeness - popular with Russians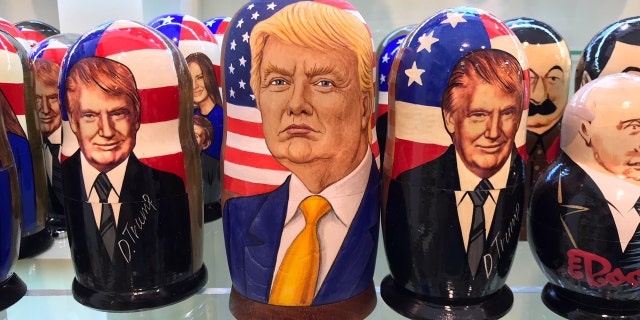 NEWYou can now listen to Fox News articles!
MOSCOW – President Donald Trump may be a polarizing figure at home and many countries abroad, but he certainly has his fans here in Russia.
From cosmopolitan centers like Moscow and St. Petersburg, to farther-flung cities like Kazan and Yekaterinburg, references to the U.S. president are everywhere. Street artists frequently sell caricatures of him. Many restaurants feature dishes named after him. Secondhand bookstores carry most of his works. And the famed matryoshka dolls are hand-painted with his likeness.
Masha, an employee at one of the souvenir shops on Moscow's Arbat Street, popular with tourists, said the Trump dolls were strong sellers. "The Russian people like Trump," she said. "These items are popular with tourists, but also with many Russians."
At another shop, near Red Square, Trump items are more popular with the locals. "More Russians buy the Trump dolls than American tourists," said Cyrus, one of the shop workers. "Some tourists come and like Trump. Some come and they like Obama."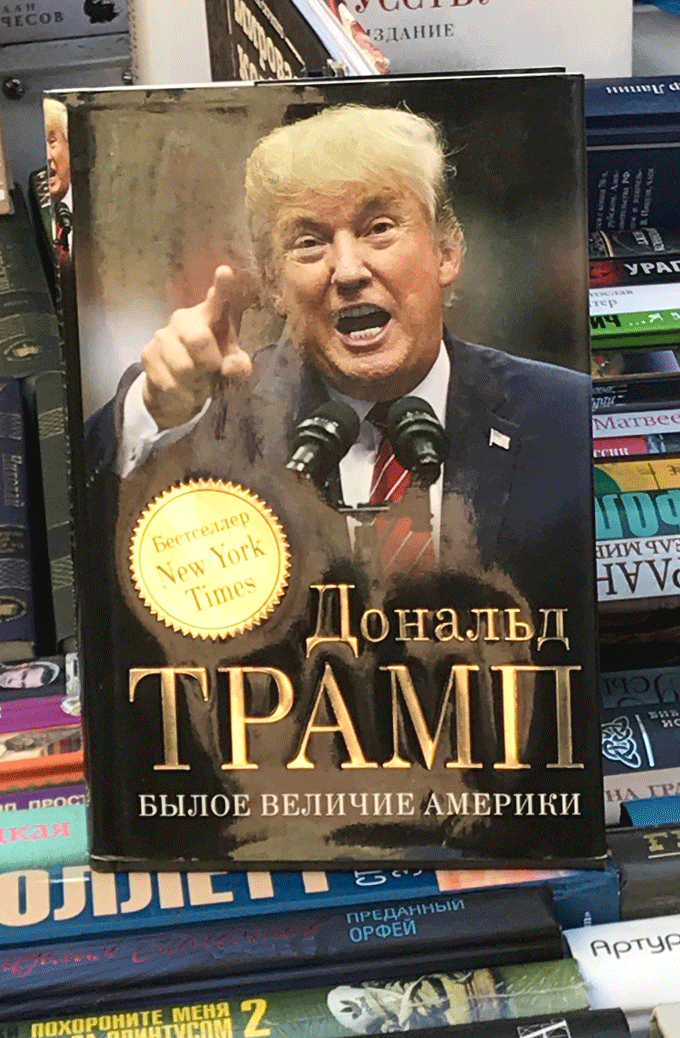 As for the more serious questions regarding Trump and his administration's relationship with Russia, many here expressed little patience with the subject. They instead seemed more interested in Trump's management style - and how that might pay off in more positive relations with Russia.
"All in all, I think people like him. Not because he says things that can be good for Russia, but because he says what he thinks," said Svetlana, a Moscow tour guide.
Dmitry, a middle-aged man sitting in a barber shop in Kazan, said most Russians liked Trump, and strongly preferred him over Hillary Clinton, saying she was "a million times more against Russia."
"During the election, I thought, 'If America chooses Clinton, it will be bad for Russia. If [the next president] is Trump, it is good for Russia because he is not a politician,'" Dmitry added.
But for some, that changed after the election and the Trump administration's approval of an arms deal with Ukraine, years after Russia's takeover of Crimea. "After he was elected, nothing good for Russia happened because weapons were sent to Ukraine," said Dmitry, who claimed the only "great thing" Trump had done for Russia was calling for the country to be reinstated into the G7.
And on the subject of Russian intervention in the presidential election, many Russians like Dmitry said they neither knew nor cared. "The media says Russia took part in the U.S. elections but I don't think that is true," he said. "I don't know. Since the election there has been nothing happy or good for Russia. Our politicians thought, 'Oh good, Trump won, our relationship with America will be great.' But it didn't happen."
He also repeatedly questioned how this interference was possible, saying, "How? Why? If Putin helped Trump win, Trump would be good for Russia, but he isn't."
In Yekaterinburg, others also responded with uncertainty.
"I don't know. Maybe? [The] Russian people don't care," said one gentleman, sitting on a park bench on the historic Vaynera Street. Several others near him echoed the same apathy, using nearly verbatim phrases like "I don't know," "maybe," and "it is possible."
Other Russians, particularly several younger people, said they found humor in Trump. "His actions make a lot of memes," said one teenaged boy, whose two friends laughed and nodded in agreement.