The Latest: N. Korean media report on Pompeo's visit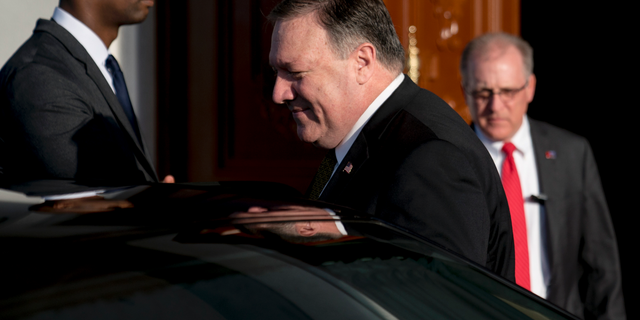 PYONGYANG, North Korea – The Latest on U.S. Secretary of State Mike Pompeo's visit to North Korea (all times local):
9:20 a.m.
North Korea's state media has reported the visit of U.S. Secretary of State Mike Pompeo a day after he arrived in Pyongyang but did not describe the nature of his talks with North Korean officials over the future of the country's nuclear weapons program.
Pyongyang's official Korean Central News Agency said Saturday the U.S. delegation led by Pompeo will take part in high-level talks for carrying out agreements between President Donald Trump and North Korean leader Kim Jong Un following their summit last month in Singapore.
The agency provided no further details.
Pompeo met for nearly three hours Friday with a senior North Korean official in Pyongyang to nail down specifics of commitments on denuclearization made at Trump's summit with Kim.
___
10:35 a.m. Friday
Secretary of State Mike Pompeo has begun his first trip to Pyongyang since President Donald Trump's summit with leader Kim Jong Un last month with a vow to nail down the specifics of the commitments Kim made on denuclearization.
Pompeo has the crucial task of dispelling growing skepticism over how seriously Kim is about giving up his nuclear arsenal and translate the upbeat rhetoric following the first meeting between leaders of the U.S. and North Korea into concrete action.
He was met at the Pyongyang airport by Kim Yong Chol, a senior ruling party official and former intelligence chief, and Foreign Minister Ri Yong Ho to begin his third visit since April and first since the June 12 summit.