The Latest: IS attacks Iraqi special forces with car bombs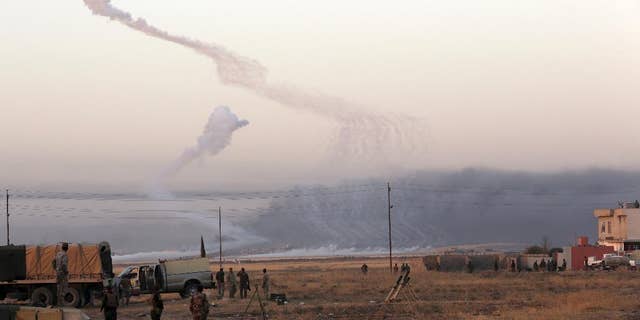 KHAZER, Iraq – The Latest on the campaign to retake the Iraqi city of Mosul from the Islamic State group (all times local):
10 a.m.
Islamic State militants have unleashed at least four suicide car bombs against Iraqi special forces as they advanced on the militant-held town of Bartella east of Mosul.
One of the car bombs exploded after being shot by a tank. It was not immediately clear if anyone was killed or wounded in the attacks.
Iraqi special forces charged into battle early Thursday, joining a massive operation to retake the IS-held city of Mosul. The fighting is concentrated in largely uninhabited villages on the outskirts of the city.
It's not clear when Iraqi forces will reach the city itself, and the operation is expected to take weeks, if not months.
___
6:30 a.m.
An Iraqi general says special forces have joined the Mosul offensive with a pre-dawn advance on a nearby town held by the Islamic State group.
Gen. Maan al-Saadi says the elite Counterterrorism Forces advanced on the town of Bartella with the aid of U.S.-led coalition airstrikes and heavy artillery on Thursday, the fourth day of a massive operation to retake Iraq's second-largest city.
The special forces are expected to lead the way into the city itself, where they will face fierce resistance in an urban landscape where IS militants are preparing for a climactic battle.
The offensive is the largest operation launched by Iraqi forces since the 2003 U.S.-led invasion. It is expected to take weeks, if not months.