The Latest: Greek police shifting more migrants from border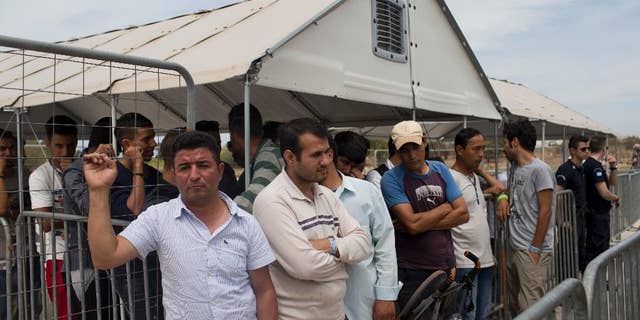 NEWYou can now listen to Fox News articles!
GENEVA – The Latest on Europe's response to the migrant crisis (all times local):
3:20 p.m.
Police in Greece have expanded an operation to clear makeshift camps set up by migrants and refugees along the country's border with Macedonia. Authorities said 630 more people were escorted by police out of two others sites Tuesday — a day after more than 1,000 people were ordered out of camp next to a border crossing point.
The migrants from Syria, Iraq and several other countries were transported by bus to government-run shelters near Athens and the northern city of Thessaloniki.
The operation was ordered after police last month cleared a huge makeshift border camp at Idomeni that had housed as many 14,000 people. More than 50,000 migrants and refugees are stranded in Greece following a series of European border closures.
___
3:10 p.m.
UNICEF says most of the children migrants who have crossed the Mediterranean Sea from Libya to Italy this year were unaccompanied by adults, making them vulnerable to abuse and exploitation.
The children's agency says 92 percent of some 7,600 children who made the dangerous and often deadly crossing between January and May were unaccompanied minors, up from 68 percent in the same span last year, when 4,566 children crossed.
Spokeswoman Sarah Crowe told reporters Tuesday in Geneva that most were boys aged 15 to 17, and came from Somalia, Nigeria and Eritrea. She said boys and girls have faced prostitution, pedophilia rings and gangsterism. She said it's unclear why more minors are arriving unaccompanied.
Migration watcher IOM says that as of Sunday, 210,000 migrants had crossed the Mediterranean this year.