Thai soccer team boys rescued from cave reportedly recreate experience, navigate through fake tunnel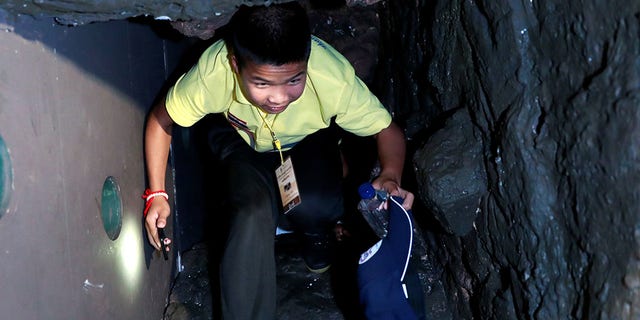 A Thai soccer team of young boys and their coach who were rescued from a cave in July made an appearance at a Bangkok exhibition Thursday where they spoke to the public and reportedly navigated through a fake cave tunnel made to look like the one they were trapped in.
The team of 12, seeming upbeat, coursed through a tunnel spanning roughly 32 feet that also included a feature that emulates dripping water, according to Sky News.
THAI CAVE RESCUE TIMELINE: THE DANGEROUS RACE TO BRING TRAPPED SOCCER TEAM HOME
The team appeared at the public exhibition, held at a shopping mall, before attending a reception as the guests of honor, which was thrown by Prime Minister Prayuth Chan-ocha and his wife. The event was organized to pay tribute to those who helped rescue the team.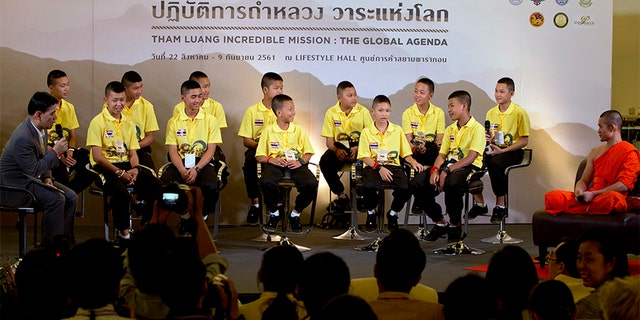 For more than two weeks the soccer team's 25-year-old coach and the group of 12 players, who ranged from 11 to 16 years old, were trapped in the cave. The team's extraction occurred over a three day period as the country's annual monsoons flooded the cave, prompting a massive and frenzied search and rescue operation. The entire group was pulled out by July 10.
BOYS RESCUED FROM THAI CAVE ORDAINED AT BUDDHIST TEMPLE
During Thursday's exhibition, which also showcased equipment used during the rescue, several boys indicated that their lives have remained relatively unchanged, with the exception that they've gotten more attention from people, according to The Associated Press.
One of the boys, Adul Sam-on, acknowledged that the area where they were staying in the cave smelled of urine.
Fox News' Kaitlyn Schallhorn and The Associated Press contributed to this report.