Thai authorities, protesters clash; 1 soldier dies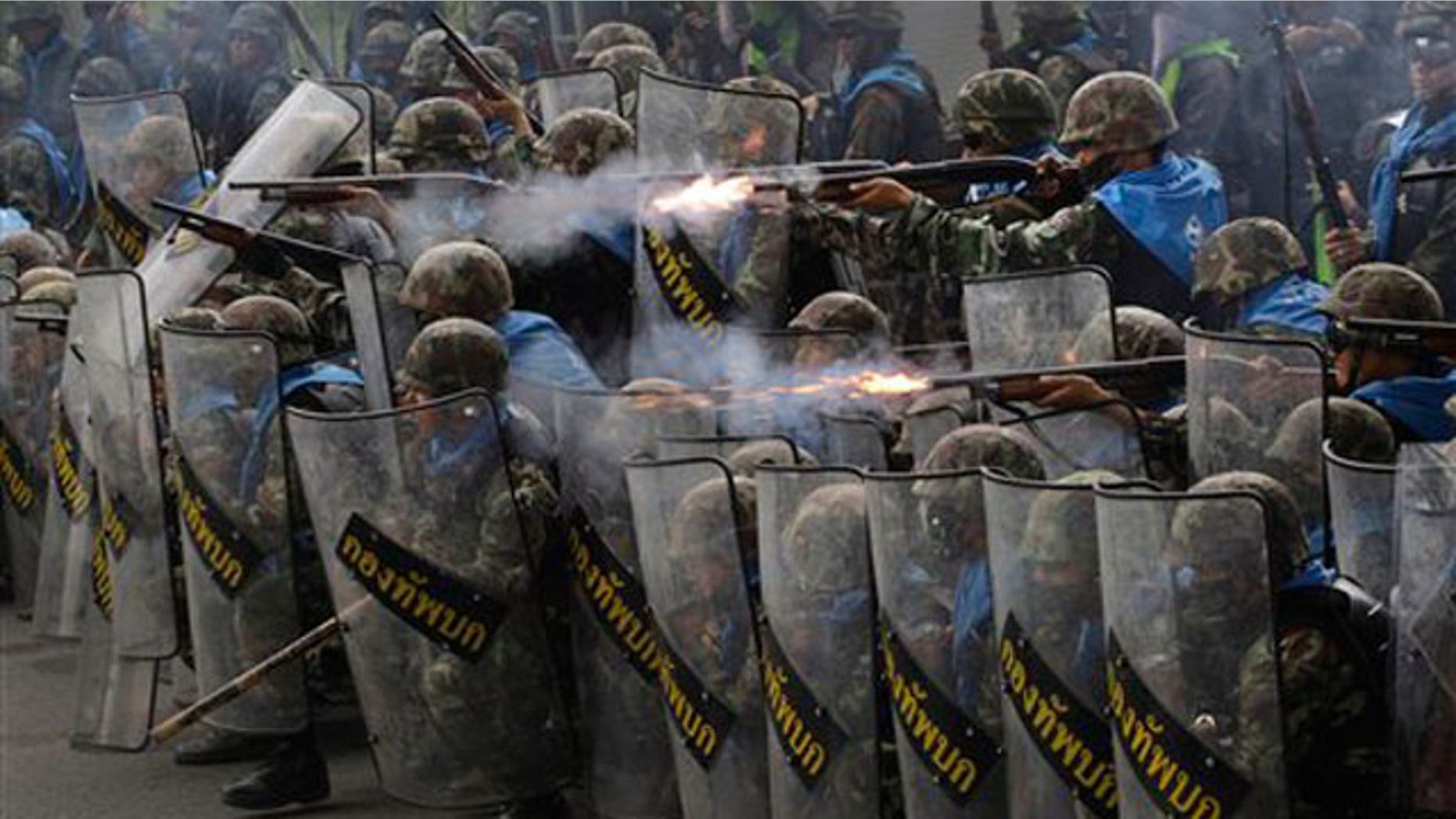 BANGKOK – BANGKOK (AP) — Thai troops fired rifles and threw tear gas at a crowd of anti-government protesters riding motorbikes down a busy expressway Wednesday, blocking their effort to take the demonstrations that have paralyzed central Bangkok into the suburbs.
The hourslong confrontation killed one soldier — apparently from friendly fire — and wounded 18 other people as it transformed the suburban streets into a battle zone. Heavily armed troops took cover behind terrified commuters' cars and one driver clasped her hands in prayer as the soldiers wove their way through traffic.
Security officials suggested the possibility of an escalation in the violence. In a television broadcast Wednesday night, they displayed 62 grenades they said had been found in a bag dropped by a motorcyclist who fled a police checkpoint on a road leading to the site of the clash.
The bloodshed Wednesday was the first violent confrontation in nearly a week, and protest leaders accused the government of leading the nation to the brink of civil war.
"Our side is running everything in order to create peace, but the government is trying to push war. And you know if (they) push war, civil war is coming," said Weng Tojirakarn, a leader of the "Red Shirt" protesters.
The Red Shirts, who want Parliament dissolved, have turned parts of Bangkok's commercial heart into a protest camp in their campaign to bring down a government they view as illegitimate.
Government officials say they want to end the standoff peacefully but cannot tolerate the protest enclave, which has forced the closure of some of the city's ritziest malls and hotels and cost businesses millions of dollars a day. The unrest has devastated the vital tourist industry, and several countries have warned their citizens against travel to Bangkok, or even Thailand as a whole.
Authorities have so far resisted breaking through the Red Shirts' barricades and clearing them out of the city, an operation that would almost certainly cause more casualties.
Yet patience appeared to be running out in the seven-week standoff that has killed at least 27 people and wounded nearly 1,000.
In an interview broadcast Wednesday on BBC World News, Prime Minister Abhisit Vejjajiva said he was working to quickly restore order.
"But at the same time we have to be aware of the need to make sure that there will be minimum losses and to make sure that we comply with international standards and respect the basic rights of people, including those of the protesters," he said.
The Red Shirts get much of their support from poor, rural provinces and see the British-educated prime minister as a symbol of an urban elite uncaring about their plight. But their cause has also drawn support from the urban working class and people opposed to the influence of the military in politics.
In a challenge to the authorities, who have said they would not tolerate demonstrations beyond the protest enclave, the Red Shirts sent hundreds of supporters on motorbikes and in pickup trucks Wednesday to a planned rally at an outdoor market north of the capital and dared the army to act.
On the outskirts of the city, riot squads blocked the way with razor wire and fired rubber bullets and live rounds into the air to push protesters back. When several demonstrators tried to remove the razor wire, troops leveled their rifles and shot directly at them, apparently with rubber bullets, sending them fleeing into oncoming traffic.
"At this point, society finds it unacceptable to have protesters traveling in a motorcade like this," army spokesman Sansern Kaewkamnerd said. "We will follow them everywhere that there are movements like this."
Hundreds of police in black riot gear marched down the road behind shields to push back the demonstrators. One threw a tear gas canister from a highway overpass onto the demonstrators below.
A heavy afternoon downpour temporarily halted the fighting.
At one point in the chaotic confrontation, security forces fired on a group of troops riding toward them on motorbikes. At least four motorbikes crashed, one soldier was carried away bleeding profusely from the head and several others in the group threw their hands in the air.
The shooting appeared to be an accident, although some members of the security forces have been accused of siding with the protesters.
One soldier was killed and two soldiers and 16 protesters were wounded, according to the government's Erawan emergency center.
The seizure of grenades was called a serious threat in Wednesday night's broadcast by the government's Center for the Resolution of the Emergency Situation.
"A very dangerous point is the discovery of lethal weapons," said Department of Special Investigation chief Tharit Pengdit.
There have been about 20 incidents in recent weeks involving the use of M-79 grenade launchers.
Most caused little damage, but one grenade fired during a clash between soldiers and protesters on April 10 killed a senior army officer, and five grenades fired near pro-government demonstrators on a busy downtown street last Thursday killed one woman and injured dozens of other people. The perpetrators are not known, though the government blames "terrorists" they claim are associated with the Red Shirt protesters.
In Washington, State Department spokesman P.J. Crowley told reporters Wednesday that U.S. diplomats are "intensively engaged in discussions" with Thai government officials and with opposition forces.
"Our message remains what it has been since this situation evolved, which is to peacefully resolve the situation," he said.
___
Associated Press reporters David Guttenfelder, Thanyarat Doksone and Grant Peck contributed to this report.