Texas Man Actually Brings Snakes On A Plane On Flight From Peru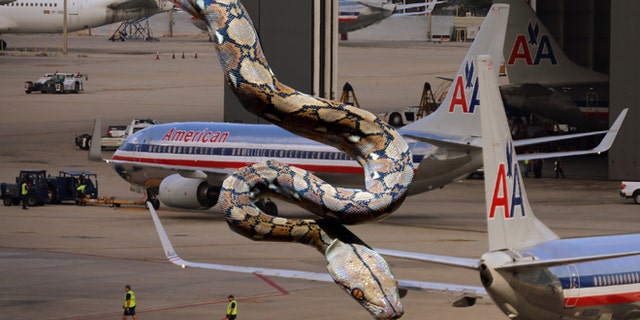 Cue up a profanity laced tirade from Samuel L. Jackson. There were actually snakes on a plane.
An East Texas man has pleaded guilty to smuggling snakes on several planes from South America to the United States.
During a court hearing Wednesday in Tyler, William Lamar pleaded guilty to importing wildlife taken in violation of foreign law.
Prosecutors say the 63-year-old eco-tourism guide bought the seven live snakes in August 2012 in a market in Lima, Peru, and smuggled them in his jacket on flights from Lima to Miami and then to Dallas. While he was prohibited from taking a commuter flight from Dallas to his hometown of Tyler, Lamar was able to find an alternative way home.
Game wardens seized the snakes from Lamar's home in Tyler.
Peruvian law prohibits the exportation of wild live animals coming from the forest or jungle unless the exporter has the proper paperwork.
Lamar is a professor at the School of Sciences & Mathematics at The University of Texas at Tyler and has co-written and contributed photos to many books on venomous reptiles and has spoken numerous times about wildlife in the Amazon. Lamar faces up to five years in prison.
The Associated Press contributed to this report.
Follow us on twitter.com/foxnewslatino
Like us at facebook.com/foxnewslatino