Syria's First Lady gives rare interview, claims she refused offer to leave the country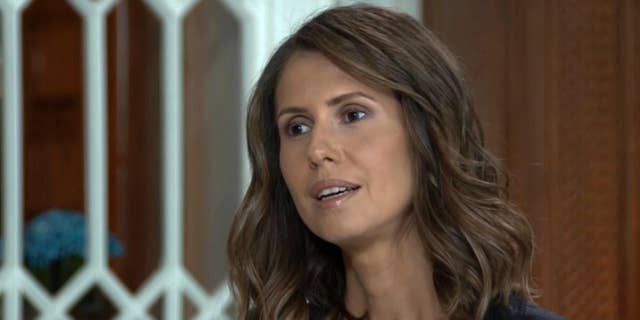 The wife of Syrian President Bashar Assad said in a television interview broadcast Tuesday that she has declined offers to leave her country earlier in the now six-year-long war in return for safety and financial security for her and her children.
Asma Assad, 41, was speaking to Russia 24, a Moscow-based state-run television channel. It was her first interview with international media since the war broke out in Syria in 2011. She said the "foolish" offers aimed to undermine confidence in her husband.
"I was offered the opportunity to leave Syria or rather to run from Syria," Assad said in the 33-minute interview conducted in English. "It doesn't take a genius to know what these people were really after. It was never about my well-being or my children. It was a deliberate attempt to shatter people's confidence in their president."
She did not specify who the offers were from.
Asma Assad has largely avoided the international media since the start of protests in Syria in the spring of 2011. As the government cracked down on the protests, the country descended into a civil war that has also seen other countries back opposing sides.
She has however had a highly visible role in showing support for the families of soldiers killed or wounded in the fighting, and appears regularly in hospitals and at funerals.
Syria's conflict has killed more than 300,000 people and displaced half the country's pre-war population of 23 million since March 2011, most of them inside the country.
Assad said everyone in Syria is at risk because of the war. But she added: "I refuse to live in fear."
She also said help from Damascus' friends like Russia had been invaluable to alleviate people's suffering from the conflict and sanctions.
"It is these noble efforts that have helped loosened the chokehold on ordinary Syrians and this is something we will never forget."