Syrian troops celebrate recapture of border crossing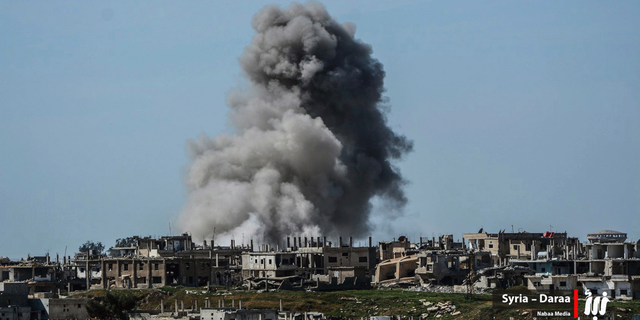 DAMASCUS, Syria – Syrian soldiers celebrated the recapture of the main border crossing with Jordan on Saturday, raising portraits of President Bashar Assad and tearing down rebel flags.
Troops captured the Naseeb border crossing a day earlier following a crushing two-week offensive, and after rebels announced they had reached an agreement with Russian mediators to end the violence in the southern province of Daraa and surrender the crossing.
State-run Ikhbariya TV showed troops at the crossing Saturday, some flashing victory signs and pumping fists in the air as they shouted pro-Assad slogans. A soldier could be seen hoisting the Syrian flag on top of a watchtower. Another tore down the rebel flag from a building.
One officer told the TV outlet that troops have taken up positions along the border with Jordan and are removing illegal crossing points.
"We have ended their existence," he said of the rebels. "They have no future anymore, God willing."
State-run news agency SANA said the army deployed at the crossing after combing and clearing it of the remnants of "terrorist groups." It said Syrian army units have also established control over the town of Nuaima in the past 24 hours.
The rebels seized control of the crossing in 2015, severing a lifeline for Syrian exports and disrupting a trade route between Syria and Jordan, Lebanon and the oil-rich Gulf countries.
The recapture of the crossing in the southern Daraa province marks the return of Assad's forces to the province where the uprising against him began seven years ago, following successive military victories across most of the country with the help of powerful allies Russia and Iran.
Weakened by a crushing government offensive backed by Russia and abandoned by their U.S. allies, rebels in southern Syria found themselves compelled to accept yet another humiliating surrender deal that would see opposition fighters transported by buses to areas held by rebels in the country's north.
The rebels in southern Syria once received significant backing and support from the U.S. that has receded and all but dried up over the past few years. Although the U.S. government negotiated a de-escalation agreement for southern Syria last year, it has remained silent as Assad's forces marched onto Daraa in the past two weeks in a crushing assault that displaced more than 330,000 people.
The government's offensive to retake Daraa and the nearby Quneitra region on the frontier near the Israeli-occupied Golan Heights began on June 19, and is now expected to turn more forcefully toward retaking Quneitra, potentially setting up a clash between Israel and Hezbollah and Iran unless they agree to stay away from the area as Israel demands.
The assault has forced hundreds of thousands to flee toward the sealed Jordanian border and the frontier near the Golan in one of the largest displacements in the seven-year Syrian conflict. Dozens have been killed.