Surviving ISIS sex slave speaks out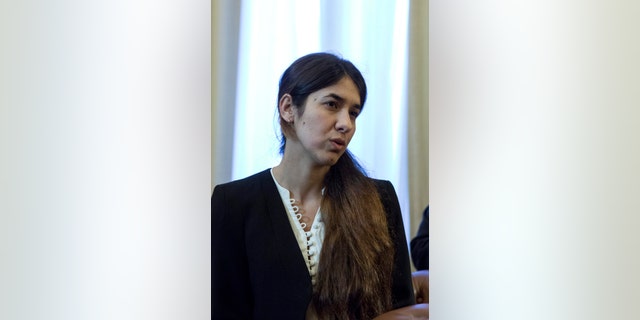 NEWYou can now listen to Fox News articles!
A former Islamic State sex slave who said she saw her family slaughtered in front of her is calling on humanity to "be united in facing ISIS."
Nadia Murad, 21, made the comments during a speech at London's Trade Union Congress House, The Mirror reported Sunday.
Murad, from the Iraqi town of Sinjar, said she was orphaned after ruthless ISIS militants killed six of her brothers and her mother.
"When they took me to Mosul and raped me, I forgot my mother and brothers. Because what they were doing to the women was more difficult than death," she said.
Murad said she was among the more than 5,000 Yazidi women taken captive when ISIS swept through the region, many of which were sold into the sex trade.
"They were committing all kinds; murder, rape and displacing people by force in the name of Islam," she said, through tears, according to The Mirror.
"Many people may think my story is difficult, but many more had more difficult than mine," she added. "They killed six of my brothers, but there are families that have lost 10 brothers."
Murad said there are still 3,400 women being held captive by ISIS and 40 percent of Sinjar is still under their control.
"What we are asking for is humanity to be united in facing ISIS. It is a threat to all the communities in the region," she said.
Click for more from The Mirror.