Suicide bombing wounds 7 at Turkish tourist destination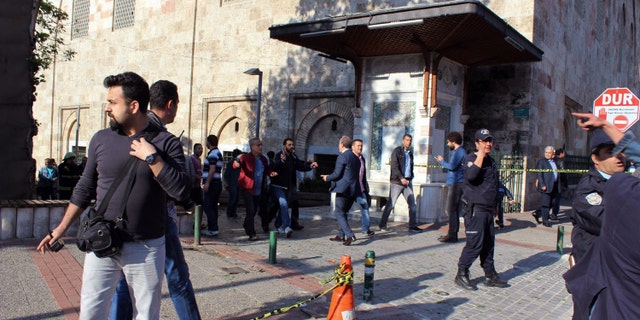 A suicide bomber blew herself up in the Turkish city of Bursa Wednesday, wounding at least seven people, officials said.
A Turkish official told The Associated Press the attack in the popular northwestern tourist destination was carried out by a suicide bomber.
The official, who was citing security sources, spoke on condition of anonymity because he wasn't authorized to speak to the press.
The office of the governor of Bursa said in a statement carried by the state-owned Anadolu Agency that a woman believed to be a suicide bomber blew herself up.
The statement said seven people were wounded in the attack.
The explosion ripped through an area that is home to an Ottoman-era mosque and bazaar.
Local channels broadcast footage of people fleeing the area as police and ambulances rushed to the scene.
There was no immediate word from officials or local media on the possible affiliation of the bomber.
Turkey has recently been hit by several attacks by the Islamic State group and Kurdish rebels.
The United States on Tuesday issued a new warning to its citizens about "credible indications" of terrorist threats against tourist areas in Turkey.