Spain's conservative Popular Party collected most votes in general election, exit polls show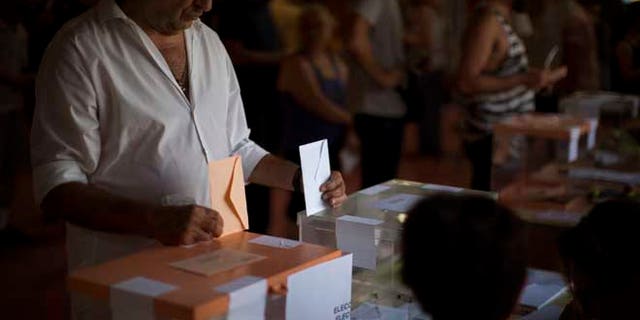 NEWYou can now listen to Fox News articles!
MADRID (AP) – Spain's conservative Popular Party collected most votes in the country's general election Sunday but didn't get enough seats in Parliament to form a government on its own, an exit poll for Spain's public broadcaster indicated.
The incumbent Popular Party earned 28.5 percent of the vote, giving it between 117 and 121 seats in the congress of deputies, Spain's Parliament, according to the poll by Sigma Dos for broadcaster Radiotelevision Espanola.
That meant the party which governed for the past four years fell short of a majority of 176 lawmakers in the 350-seat Parliament and will need to negotiate agreements with rival parties if it wants to return to power.
Complicating those negotiations, the poll indicated that a new radical leftist alliance called Unidos Podemos (United We Can) came second with 25.6 percent of the vote, winning between 91 and 95 seats.
The radical left's surge in support was another alarm bell for European mainstream political parties after voters in the United Kingdom last week opted to leave the European Union.
Such an outcome in the election would not only push Spain's center-left Socialists into third place for the first time in a national election, but would mean that a coalition of left-of-center parties — though they lost to the Popular Party — could possibly rule with a majority. The moderate Socialists got 22 percent, winning between 81 to 85 seats, the poll said.
Even if Rajoy partners with the business-friendly Ciudadanos, which the poll predicts will come in fourth with 11.8 percent support and 26-30 seats, he still wouldn't have the votes in Parliament to form a government.
The poll did not provide a margin of error nor give details of how its projections were made.
The election Sunday aimed to break six months of political deadlock after an inconclusive December ballot left Spain without an elected government. The Popular Party also won that election, with 28.7 percent of the vote, with the Socialists in second.
Up until then, Spain had a two-party political system and had never had a coalition government. Its political parties were unable to form a coalition after the December ballot, forcing another ballot for Spain's roughly 36.5 million voters.
Public anger at high unemployment, cuts in government spending on cherished services such as welfare and education and unrelenting political corruption scandals shaped the two-week election campaign.
Outside a Madrid polling station, many voters said they wanted Sunday's election to bring a break with the past.
"I'm voting for change, so that our politicians understand that we don't agree with what they've been doing," said Maria Jesus Genovar, a 47-year-old teacher who was supporting Unidos Podemos.
Unidos Podemos wants to improve job security, increase the minimum wage and strengthen the welfare state and other public services.
But Maria Jose Escos, a 59-year-old government worker, said she had no appetite for the new parties that upended Spain's traditional two-party system.
"I'd like everything to be like it was before," she said, adding she would back the Socialists.
Pablo Iglesias, the college professor who leads Unidos Podemos, has repeatedly said he wants a pact with the Socialists in order to oust Rajoy. But a major sticking point is Iglesias's insistence on letting the powerful northeastern region of Catalonia stage an independence referendum - a possibility that has been rejected outright by all other main political parties.
Ciudadanos is willing to talk to both the Popular Party and the Socialists but want no deal with Unidos Podemos.
Besides tensions over Catalonia, Spanish politics has been dominated by a national unemployment rate of more than 20 percent for nearly seven years - the second-highest in the EU after Greece - and an unrelenting stream of corruption scandals, mostly involving the Popular Party and the Socialists.
Like us on Facebook
Follow us on Twitter & Instagram