Shooting near Seattle high school leaves two people dead, including shooter; three critically injured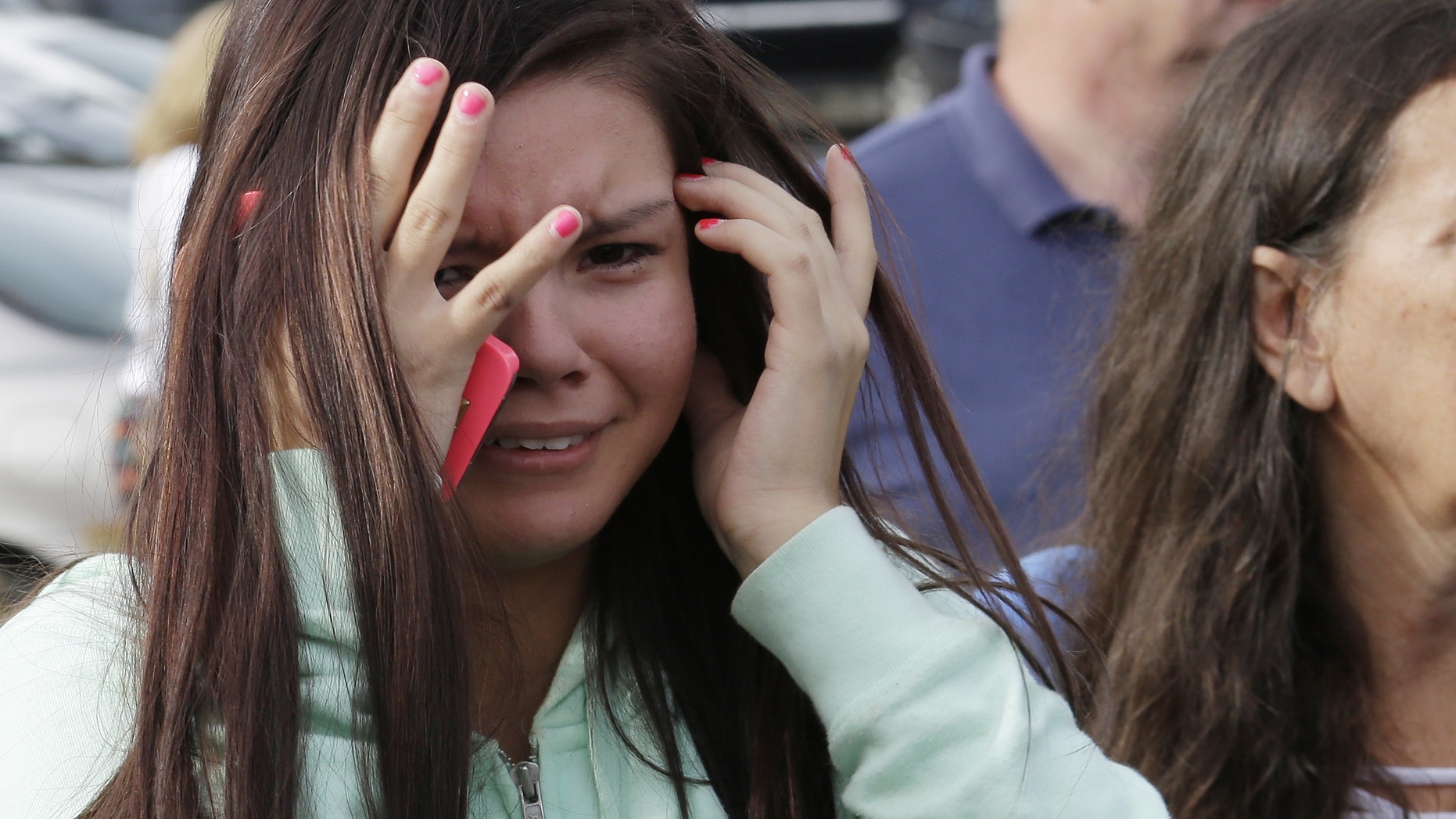 MARYSVILLE, Wash. – At least two people were killed — including the gunman — in a shooting Friday morning at Marysville-Pilchuck High School, some 30 miles north of Seattle.
Four people, including three critically, were injured and transported to Providence Regional Medical Center in the nearby city of Everett.
Authorities did not identify the shooter, but several media outlets said that his family confirmed that it was Jaylen Fryberg, a 14-year-old freshman and member of the football team.
Other students identified the shooter as Jaylen Fryberg on social media.
KiroTV.com reported that Fryberg was popular, but had some conflicts with some students. The station reported that Fryberg got into a fight recently and was suspended from school.
Fryberg's Instagram profile has a biography line that reads: "Tell my momma I love her," which was followed by three emoticons including a heart and gun. "Thank you [peace sign emoticon]"
One student, Jarron Webb, 15, told the Seattle Times that the shooter was angry at a girl who would not date him, and she was among those he shot.
A federal law enforcement source said the student died of a self-inflicted gunshot wound.
Some media reports said students said Fryberg had been a homecoming prince at the school.
One student, Jaime Hernandez, tweeted: @Baeme_"So glad I didn't get shot... I was like a table away! Thank god."
Another, Miguel Rocha, tweeted: "DONT GO TOWARDS THE CAFETERIA."
Then he said: "Thank god I didn't get lunch today," and "Praying whoever might have gotten shot was okay."
Authorities first learned about Friday's shooting at Washington state's Marysville-Pilchuck High School after getting a 911 phone call around 10:30 a.m. from someone inside the school, said Robb Lamoureux of Marysville police to Q13FOX. He said police do not believe there are any other shooters.
The school was placed on lockdown at 10:45 a.m. Friday. Police and emergency vehicles could be seen around the school.
Officers were searching room to room with guns drawn and marking rooms as they cleared them, the Seattle Times reported. Police were finding students and staff members hiding throughout the school.
Shortly after 11:00 a.m. groups of  students were seen walking away from the school with their hands in the air. Others were bused to a nearby church. Officials were asking parents not to come directly to the school.
A student locked down inside a classroom told CNN by phone that the shooting began in the cafeteria.
The student, whose name is being withheld, said when the shooting began students initially thought it was a fire drill until teachers told everyone to run into classrooms because there was a shooting.
The student said she was hiding in a classroom with other students.
Student Alan Perez told KING-TV he was eating his lunch at a nearby table when he heard the gunshots.
"He had a little gun in his hand. I saw the flash from the muzzle," he said.
A third student told Q13 FOX News that she was eating in the cafeteria just two tables away when she saw the gunman stand up and pull a handgun out of his pocket. Peyton said she heard five gunshots and ran to the nearest exit with other students.
The Marysville School District released this statement, posted by Q13FOX:
"The Marysville Pilchuck High School is currently in lock down due to an emergency situation. Police and emergency services have responded. The Marysville School District lock down procedures will remain in effect at Pilchuck until further notice from law enforcement. We will continue to forward communication in cooperation with law enforcement.
Students who attend MPHS campus are being relocated to the Shoultes Community Church at the corner of 116th and 51st Street.  Buses will take students home from there.  Those parents in the area wanting to pick up their child will need to go to the church location and sign out their child out with school administrator or law enforcement.
FBI agents were assisting local police.
A prayer vigil was scheduled for 6:30 p.m. Friday at The Grove Church, 4705 Grove Street in Marysville.
The Associated Press contributed to this report.
For more on this stiry go to Q13 FOX
Follow us on twitter.com/foxnewslatino
Like us at facebook.com/foxnewslatino