Several Dead in Clashes Between Yemeni Forces, Militants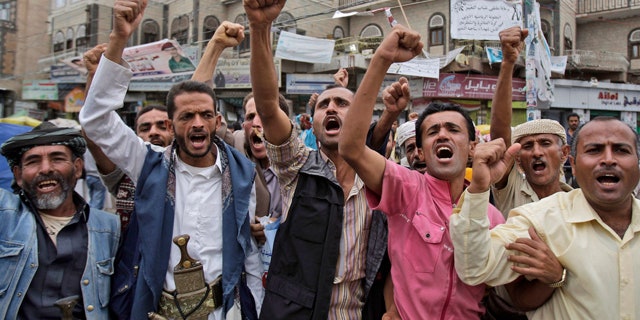 SANAA, Yemen -- Yemeni security forces clashed with Islamist fighters near a southern town overrun by militants, leaving seven Islamists and a soldier dead, officials said.
Two militants were arrested, said Yemen's Defense Ministry.
Security across the impoverished nation in the southern corner of the Arabian Peninsula, home to an active Al Qaeda branch, has largely collapsed since the uprising seeking to oust President Ali Abdullah Saleh broke out in February.
Islamist fighters seized Zinjibar and another southern town earlier this year, and Yemeni troops have sought to push them out.
Wednesday's clashes broke out when Islamist fighters attacked an army base west of Zinjibar, but were repelled. Yemen's Defense Ministry said in a statement that seven Islamists were killed and two arrested during the attack. Medics said one soldier was killed and three injured in the clashes.
To the west, medical officials said two soldiers were killed in clashes with armed tribesmen near the southern city of Taiz, a hotbed of opposition protests.
The fighting raged in different areas outside the city throughout the day Wednesday, with government forces firing heavy artillery at positions held by tribal fighters. Military officials said the soldiers were killed when tribesmen attacked a checkpoint. Eyewitnesses elsewhere said tribal fighters set fire to three military vehicles.
Also Wednesday, port officials in the port city of Aden said pirates seized an oil tanker off Yemen's coast before Yemeni and international forces intervened and freed the ship. The ship had left the Saudi port of Jiddah and was heading for Sri Lanka, flying a Panamanian flag, the officials said.
All officials spoke on condition of anonymity because they were not authorized to brief the media.