Secretary Clinton Courting China's Support to Punish North Korea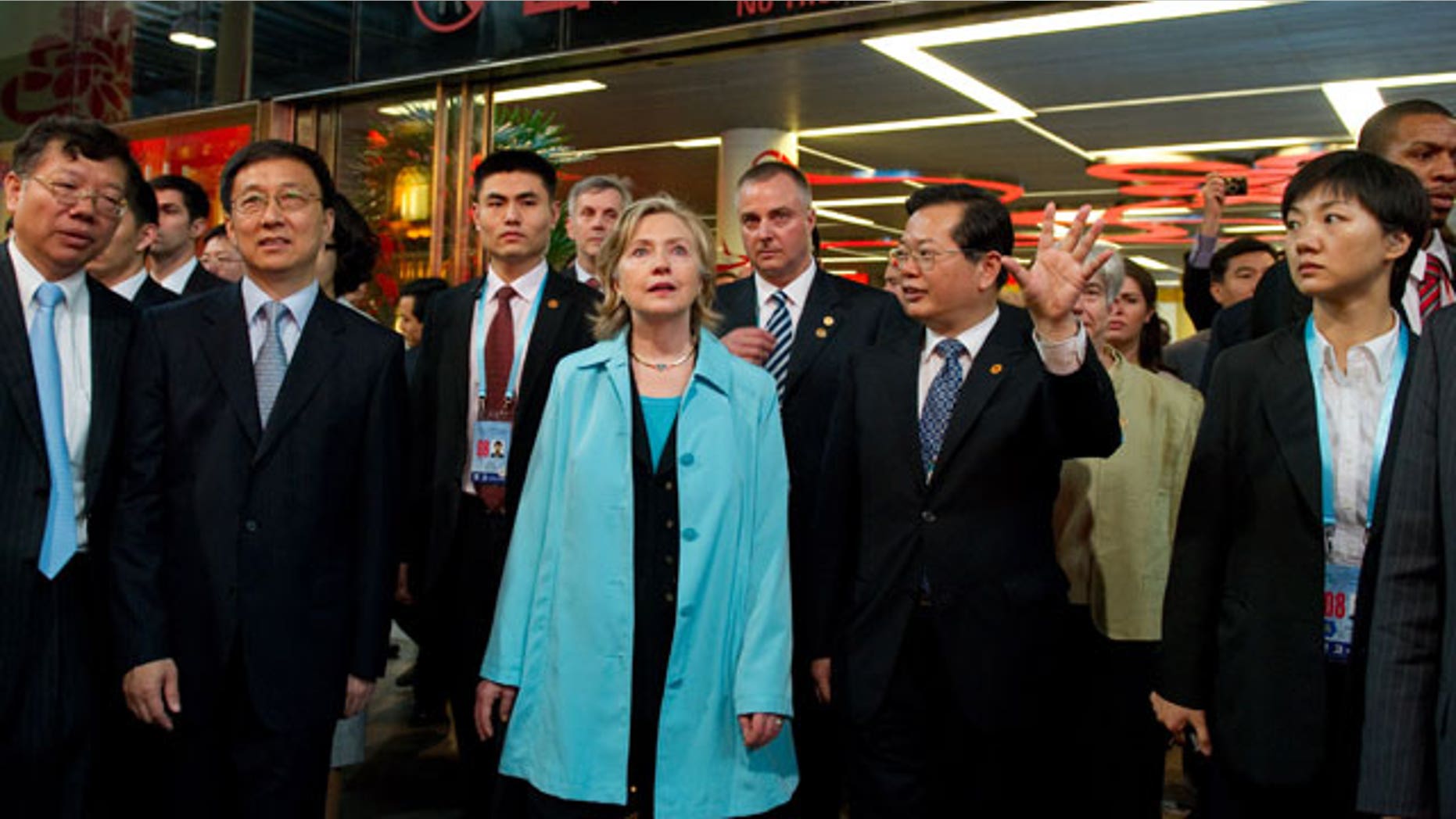 SHANGHAI -- Courting the Chinese people, U.S. Secretary of State Hillary Rodham Clinton tried to make the case Saturday for greater cooperation and partnership between the two countries as a difficult diplomatic assignment approached: winning Beijing's support for punishing ally North Korea.
She faces a hard sell convincing China's leaders that they should back U.N. penalties after an international investigation blamed North Korea for sinking a South Korean navy ship.
Touring the U.S. and Chinese pavilions at the World Expo, Clinton waded into crowds, shook hands and posed for photos. The underlying message in her cultural charm offense was that the U.S. and China share basic values and, as world powers, should work together to counter global problems.
At the Chinese pavilion, she gleefully greeted the Expo's mascot -- Haibao, a plump sky blue cartoon figure that some say resembles Gumby. She noted they were wearing the same color and then joked, "We come from the same family." At the U.S. pavilion, surrounded by Chinese schoolchildren, she passed out souvenir teddy bears and praised the students for learning English.
"We may not always agree on every issue, but we should seek and seize opportunities like this Expo to build greater understanding between our peoples," she said later a dinner at the U.S. pavilion attended by sponsors and Chinese officials.
Her visit to the massive Expo on the banks of the Huangpu River marked a respite from an otherwise hectic and intense three-nation journey to Asia. She stopped briefly in Japan on Friday, and her schedule put her in Beijing on Sunday and the South Korean capital of Seoul on Wednesday.
The downed ship is crowding out all else on her agenda, even the high-level strategic and economic talks between the U.S. and China on Monday and Tuesday that were the main thrust of her trip. Clinton and U.S. Treasury Secretary Timothy Geithner are heading the Obama administration's team of nearly 200 officials.
The release Thursday of the report blaming North Korea changed all that. Now, her chief task is persuading China to go along with U.N. Security Council action against North Korea.
An international team of civilian and military investigators said that a North Korean submarine fired a homing torpedo on March 26, ripping South Korea's 1,200-ton Cheonan in two. Fifty-eight sailors were rescued, but 46 died -- South Korea's worst military disaster since the 1950-53 Korean War.
The U.N. Command began an investigation Saturday into whether the sinking violated the Korean War truce agreement. The North denounced the investigation as a "bogus mechanism," and has denied any role in the sinking, claiming that South Korea fabricated evidence to frame the North.
China is North Korea's primary ally and financial supporter. Beijing has been neutral on the conclusions of the report.
In Tokyo on Friday, Clinton said the evidence was "overwhelming" that North Korea was behind the sinking and that the reclusive communist country must face international consequences.
Chinese officials have appealed for calm and called the sinking "unfortunate." But they have stopped short of backing South Korea, instead reiterating long-standing views on the need to maintain peace on the peninsula. China is a veto-holding permanent member of the Security Council, so its backing for any action is critical.
U.S. officials traveling with Clinton say she will push Chinese leaders to "acknowledge the reality" of what happened and support measures to persuade the North to change its behavior.
Silent Saturday on the incident, Clinton made clear that she hoped the U.S. pavilion would promote greater understanding and good will between Washington and Beijing, as well as between the Chinese and American people. She said she would carry "very positive feelings" about U.S.-China ties from Shanghai to the talks in Beijing.
Clinton has been a major advocate of cultural diplomacy and is credited with salvaging U.S. efforts to raise money to build a pavilion in Shanghai. The U.S. government is barred from spending money on the event, and Clinton led the drive to raise more than $61 million from corporations and private sponsors to pay for the pavilion.
The exhibit has proven wildly popular, according to U.S. officials who say it has logged more than 700,000 mostly Chinese visitors since it opened two weeks ago.
It features a pair of short feel-good films welcoming Chinese visitors and a multimedia presentation showcasing American ingenuity and persistence in the face of adversity. There is no overt mention of democracy or personal freedoms, but officials say the displays promote them subtly by focusing on America's multicultural experience and community values.