S. Koreans dismiss cockpit culture as cause of crash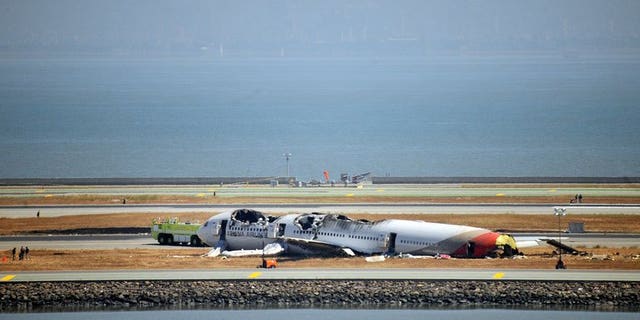 SEOUL (AFP) – South Korean aviation officials on Friday dismissed any suggestion that a deferential culture in which junior pilots were afraid to challenge their seniors played a part in the crash of an Asiana jet in San Francisco.
Two people died and more than 180 were injured when a Boeing 777 crashed last Saturday after clipping a seawall short of the runway, skidding out of control, shredding the tail of the plane and catching fire.
An investigation by the US National Transportation Safety Board is focusing much of its attention on the Lee Gang-Kuk, who was landing the 777 for his first time, and his trainer Lee Jeong-Min.
"We're certainly interested to see if there are issues where there are challenges to crew communication," Deborah Hersman said, head of the US National Transportation Safety Board (NTSB) which is investigated the crash said Wednesday.
Aviation industry have been training pilots in order "to make sure that a junior pilot feels comfortable challenging a senior pilot and to make sure the senior pilot welcomes feedback in a cockpit environment from all members of the crew and considers it", she said.
But Chang Man-Heui, director of flight standards at the South Korean transportation ministry said it was "outrageous to suggest that traditional Korean Confucianist culture might have contributed to the accident".
"It's true that authoritarianism existed in the cockpit until the late 1990s (of South Korean flights) but we have now a completely different culture," he said, dismissing such a suggestion as "anachronistic".
One incident partly blamed on rigid relations between senior and junior pilots was the 1999 crash of a Boeing 747 Korean Air cargo shortly after takeoff from London.
The plane's captain, who had a malfunctioning cockpit indicator, censured his first officer who was communicating correct information to the control tower, according to British investigators.
Another accident linked to a deferential culture involved a Korean Air Boeing 747 that prematurely descended on an approach and slammed into a hillside short of the runway at Guam in 1997, killing 223 of 254 aboard.
The captain failed to respond to warnings from his junior pilot that they were flying too low according to reports.
These crashes and other accidents sparked a hectic government-led campaign to improve cockpit environment as part of global efforts at better crew resources management, which have largely paid off, local experts said.
Professor Jung Yun-Sick at Jungwon University, a former Asiana pilot, noted drastic changes had occurred not only in aircraft cockpit but the South Korean society as well.
"I assure you that cockpit culture has undergone great changes and become as much democratic as another countries", he said.
"But this does not mean there should be no hierarchical order in the cockpit as aircraft, as well as ships, need a strict command and control", he said.