Putin skis, plays hockey while touring Olympic sites in Sochi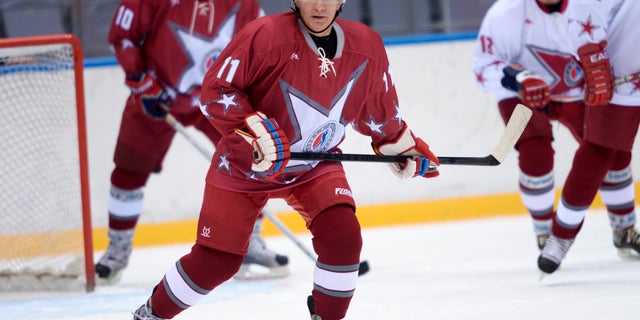 NEWYou can now listen to Fox News articles!
Russian President Vladimir Putin showed he's taking Olympic hosting duties seriously when he took the ice with the leader of Belarus and some former hockey stars in Sochi over the weekend.
Putin laced up his skates and donned a full uniform with Belarussian leader Alexander Lukashenko to face off against National Hockey League legends Pavel Bure and Vyacheslav Fetisov in a pickup game at the Olympic hockey arena Saturday, according to a report in the Moscow Times.
Putin's team won 12-3.
The Russian leader attended a rehearsal of the games' opening ceremony Saturday, and also tested the ski slopes in Sochi last week as part of his swing around the city to inspect all the Olympic facilities.
Security at the games has come under scrutiny after two suicide bomb attacks in Volgograd in December killed 34 people. The southern city of Volgograd is about 400 miles from Sochi.
Putin recently eased restrictions on protests in Sochi after much criticism over human rights concerns. He amended a decree to permit groups to hold some marches and gatherings at sites approved by security services, according to a Kremlin statement reported by Sky News.
The Winter Olympic Games run February 7-23.