Panama's president says he'll travel to Europe to get help in dispute with canal builders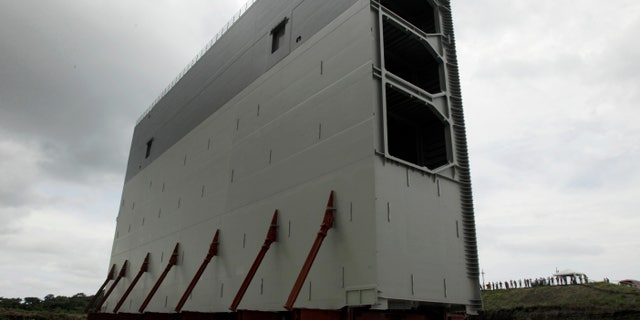 PANAMA CITY – Panama's president said Thursday that he'll travel to Italy and Spain to seek their governments' help in resolving a $1.6 billion dispute that's threatening to halt the Panama Canal's expansion.
The consortium responsible for most of the expansion issued an ultimatum Wednesday giving the Panama Canal Authority 21 days to pay for a cost overrun that's roughly half of Grupo Unidos por el Canal's original $3.2 billion bid to build a third set of locks. The consortium is formed by Spain's Sacyr Vallehermoso, Impregilo of Italy, Jan De Nul of Belgium and Constructora Urbana SA of Panama. The canal authority says the companies are responsible for the extra costs.
President Ricardo Martinelli said that Italy and Spain "have a moral responsibility" to help resolve the dispute between the companies and Panama.
"It's not possible for a company to just announce an enormous amount of cost overruns, when they had already fixed a price," Martinelli said. "And now they're coming forward saying that the price has risen."
The Panama Canal Authority says the business consortium is unjustly trying to force it to pay for the cost overruns with the threat to halt work. Each side says the other is responsible for the added costs.
Alberto Aleman Zubieta, a former administrator of the canal, said he believed the dispute would be resolved in a way that wouldn't delay the completion of the canal expansion.
"I believe there's still a lot left to discuss," he told a local television station.
Grupo Unidos por el Canal won the contract to design and build a third set of locks with a $3.2 billion bid in 2009.
Panama has estimated the full expansion program will cost $5.2 billion, with the new, wider locks allowing the 50-mile (80-kilometer) canal to handle ships far larger than those that can now navigate the century-old waterway.
Officials have most recently said the work should be finished by June 2015. Officials say the overall expansion work is 72 percent finished, with the locks themselves at 65 percent.
Sacyr's shares on the Madrid stock exchange plunged in value by some 15 percent when trading began Thursday. The stock price recovered by mid-afternoon but was still down 8 percent at 3.5 euros.
Calls to Sacyr's headquarters in Madrid went unanswered but Sacyr spokesman Pedro Alonso, speaking on Spain's Cadena SER radio, defended the company's record in Panama.
"The truth is it's a job being carried out to maximum technical and quality standards that is going to last a 100 years and everything that has been done has been necessary, nothing has been done on a whim," he said.
Wikileaks cables from the U.S. Embassy said a confidential analysis by the American firm Bechtel, which lost the bid for the canal project , had claimed that Sacyr's winning tender was unrealistic and would barely pay for the concrete, leading Spanish newspaper El Pais reported Thursday.
___ Ciaran Giles in Madrid contributed to this report.