North Korea's Kim Jong Il Meets With China's President in Beijing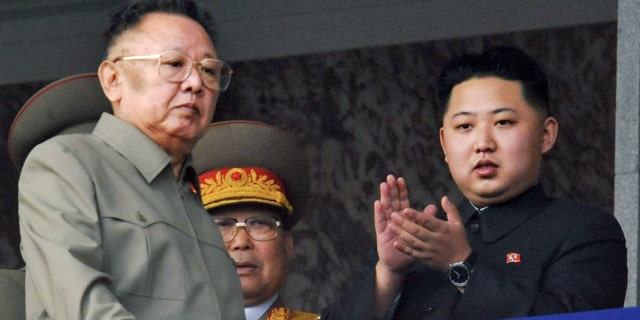 NEWYou can now listen to Fox News articles!
BEIJING -- North Korea's supreme leader Kim Jong Il met Wednesday with Chinese President Hu Jintao for the third time in just over a year, as Beijing seeks to convince its communist ally to adopt reforms and stabilize its ailing economy.
Beijing is North Korea's most vital diplomatic backer and economic supporter and is desperate to prevent a chaotic collapse of Kim's isolated regime. Kim rarely makes foreign trips and his third visit to China in just over a year emphasizes how much he relies on Beijing for diplomatic backing and economic assistance.
China's Foreign Ministry has refused to confirm Kim's presence in China, although Premier Wen Jiabao has said his country invited the North Korean leader to study, and hopefully adopt, Beijing's market-oriented reforms. His previous stops during the secretive trip, which began Friday, were said to be economically related.
Previous reform attempts have been abandoned by North Korea and it remains unclear how much 69-year-old Kim -- or his anointed successor, son Kim Jong Un -- would be willing to change. A disastrous currency reform early last year and the pressure of international nuclear sanctions have put the regime on the defensive, and that might make it less likely to take risks.
South Korean media said Kim arrived in Beijing Wednesday morning from the southern city of Nanjing aboard his personal train. A motorcade believed to be carrying Kim and his delegation arrived Wednesday evening at the Great Hall of the People, the seat of the legislature in the heart of Beijing where Hu usually receives official visitors.
In South Korea's capital, Seoul, President Lee Myung-bak cheered Kim's China visits as a positive force for change.
"Visiting there often, watching and learning, and China's assistance -- such things would bring about changes," Lee said, according to the Yonhap News agency.
North Korea's exchanges with China have grown even more important since South Korea's conservative government halted unconditional food and fertilizer shipments in early 2008 and suspended almost all trade with the North. The U.N. and other groups also have enacted sanctions to punish the country for violating nuclear agreements.