North Korea calls US-South Korea summit a preparation for war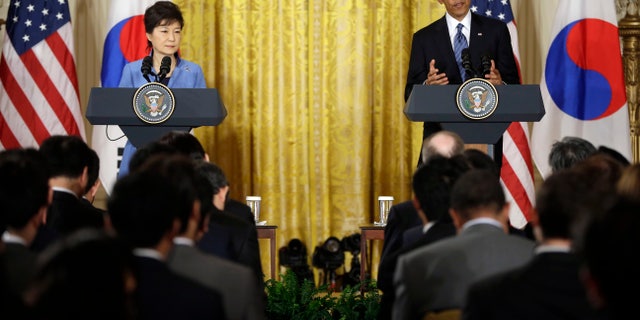 SEOUL, South Korea – Ahead of a nuclear-powered U.S. carrier's visit to South Korea, North Korea on Friday called this week's summit between the U.S. and South Korean presidents a prelude to war against Pyongyang. Yet it also said it was waiting "with patience" to see if Seoul changes its policies.
The North described South Korean President Park Geun-hye's visit to Washington as a "despicable sycophantic trip to please her master."
The summit between the two allies is "a curtain-raiser to a dangerous war to invade" the North, an unnamed spokesman for the North's Committee for the Peaceful Reunification of Korea told the official Korean Central News Agency. The committee deals with cross-border relations, which are at a low point.
At the same time, the North Korean spokesman said Pyongyang is "following the present authorities in South Korea with patience," arguing that it is not Pyongyang but Seoul that should change its stance.
North Korea unleashed a flurry of war threats last month, but there has been a lull of late. There are some tentative signs of interest in diplomacy, though Pyongyang has also kept up its criticism of both Seoul and Pyongyang.
North Korea previously criticized the impending visit of the nuclear-powered aircraft carrier USS Nimitz. It and three other ships will arrive Saturday in the southeastern port city of Busan in a show of U.S. commitment in the region, the U.S.-South Korean Combined Forces Command said in a statement.
Wee Yong-sub, deputy spokesman for the South Korean Defense Ministry, said Friday that the carrier will participate in a variety of annual naval exercises, including search and rescue operations.
North Korea's military earlier this week threatened the United States and South Korea over their joint naval drills taking place this week, including anti-submarine drills ending Friday in tense Yellow Sea waters.
Pyongyang sees American use of nuclear assets in the region as aimed at toppling its government. Amid North Korean threats of nuclear war in March, Washington took the unusual step of announcing the participation in big U.S.-South Korean military drills of nuclear-capable B-52 and B-2 bombers, drawing a furious response from Pyongyang.
North Korea's Foreign Ministry said Friday in a statement that those drills posed the "biggest-ever nuclear threat" to Pyongyang, urging President Barack Obama to reverse what it called a hostile U.S. posture toward the North.
Obama and Park met Tuesday in Washington and warned Pyongyang against nuclear provocations. Pyongyang conducted its third nuclear test in February and triggered a new round of U.N. sanctions against it.
Park and Obama said after their summit that they are open to dialogue if Pyongyang moves toward nuclear dismantlement.
Park took office in February with a pledge to build trust with North Korea through aid and other civilian exchanges. In a speech to Congress on Wednesday, she said the North's twin goals of developing nuclear arms and pursuing economic improvement are incompatible.
The North Korean reunification spokesman called that slander.
On Monday, Glyn Davies, top U.S. envoy dealing with North Korea, will travel to Seoul to meet with senior officials as part of a three-day trip that includes China and Japan, the State Department said.