Niger: Only 1 Major Libyan Figure Has Entered Country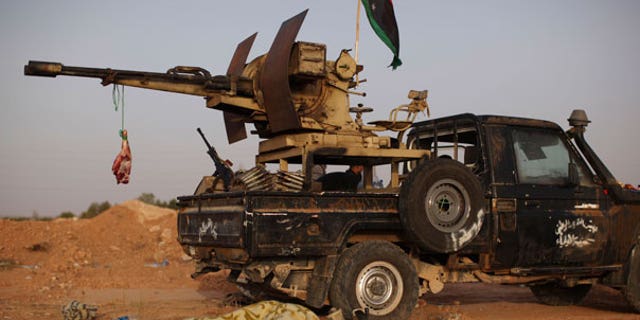 NIAMEY, Niger – A senior member of Muammar Qaddafi's inner circle slipped into Niger along with three carloads of collaborators, an official said Tuesday, but the toppled Libyan leader was not among them nor were any members of his immediate family.
Massoudou Hassoumi, a spokesman for the president of this landlocked African nation which shares a border with Libya, said that Qaddafi's security chief had crossed the desert accompanied by a major Tuareg rebel.
The government of Niger dispatched a military convoy to escort Mansour Dao, the former commander of Libya's Revolutionary Guards who is a cousin of Qaddafi as well as a member of his inner circle, to the capital, Niamey.
Dao is the only senior Libyan figure to have crossed into Niger, said Hassoumi, who denied reports that Qaddafi or any member of his immediate family was in the convoy.
"There were three cars that crossed with one senior official from Qaddafi's regime, whom we have placed under surveillance," said Hassoumi, the chief of staff of President Mahamadou Issoufou. "They arrived in Niamey yesterday night. They slept in Niamey. The official is Mansour Dao. He asked for refuge ... we sent a military convoy to get him."
The group of nine people also included several pro-Qaddafi businessmen, as well as Agaly ag Alambo, a Tuareg rebel leader from Niger who led a failed uprising in the country's north before crossing into Libya, where he was believed to be fighting for Qaddafi.
U.S. State Department spokeswoman Victoria Nuland said senior members of the Qaddafi regime were in the convoy that reached Niger.
"But we do not believe that Qaddafi was among them," she told reporters. "We don't have any evidence that Qaddafi is anywhere but in Libya at the moment."
Nuland said the United States has urged Niger to detain any individuals who may be subject to prosecution in Libya, as well as to confiscate their weapons and impound any state property, such as money or jewels, that were illegally taken out of the country.
Since Tripoli's fall last month to Libyan rebels, there has been a movement of Qaddafi loyalists across the porous desert border that separates Libya from Niger. They include Tuareg fighters who are nationals of Niger and next-door neighbor Mali who fought on Qaddafi's behalf in the recent civil war.
There has been intense speculation regarding the whereabouts of Qaddafi's inner circle and last week, Algeria, which like NIger shares a border with Libya -- confirmed that the ousted leader's wife, his daughter, two of his sons, and several grandchildren had crossed onto Algerian soil.
Hassoumi spoke of "waves" of returnees crossing over from Libya that preceded the arrival Monday of Qaddafi's security chief, but he said they were mostly Tauregs and not Libyan soldiers or civilians.
Customs official Harouna Ide told the AP that in addition to the convoy with Dao, other convoys from Libya were south of Agadez in central Niger.
Hassoumi said that Dao was taken to a villa in Niamey which is under 24-hour surveillance. His account concurs with what leaders of the Tuareg ethnic group told The Associated Press, as well as a Western diplomat who asked not to be named because he was not authorized to speak to the press.
All of them debunked earlier media reports that Qaddafi and his immediate family may have been in the entourage, as well as initial figures stating that the convoy consisted of as many as 200 military vehicles from Libya.
Assarid Ag Imbarcaouane, a Tuareg elder from neighboring Mali who is one of the vice presidents of its parliament, said there were no more than a few dozen cars.
"As far as the information I have received, the Guide is not in the convoy," he said, referring to Qaddafi. "Rather, it's people in Qaddafi's entourage and Agaly Alambo."
Qaddafi is believed to have financed the Tuareg fighters that launched rebellions in the swathe of the Sahara Desert that stretches across the northern part of Niger and Mali. They repaid him in kind and during the recent civil war, Tuareg soldiers fought until the bitter end to protect Qaddafi's grip on power.
Qaddafi felt so welcome among the Tuareg people that every few years, he organized a caravan from his native city of Sirte through the hundreds of miles of desert spanning southern Libya, northern Niger, and parts of Burkina Faso. He drove in a convoy of well-armed SUVs and stopped to pitch his tent in the desert and meet with tribal leaders.
A representative of the Libyan rebel's National Transitional Council in Sirte, Hassan Droua, said he had reports from witnesses inside the city that a convoy of cars belonging to Qaddafi's son Moatassim had left Sirte, heading south toward the Niger border, after they were loaded with cash and gold from the city's Central Bank branch.
The government of Burkina Faso sought to quash speculation that convoys from Libya would proceed to that country, west of Niger, where Qaddafi was a frequent visitor during his days as Libya's Brother Leader.
Foreign Minister Djibril Bassolet had said last month that the West African nation would welcome Qaddafi. On Tuesday, Communications Minister Alain Edouard Traore went on state television to say: "We have heard nothing about (Qaddafi's) whereabouts ... But if he were to show up at our border he will be treated in keeping with international law."
Both Niger and Burkina Faso are signatories to the International Criminal Court, which issued an arrest warrant for the Libyan leader, his son and the country's intelligence chief. But both nations also belong to the African Union, which in July called on member countries to disregard the warrant. The AU and many African leaders have become increasingly critical of the court, accusing it of targeting Africans.
"There is no longer a Guide in Libya," Traore said. "We have recognized the NTC."
Qaddafi, who ruled Libya for more than 40 years, has been on the run since losing control of his capital, Tripoli, last month. The rebels say at least two of his sons had been in the town of Bani Walid, one of the last remaining pro-Qaddafi strongholds, in recent days. Moussa Ibrahim, Qaddafi's spokesman and one of his key aides, was still believed to be in the town, rebel officials said.
Thousands of rebel fighters have surrounded the town as their leaders tried to negotiate a surrender.