Newborn abandoned in dumpster had flies all over her, couple who saved her now fight for adoption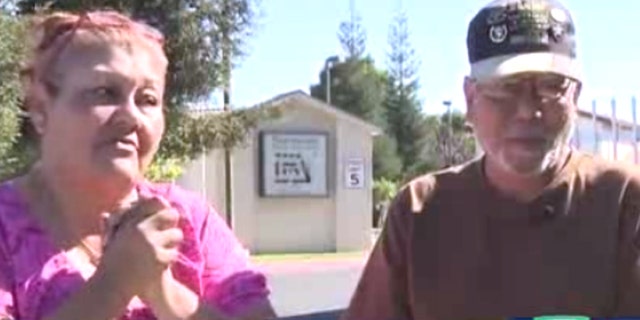 NEWYou can now listen to Fox News articles!
A couple of grandparents in Central California have embarked in an unforeseen journey after they found a tiny baby girl lying motionless in a dumpster near their apartment.
"I am grateful," Jimmy Alvarez, a 65-year-old Vietnam veteran, said. "God put us on her path to rescue her."
It was another insomniac night for Alvarez, a PTSD sufferer who last Thursday was once again waiting for the crack of dawn on the stoop of his building, having a smoke.
The family dog was with him when suddenly he started barking like all hell was breaking loose.
Annete, Jimmy Alvarez's wife, came out to see what was going on — and that's when the commotion really started for the family and the whole town of Merced, in Southern California.
A man in his late 30s or early 40s came running to them yelling, "call 911! call 911!" He was so scared he had tears in his eyes, Ms. Alvarez told Fox News Latino.
The man then dragged them some 40 feet away to the building's dumpsters area, where he had been looking for recyclables, and showed them what he had ran into: a newborn wrapped in a blanket. "She was cold, and she was all pale," Ms. Alvarez, 56, recalls.
"My husband took out his shirt and wrapped her, I was padding her chest and her back for a while and she gasped for air," she said.
They all went inside the apartment, still dark out, and paramedics and police soon arrived. Those few minutes were enough, however, for them to develop a bond with the baby girl they would like to name Milagros (Miracle, in Spanish).
Not much is known about how the baby came into the world, but the mother, police said, is a 13-year-old who lived right upstairs the Alvarezes with her mom and extended family.
Ms. Alvarez told Fox News Latino she had her suspicions that the girl was pregnant and even asked her aunt, with whom she is friendly, about it. But all was denied and Ms. Alvarez said she didn't want to pry.
But after the Oct. 9 episode it all became clear to her and her husband, who are parents of one child and grandparents of two girls (16- and an 11-year-old) who live with them.
That same day, the young mother was taken under custody, while the baby girl remains in the care of Child Protective Services and has been enrolled in the foster care system, Ms. Alvarez said. But they want to go "all the way" and fully adopt the girl they feel so attached too already.
"It was filthy, flies all over her, bugs," Ms. Alvarez said with disgust. "You couldn't believe it."
Authorities have not released much information about the teen mom and have not said whether they would press charges against her. Police are gathering facts and will turn the evidence over to prosecutors.
Merced Police Capt. Tom Trindad told the Merced Sun Star that the baby appears to be "doing very, very well." Trindad told the Associated Press that investigators are trying to determine whether the pregnancy was a result of sexual abuse.
Alvarez said she thinks the baby had been in the dumpster one or two hours at the most, and probably wouldn't have survived much longer.
She believes she was placed there by the family because they knew Mr. Alvarez was always out at that hour and knew she would be in good hands. But that's just a well-intentioned guess.
When Ms. Alvarez confronted Alicia's aunt after the incident, she told her she wanted to adopt her: "I don't want nothing to change between us," she told her, "I just saved your niece." To what the aunt just said, "Do what you have to do," according to Ms. Alvarez.
The Alvarezes haven't been allowed to see the baby girl since Thursday, and are hopeful they soon will. They have baby clothes for her and a sense of commitment they long to fulfill. They said they are willing to go patiently through all the adoption process they happen to know well: they have been foster parents three times before.
But this time, given the publicity of the case, there is a lot of competition to adopt little Milagros.
"My friends say they want to rally for me," Ms. Alvarez said, amused. "I just hope and pray to God that she's OK."