Netanyahu slams Turkey's Erdogan for claiming Israel is 'terrorist state' that 'kills children'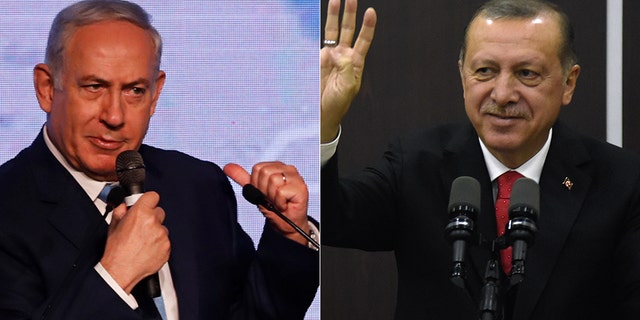 Turkish President Recep Tayyip Erdogan on Sunday described Israel as a "terrorist state" and said that it "kills children," leading to a sharp rebuke from Israeli Prime Minister Benjamin Netanyahu.
"Palestine is an innocent victim… As for Israel, it is a terrorist state, yes, terrorist!" Erdogan said in a speech in the central city of Sivas, AFP reported. "We will not abandon Jerusalem to the mercy of a state that kills children."
He spoke days after President Trump announced the U.S. would recognize Jerusalem as the capital of Israel and ordered the State Department to start the process of moving the U.S. Embassy there from Tel Aviv.
Israeli Prime Minister Benjamin Netanyahu, speaking at a news conference in Paris alongside French President Emmanuel Macron after the two leaders met, responded to Erdogan:
"I'm not used to receiving lectures about morality from a leader who bombs Kurdish villages in his native Turkey, who jails journalists, helps Iran go around international sanctions and who helps terrorists, including in Gaza, kill innocent people," Netanyahu said, according to Reuters.
The fallout from President Trump's decision continued as Lebanese security forces used tear gas and water cannons to disperse protesters near the U.S. Embassy in Lebanon.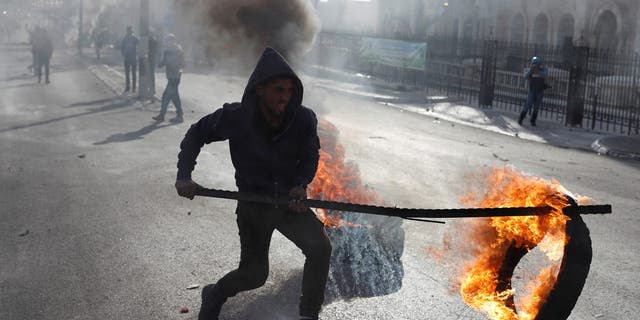 Thousands of demonstrators chanted slogans against Trump and waved Palestinian flags, while some threw rocks and set tires and a trash can on fire.
A report from the human rights group Defense for Children International (DCI) found that Israeli forces killed 32 children in 2016 during raids and confrontations with the army, making it one of the deadliest years on record.
AL QAEDA CALLS FOR ATTACKS AGAINST US AFTER TRUMP'S JERUSALEM DECISION
There also has been an upswing in violence in Jerusalem, according to DCI, since October 2015, with 36 Israelis killed in stabbings and shootings.
Of the Palestinians killed, 19 people were ages 16 to 17, and 13 more were 13 to 15, DCI reports.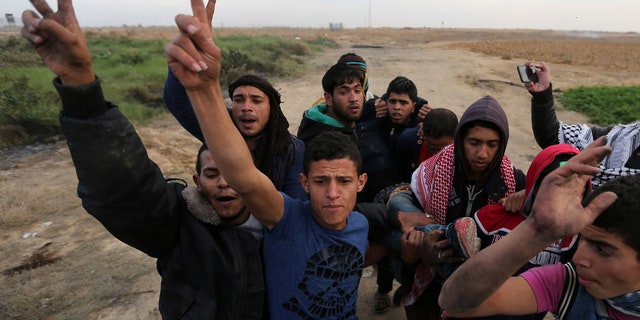 According to the United Nations, some 450,000 Palestinians live in Lebanon, primarily spread across 12 refugee camps.
Trump's decision, which was widely condemned across the Arabic world and by U.S. allies across Europe, dealt a blow to the long-held international view that Jerusalem's fate would be decided in future negotiations as part of a long-term peace agreement. Palestinians see occupied east Jerusalem as the capital of their future state.
The Times of Israel reported that tens of thousands of protesters, waving Palestinian flags, rallied in Morocco's capital Rabat on Sunday against President Trump's declaration of Jerusalem as Israel's capital.
One banner carried by protesters reportedly read "Jerusalem, capital of Palestine!"
"The Palestinian people have suffered so much and continue to suffer because of Israel's barbaric colonization," one of the protesters, 43-year-old Mustapha, told the Times of Israel.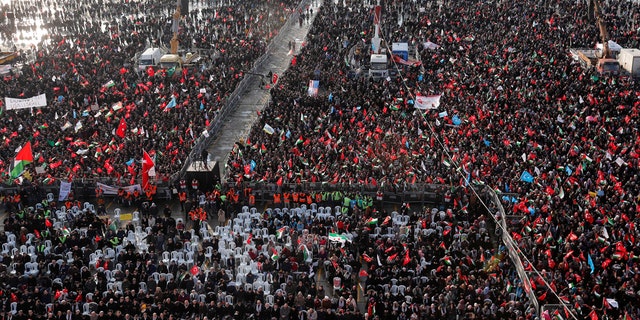 BAHRAIN FAITH GROUP VISITS ISRAEL AMID JERUSALEM TENSIONS
In a Twitter post, Lebanon's Prime Minister Saad Hariri wrote that Lebanon "declares on this day the highest degree of solidarity with the Palestinian people and its right to establish an independent state with Jerusalem as its capital."
Reuters reports the head of the Arab League called Trump's decision "dangerous and unacceptable" and a "flagrant attack on a political solution" to the Israeli-Palestinian conflict.
In Indonesia, which has the world's largest Muslim population, 10,000 people rallied on Sunday outside the American Embassy in the capital, Jakarta.
Meanwhile, two Hamas members were killed early Saturday by Israeli airstrikes following a rocket attack on Israel, according to the Los Angeles Times.
The Israeli military said it targeted four Hamas facilities in response to rockets that were launched the previous evening.
Saturday saw a drop in the scope of the protests after clashes erupted between Palestinian protesters and Israeli troops in dozens of West Bank hot spots and along the Gaza border.
Crowds of worshippers staged anti-U.S. marches, stomping on posters of Trump and burning American flags.
The Associated Press contributed to this report.