Mexico's Enrique Peña Nieto Faces Backlash Over Education Reform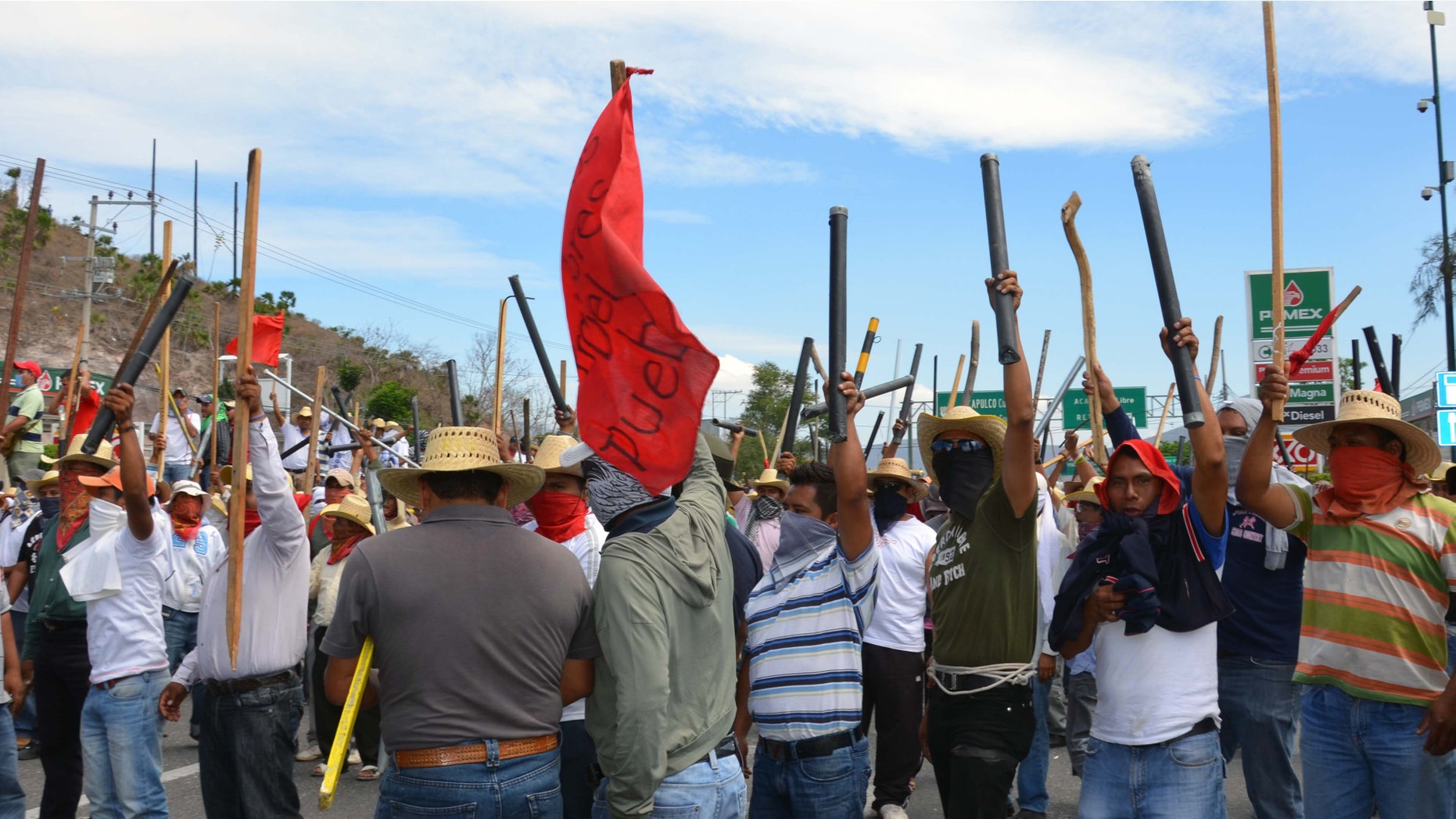 ATLIACA, Mexico – Teachers marched by the thousands through the streets of the state capital, some masked and brandishing metal bars and sticks in an escalating showdown over education reform that's become a key test of President Enrique Peña Nieto's attempt at sweeping reforms of Mexico's most dysfunctional institutions.
The fight is dominating headlines in Mexico and freezing progress on a national education reform that Peña Nieto hoped would build momentum toward more controversial changes. Those include opening the state-owned oil company to foreign and private investment and broadening Mexico's tax base, potentially with the first-ever sales tax on food and medicine.
Peña Nieto's first major legislative victory after taking office in December was a constitutional amendment eliminating Mexico's decades-old practice of buying and selling teaching jobs, and replacing it with a standardized national teaching test. That's heresy to a radical splinter union of elementary and high-school teachers in Guerrero, one of the country's poorest and worst-educated states. The teachers claim the test is a plot to fire them in mass as a step toward privatizing education, although there is little evidence the government plans that.
Reform advocates say the dissidents simply fear losing control over the state education system and the income it provides, despite the need to reform a system that eats up more of the budget and produces worse results than virtually any other in the world's largest economies.
The 20,000-member group walked out more than a month ago, turning hundreds of thousands of children out of class. Then it launched an increasingly disruptive string of protests.
On Wednesday, the protesters won support from a wing of the armed vigilante groups that have multiplied across poor Mexican states in recent months. On Thursday, they blocked the main highway from Mexico City to Acapulco for at least the third time, backing up traffic for hours. On Friday, they shut down entrances to some of the biggest stores in the state capital.
After returning Mexico's former ruling party to power, Peña Nieto won international acclaim in his first five months by taking on some of the country's most powerful people. He jailed the head of the far-larger national teacher's union when she threatened to fight school reform. Then his push to open the telecommunications business provoked a multi-billion-dollar drop in the stock of the market-dominating phone companies owned by the world's richest man.
Now the president finds himself facing unexpectedly tough resistance from rural teachers in straw hats and plastic sandals in his first direct conflict with the Mexican far left, a diverse and fractious group encompassing student activists, militant unions, anarchists and the remnants of indigenous guerrilla groups. The dissident teachers and their growing list of allies say that more protests are planned for other poor and heavily indigenous states starting Monday.
"If it spreads into other states then it's a real problem. It means the government can't just plan on pushing the agenda from the top," said Federico Estevez, a political science professor at the Autonomous Technological Institute of Mexico.
The conflict is fueled by the importance of teaching jobs for the poor mountain and coastal villages where the dissident union is strongest. Teaching jobs in Guerrero with lifelong job security, benefits and pension pay about $495 and $1,650 a month, depending on qualifications and tenure, well above average in rural areas, according to teachers and outside experts. They said the price to get such as job can cost as much as $20,000, usually going to the departing teacher, with cuts for union and state officials.
State education officials declined repeated requests for comment.
The government has deployed hundreds of unarmed federal police to unblock the highway, a goal police commanders have accomplished through negotiation and one clash that left a handful on both sides injured. Peña Nieto has said little about the conflict, but there is increasingly tough talk coming from his top aides.
"We're not going to respond to the threats that they've been making," Interior Secretary Miguel Angel Osorio Chong, Mexico's top law-enforcement official, said Friday. "We believe there are limits and the limit is the rule of law."
Gonzalo Juarez Ocampo, the most visible leader of the State Coordinator of Guerrero Education Workers, also issued an unsubtle warning of potential violence on Wednesday when he announced the union alliance with the 1,200-member vigilante group known as the Regional Coordinator of Community Authorities. That had ominous overtones in a country where teacher's protests exploded into clashes with police in 2006, shutting down the city of Oaxaca for five months and leaving at least a dozen dead.
The new movement, Juarez said, is "peaceful, a citizen's movement, a legal movement."
"We hope that the government understands that, and we don't have to move to a different phase," he said.
Based on reporting by The Associated Press.
Follow us on twitter.com/foxnewslatino
Like us at facebook.com/foxnewslatino