Mexican teachers union, government face off over arrests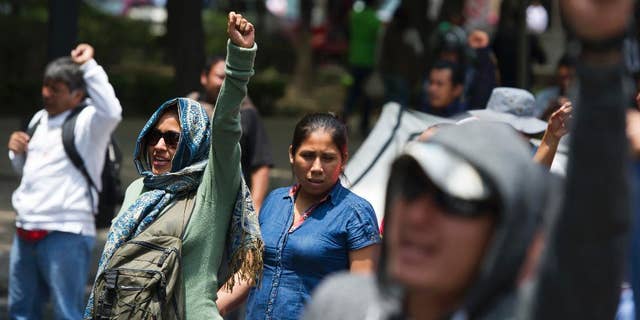 NEWYou can now listen to Fox News articles!
MEXICO CITY – A radical Mexican teachers' union has called on its rank-and-file and supporters to revolt against the government after its top leaders were arrested.
The union says in a statement that "revolution is the correct thing to do when the government is unjust."
Protesting teachers hijacked food and beverage trucks in the colonial city of Oaxaca on Monday and maintained an encampment in the city's main square.
Federal prosecutors accuse union leaders of setting up an illegal financial network to fund protests and line their own pockets.
They allege the scheme operated in 2013-2015, when the union effectively controlled the payroll of Oaxaca's teachers.
Union officials allegedly demanded a 3.5 percent cut of unionized teachers' purchases at some local businesses, and took that out of members' paychecks.