Meet the Undocumented Immigrant at Texas A&M Who Ran for Student President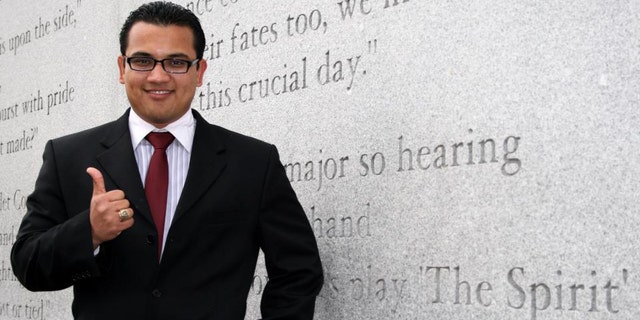 When José Luis Zelaya told his mother he'd been accepted at Texas A&M University, she was so overcome with emotion, she teared up.
"I thought, that's what moms do, they cry," Zelaya said.
But she wasn't just just crying from maternal pride. Zelaya's mother led him to her bedroom, where she pulled out a ratty tee shirt, full of holes, bearing the College Station university's logo. She was given the shirt at an immigration shelter 10 years ago, when she first arrived from Honduras with Zelaya's sister.
Zelaya's interpretation: "Even before I was in the United States, I was meant to be an Aggie."
The belief that he was destined to be an Aggie -- the nickname for Texas A&M students and sports teams -- is one that Zelaya takes seriously.
The 24-year-old student, who is pursuing a Master's in education, has worked with several student groups on campus and currently serves as the president of the Council on Minority Student Affairs.
He ran for president of the student body this year.
Campaigning on a platform of respect for diversity, keeping tuition and fees low, and increasing access to higher education, Zelaya came in fourth place out of six when the votes were counted on Tuesday night.
Celebrities Who Were Once Undocumented
"Regardless if you're gay or Muslim or Christian, we're all Aggies," Zelaya told Fox News Latino the day of the election. "We want to be able to inspire people with the idea that anything is possible."
Perhaps Zelaya's commitment to respecting diversity comes from knowing what it's like to find yourself outside the mainstream.
During a student body presidential debate last week, a student asked Zelaya how his undocumented status would affect his ability to carry out the job of student president.
It's not a relevant question, Zelaya said, arguing that his immigration status did not affect his ability to work in student government.
"Here is the way that I look at it – if I was gay, would it have been brought up that I am gay? If I were atheist, would that have come up?" Zelaya asked. "It was a question that was tough because I'm an Aggie. I'm not running because I am undocumented, I'm running because I want to make a difference, I want to better my community."
When asked, Zelaya says his religious beliefs inform his interests both in public service and multiculturalism.
"I am a Christian and He said that you need to love your neighbor regardless of who they are, and that's what I try to do in my daily life," Zelaya said.
Zelaya believes strongly not just in his faith, but in the power of the individual to overcome long odds. He speaks with relentless optimism, saying that you can't motivate your students unless you believe anything is possible.
"Eleven years ago I was a homeless little kid," Zelaya said. "Now I'm a grad student running for student president."
Zelaya grew up in San Pedro Sula, Honduras, the industrial hub of a country that now has one of the highest murder rates in the world.
Facing gang violence, poverty and an abusive father, Zelaya's mother emigrated with his sister to the United States when he was 14 years old. Zelaya followed soon after, traveling over land – a journey he says took 45 days.
Despite arriving in the United States as a teenager, Zelaya speaks English with only a slight accent. He specializes in English as a Second Language instruction and focuses on middle school-aged students.
To make extra cash in an economy where his immigration status put him at a disadvantage, he began selling crocheted beanies – a skill he picked up in Honduras, where he made his first sweater.
His business has slowed recently, but on a good month Zelaya says he can earn around $1,500.
"I crocheted my way to college," he said.
Zelaya's lack of legal residency status does not directly impede his ability to study.
Undocumented residents of Texas may attend college at in-state tuition rates thanks to a 2001 reform measure sponsored by then-State Rep. Rick Noriega (D-Houston) and signed by Governor Rick Perry, a Republican. Some 16,000 undocumented immigrants attend public Texas colleges and universities, according to the Austin-American Statesman.
Despite Zelaya's upbeat nature, his undocumented immigration status limits his opportunities after college.
When he graduates, he won't be able to practice the profession for which he trained. Though he has earned his certification to teach middle school, he cannot legally accept paid work, so he serves as a volunteer. Instead of working, he plans to pursue a PhD and hopes to stay at Texas A&M.
Asked about immigration, Zelaya sounds uncharacteristically pessimistic. He says he's dismayed by the elusiveness of immigration reform.
"This is a human issue. Our communities are under attack. Our families are being separated," he said, referring to deportation levels, which have reached their highest level in U.S. history under the Obama administration, with nearly 400,000 in the 2011 fiscal year.
In his spare time, Zelaya campaigns for the DREAM Act, a federal proposal that would provide a path to citizenship for undocumented immigrants who meet a strict set of criteria, including going to college or serving in the military.
Activism aside, Zelaya insists his immigration status doesn't matter as far as student politics is concerned.
"Me being undocumented doesn't define who I am," Zelaya said. "I am not defined by my status, I'm defined by what I do."
Roque Planas can be reached at roque.planas@foxnewslatino.