Maduro Declares An Early Christmas In Venezuela To Make Country 'Happy'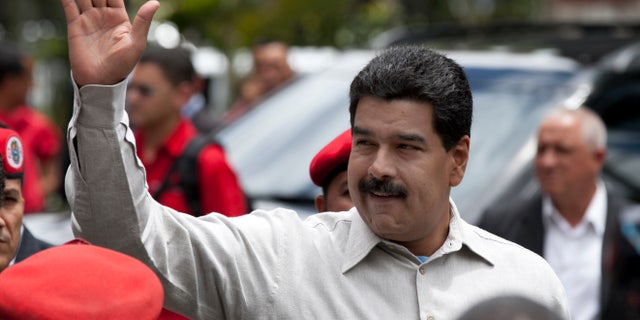 The president of Venezuela, Nicolás Maduro, is in the news again for making odd comments -- this time declaring the official arrival of "early Christmas" in the South American country, nearly two months ahead of the actual holiday.
He said all workers will receive the first two-thirds of their bonuses and pensions Nov. 10-11 ― something critics claim is only meant to get him votes in the municipal elections of December 8.
Over the weekend Maduro. lit the Nativity lights at the Presidential Palace of Miraflores and said that the last two months of the year should be premonitory of what 2014 will be.
"Merry Christmas 2013, Christmas early, early victory, early happiness for the whole family," he said. "We wanted to declare the arrival of Christmas because we want happiness for everyone," he added.
During a visit to the so-called Socialist Christmas Fair 2013, organized by the government in a central area of Caracas, Maduro exchanged a few words with actors posing as the Three Kings, sang traditional Venezuelan Christmas songs and witnessed the sale of typical holiday food and items.
The surprising announcement came a week after the creation of the new cabinet post of Deputy Minister of Supreme Happiness, which was greeted with jeers. Now critics say that with his generous Christmas measure, President Maduro is trying to ease off growing discontent over the country's economic crisis, food shortages and the spike of crime in Caracas.
"Early Christmas is the best vaccine for whoever wants to invent, whoever wants to invent rioting and violence. Early Christmas. Those who go about in bitterness [will have] a 'villancico' from [Venezuelan composer Francisco] Pacheco, a binge to cheer the soul," Maduro said.
Venezuela's economy is increasingly struggling ahead of the Dec. 8 elections. Annual inflation is at more than 45 percent and the government is running short of foreign currency.
The oil-rich OPEC member country has been plagued by worsening power outages since 2010. The opposition blames neglect and poor maintenance, while alleging mismanagement and corruption at struggling state-owned aluminum, iron and bauxite foundries in Bolivar.
Maduro has blamed sabotage by the "extreme right" for both the blackouts and for food shortages, but he has provided no evidence.
His controversial Christmas bonus is the latest in a series of oddball moves since taking office in April. Last week, Maduro accused U.S.-based social network Twitter of colluding with his foes in a "massive attack" on his and other prominent government members' accounts.
Also last week, he said his mentor and former Venezuelan President Hugo Chávez's face briefly appeared to workers building a subway line in Caracas in the middle of the night.
And last year, Maduro made headlines across the world for saying he saw Chávez's spirit appearing to him in the shape of a bird.
Follow us on twitter.com/foxnewslatino
Like us at facebook.com/foxnewslatino