Machetero Armored Car Heist Suspect to Face Trial in Connecticut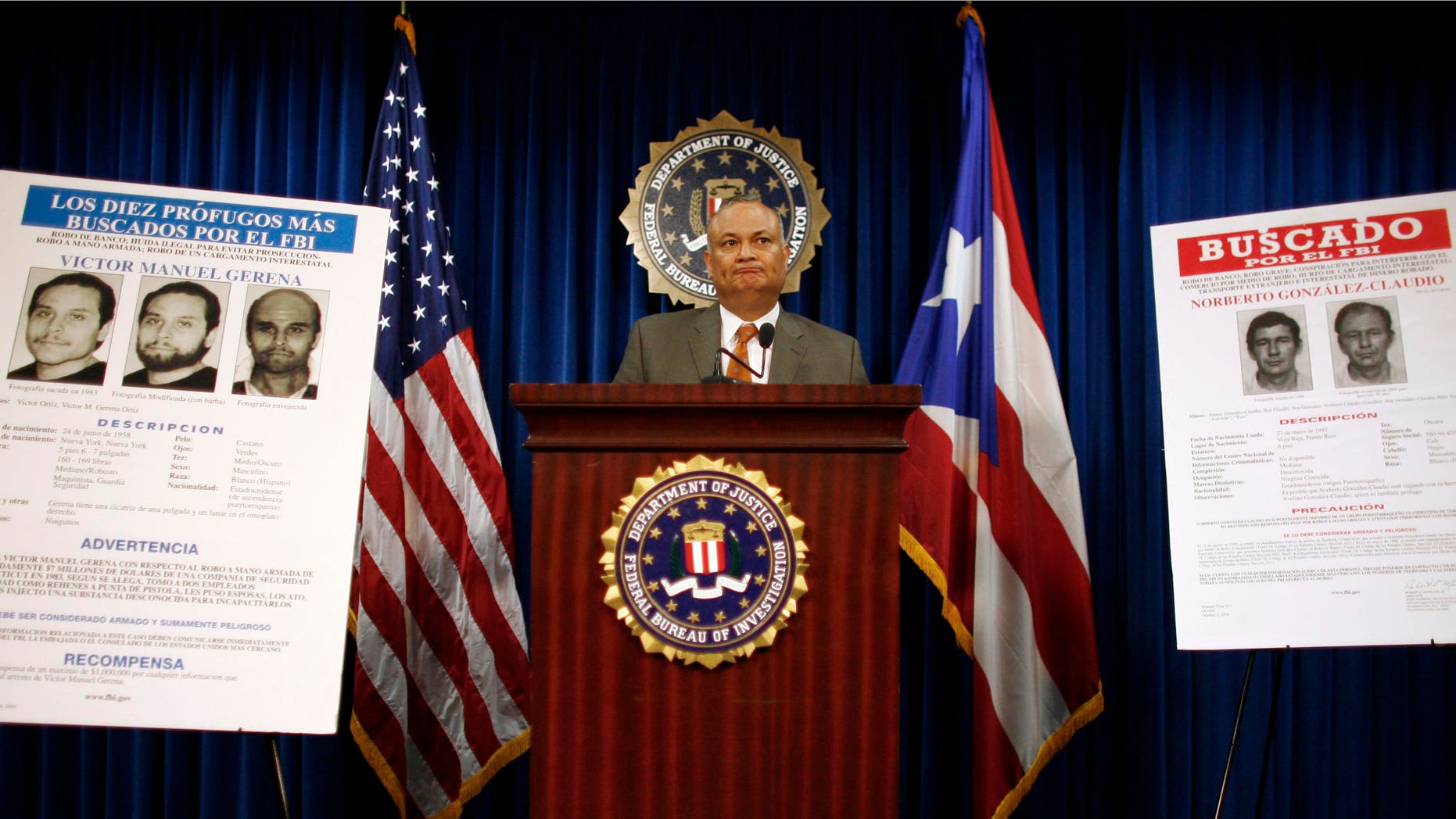 A judge has ordered a 65-year-old Puerto Rican nationalist militant sent to Connecticut to face charges in the theft of $7 million from an armored car depot in 1983. At the time, the crime was the biggest cash robbery in U.S. history.
Judge Bruce McGiverin ordered Norberto González Claudio held without bond Friday. He said González was an "overwhelming" risk of flight given his more than 25 years as a fugitive.
The FBI says González was part of Los Macheteros, whose name is translated as "Machete Wielders" or "Cane Cutters," are suspected of using the stolen money to finance bombings and attacks in their push for independence for the U.S. territory. Most of their violent activities took place in the 1970s and 1980s, including a 1979 attack on a bus carrying U.S. sailors that killed two and wounded 10.
González is suspected of helping to smuggle the stolen cash out of the U.S. mainland. He was captured Tuesday while out for a morning jog in a Puerto Rican mountain town. Inside his apartment, near his bed, agents found a submachine gun and two handguns and body armor. He was extradited to Connecticut to face charges that include bank robbery, transportation of stolen money and conspiracy.
With Gonzalez' capture, all 17 suspects in the heist have been tracked down but one: Victor Manuel Gerena, the part-time armored car guard whose mother, Gloria, was an ardent supporter of independence for Puerto Rico.
He is accused of playing the central role. But if he is in Cuba, as the FBI believes, there's little hope that authorities will catch him anytime soon.
Gerena has been on the FBI's 10 most wanted list since 1984, longer than any other fugitive. U.S. authorities say he is among dozens of American fugitives who have received sanctuary from the communist government. Cuba has long advocated for Puerto Rico's independence from the United States, and some people, including a former Cuban intelligence agent, have claimed the government of Fidel Castro helped finance the Wells Fargo heist.
As Havana and Washington take halting steps toward improved relations, U.S. authorities hope there will be an opportunity to arrest Gerena.
"That's not going to happen now, but there is always a chance to capture fugitives," said Luis Fraticelli, the special agent in charge of FBI operations in Puerto Rico.
There have been bigger cash robberies since in the U.S.: In 1997, three netted more than $17 million each, including one in Los Angeles in which $18.9 million was stolen.
West Hartford Police Chief James Strillacci, who was a young sergeant in the wealthy Hartford suburb at the time of the robbery, said he has followed the case closely even though it is in the hands of federal authorities. Since Gerena has not surfaced with any public remarks, he said it's impossible to know whether Gerena was motivated more by ideology or profit.
A former Cuban intelligence agent who defected to Europe in the 1990s, Jorge Masetti, wrote in a book and testified to U.S. authorities that the Cuban government provided $50,000 in "seed money" for the robbery. He said the loot was smuggled across the border to Mexico in a recreational vehicle, and that he was involved in shipping some of the $7 million haul from the Cuban Embassy in Mexico City to Havana. Cuban officials have dismissed his account.
Philip Peters, a Cuba analyst at the Arlington, Va.-based Lexington Institute think tank, said the U.S. State Department has protested the presence of some of its most wanted fugitives in Cuba, but it is politically awkward because Cuba would like to prosecute some people living in the U.S.
"There's no evidence of any serious negotiations going on that address the fugitives," he said.
The government in Havana did not immediately respond to a request for comment on Gerena.
The FBI has offered a $1 million reward for information leading to Gerena's capture.
Follow us on twitter.com/foxnewslatino
Like us at facebook.com/foxnewslatino