London high-rise fire: May orders public investigation as death toll rises to 17
NEWYou can now listen to Fox News articles!
British Prime Minister Theresa May on Thursday ordered a full public investigation into the London high-rise fire that killed at least 17 people, a toll that was likely to rise.
May made her announcement after she toured the devastation. She earlier had promised a "proper investigation" to the cause of the fire.
Forty-four households received emergency accommodation. Investigators said they did not expect to find anyone else alive after the blaze and that it was too early to speculate on how the inferno that engulfed the 24-floor building started.
"Tragically, now we are not expecting to find anyone else alive," Cotton told Sky News. "The severity and the heat of the fire will mean that it will be an absolute miracle for anyone to be left alive."
JAMIE OLIVER OFFERS FREE FOOD AND SHELTER TO VICTIMS OF LONDON FIRE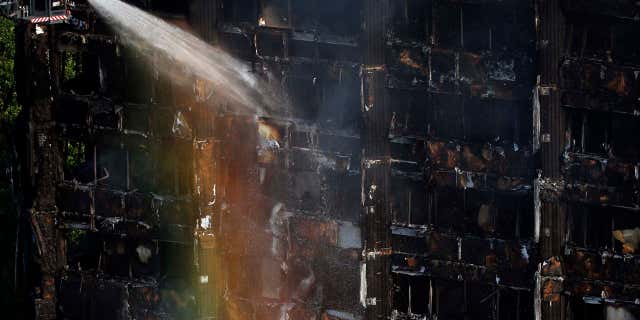 There's nothing to suggest the fire was terror-related, London police commander said. Specialist dogs will also be searching the 24-story building, according to Cotton.
Cotton added that authorities have finally extinguished the last pockets of flame and are trying to secure edges of the building for a fingertip search. Sky News reported that some parts of the building were still too hot for firefighters to go in.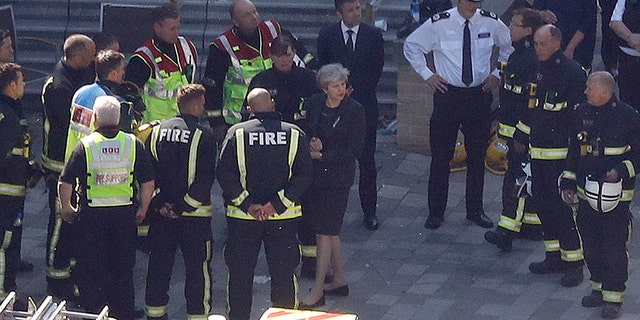 PHOTOS: MASSIVE BLAZE IN LONDON HIGH-RISE
More than 200 firefighters worked through the night and parts of the building were still seen as being unsafe. Now that the smoke has cleared, the public could only gape at the huge burned-out hulk in the working class, multi-ethnic neighborhood.
Cotton praised her crews for containing the blaze, but added they were left "traumatized" by the experience. She said firefighters witnessed people jumping and throwing their children out of the building.
Up to 600 people lived in 120 apartments in the Grenfell Tower.
Labour leader Jeremy Corbyn also toured the area on Thursday and said "the truth has got to come out and will come out" on what happened. London Mayor Sadiq Khan said before that many questions must be answered about safety for the scores of other apartment buildings around the British capital.
LONDON TOWER FIRE: WHAT DO WE KNOW?
The London Fire Brigade said it received the first reports of the blaze at 12:54 a.m. and the first engines arrived within six minutes.
Survivors told of frantic attempts to escape during the nighttime fire.
"The flames, I have never seen anything like it. It just reminded me of 9/11," said Muna Ali, 45. "The fire started on the upper floors. ... Oh my goodness, it spread so quickly. It had completely spread within half an hour."
The cause of the blaze is under investigation, but a tenants' group had complained for years about the risk of a fire.
The Associated Press contributed to this report.