Kurdish Rebels Deny Role in Terror Attack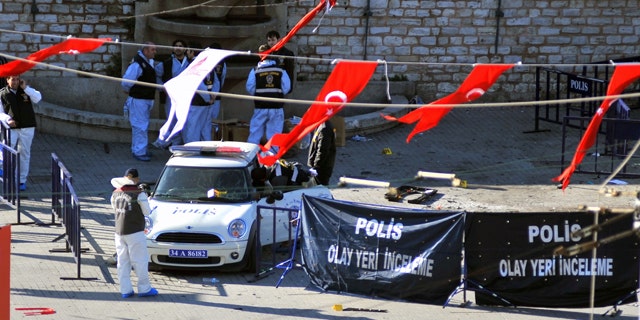 ISTANBUL – The outlawed Kurdistan Workers Party (PKK) on Monday denied responsibility for a suicide bomb attack in Istanbul that wounded 32 people and said they were extending a ceasefire until Turkey's general elections in 2011.
Officials had said the PKK, a guerrilla group that has fought a 26-year-long insurgency for autonomy in Turkey's southeast, was emerging as the most likely suspect for the bombing in Taksim Square.
Istanbul, Turkey's largest city and its financial capital, has been been targeted in the past by Kurdish separatists, al Qaeda and militants from the far-left.
"There is no way we would be involved in such an attack on a day our organization was getting ready for a step towards peace and a democratic solution," the PKK said in an e-mailed statement. It also said it was extending a month-old ceasefire that expired on Sunday until Turkey's next general elections, due to take place in June 2011.
"Neither us nor any organization linked to us have carried out or planned such an attack... We have no connection with the attack in any way," the statement said.
Small PKK cells have staged attacks in the past without authorization from PKK headquarters and splinter groups including former PKK members have carried out bombings also. The Kurdistan Freedom Hawks, a group believed to have PKK links, has claimed responsibility for urban bomb attacks in recent years.
Sunday's bomber wounded 32 people in an attack that targeted police in Istanbul's main square, a busy transport hub usually packed with tourists and shoppers. Most of the seriously wounded were police.
Interior Minister Besir Atalay told journalists no one had been detained in connection with the attack, but police had information on who may have carried it out, which would be disclosed once the authorities were sure who was to blame.
A high-ranking security officer in western Turkey told Reuters earlier that techniques used in the attack and progress in the investigation showed a "90 percent probability" the PKK was responsible.
The officer said investigators believed there was also a small chance the attack was the work of leftists, but "al Qaeda and other organizations are out of the picture."
AL QAEDA
Prime Minister Tayyip Erdogan repeated a long-standing Turkish complaint that foreign countries fail to support Ankara's fight against terrorism. Turkey complains that European countries allow free rein to Kurdish PKK sympathizers.
"In some European countries, today even, there are groups known and proven to have links to the terrorist organization which act freely under the mask of associations, foundations or the media," Erdogan said in a speech.
Al Qaeda suicide bombers carried out a series of bombings in Istanbul in November 2003 that killed 62 people.
Several Islamist militants were arrested late last month but officials have played down the likelihood of an Islamist role.
The blast coincided with arrests of 16 members of the Revolutionary People's Liberation Party/Front (DHKP/C), a leftist militant group involved in a suicide attack near Taksim Square against a police station that killed two people in 2001.
Financial markets shrugged off the bombing. The EU candidate is favored by foreign investors because of its strong growth, large domestic market and young population.
President Abdullah Gul, expressing national outrage about the attack close to the Republic Monument commemorating Turkey's founder Kemal Ataturk, said: "Today is the day for the strongest protests against terror."
(Additional reporting by Ayla Jean Yackley; Writing by Daren Butler, Ibon Villelabeitia and Simon Cameron-Moore; Editing by Louise Ireland)