It's hard keeping up with Kim Jong Un.
The North Korean despot arrived in Vietnam on Tuesday after enduring an almost 70-hour train ride through southern China, but one of his aides seemed unprepared for the big red carpet arrival.
Kim was captured on video disembarking his green-and-yellow armored train Tuesday at Dong Dang station along the China-Vietnam border and walking down a red carpet rolled out for his arrival ahead of his second summit with President Trump.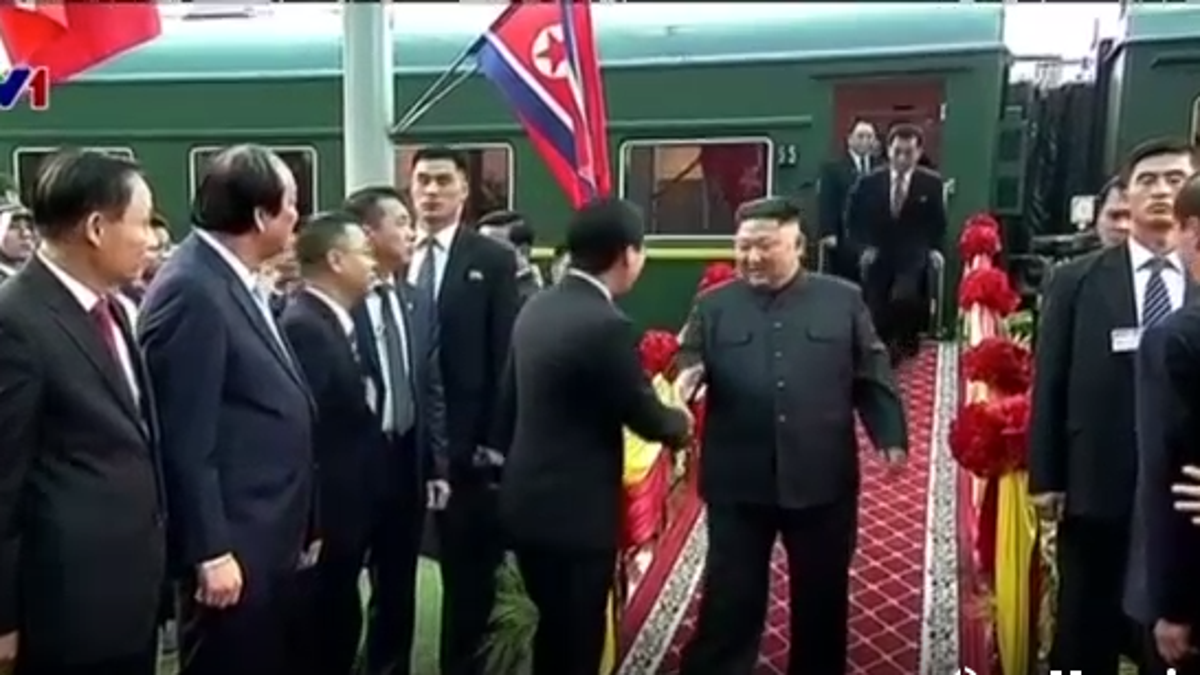 TRUMP LANDS IN VIETNAM FOR KIM JONG UN SUMMIT
As Kim stops to talk to Vietnamese officials who came to greet him, an aide is seen frantically dashing after the leader and catching up just as handshakes were being exchanged. The aide, who was identified as Kim's interpreter, appeared flustered and worried after the arrival hiccup.
TRUMP, KIM JONG UN'S VIETNAM SUMMIT JOINS LONG LIST OF KEY MOMENTS BETWEEN WORLD LEADERS: A TIMELINE
South Korean media compared the interpreter to Usain Bolt after video of his desperate sprint to catch up with Kim went viral.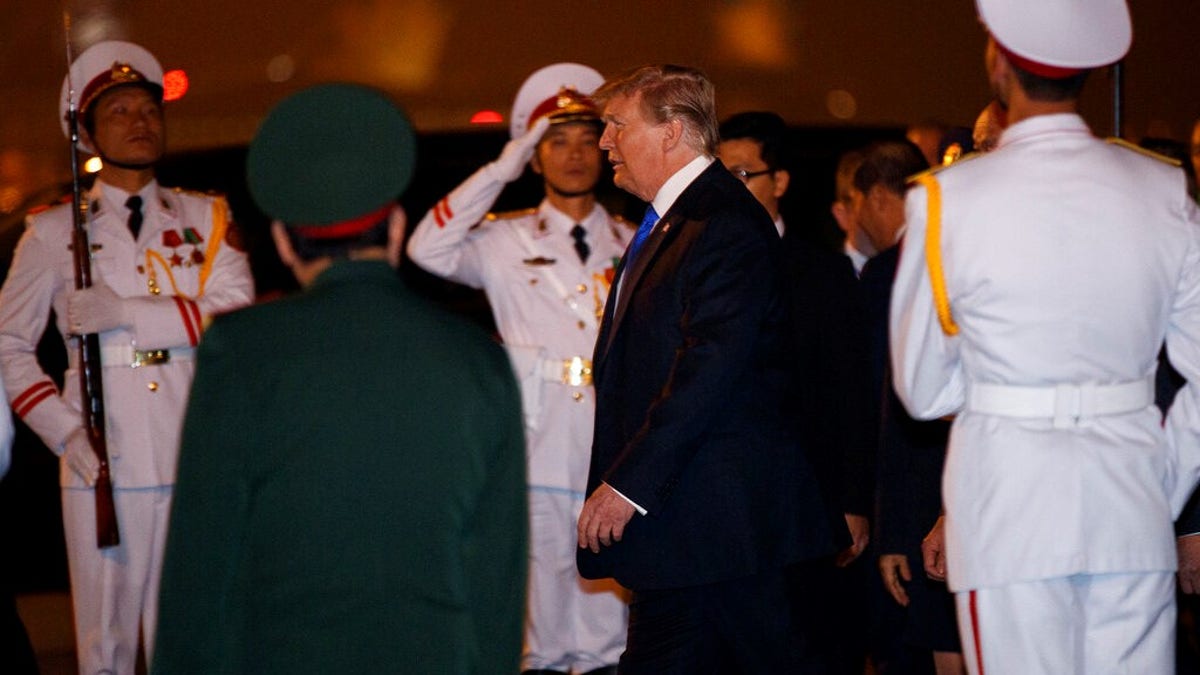 Trump landed in Hanoi Tuesday night hours after Kim's arrival. The leaders are set to meet on Wednesday and Thursday for the second U.S.-North Korea summit, where they are expected to discuss North Korea's pledge to denuclearization that reached a stalemate since the June summit. North Korea has repeatedly said it will never give up its nuclear weapons unless the U.S. removed its nuclear threat first and lift sanctions crippling its economy.
NORTH KOREA AND KIM JONG UN: MEET THE KNOWN KEY PLAYERS IN THE REGIME
Several other topics are expected to come up during the two-day summit, including bringing back the rest of the remains of U.S. soldiers killed in the Korean War. North Korea turned over 55 boxes of presumed remains of U.S. soldiers killed in the Korean War as part of the agreement from the June summit.
There's also growing speculation that Trump may offer an announcement of peace and a formal end to the Korean War if he can convince Kim to commit to denuclearization. The Korean War ended in 1953 with an armistice, essentially a cease-fire signed by North Korea, China and the 17-nation, U.S.-led United Nations Command that was supposed to be replaced by a formal peace treaty. But both sides instead settled ever deeper into Cold War hostilities marked by occasional outbreaks of violence.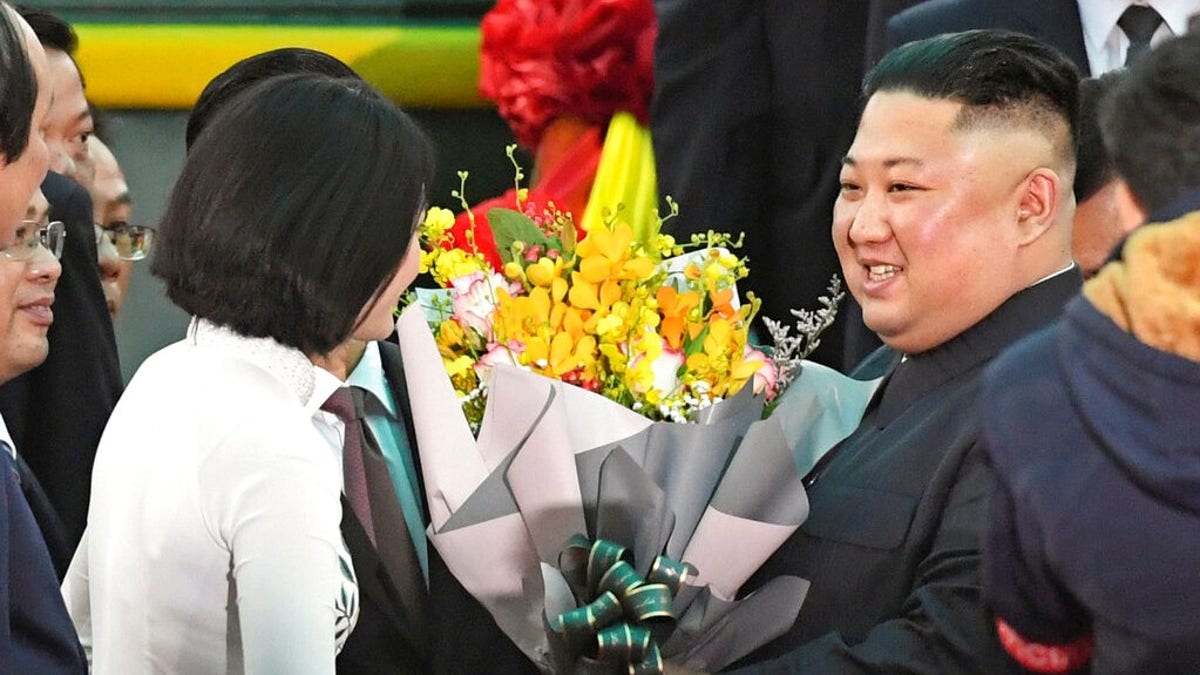 Despite the few concrete outcomes from the first historic summit, North Korea has toned down its rhetoric — relatively — toward the U.S. There has not been a missile or nuclear test for more than a year and Kim said during his New Year's Day address that his country will no longer "create, test, use, or proliferate nuclear weapons."
Trump also tweeted Monday before boarding Air Force One that he's "looking forward to a very productive summit."
Kim departed Pyongyang on Saturday by train with several officials including Kim Yong Chol, who has been a key negotiator in talks with the U.S., and Kim Yo Jong, the leader's sister. The train that reportedly travels a speed of 35 miles per hour covered nearly 2,500 miles by the time it reached the railway station.
Kim was greeted with a bouquet of flowers on a patterned red carpet lined with a Vietnamese honor guard and the five-pointed communist-starred flags of North Korea and Vietnam. He then switched to a black limousine for the final 105-mile drive to Hanoi.
The despot's entourage included his running bodyguards, who also made an appearance at the first U.S.-North Korea summit in Singapore in June. The bodyguards surrounded Kim's massive bulletproof Mercedes like a human shield as it traveled in Hanoi.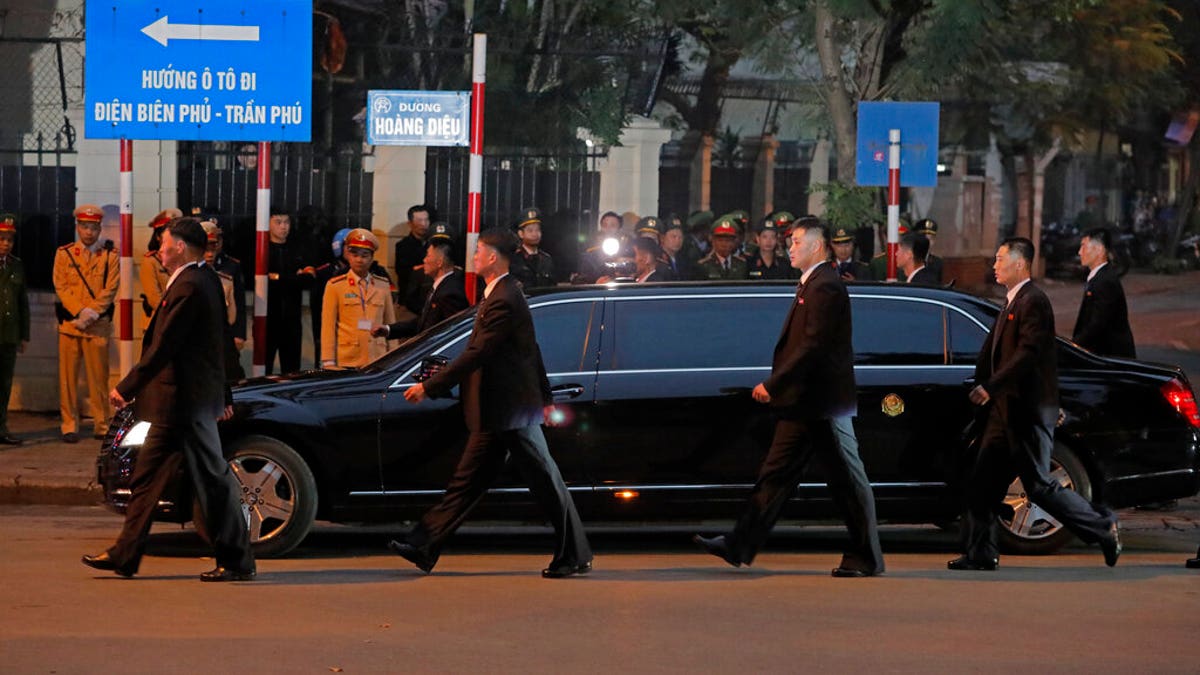 Kim's arrival also suffered another setback on Tuesday.
KIM JONG UN'S TRAIN TRAVEL TO VIETNAM HIDDEN BY CHINESE CENSORS
Just before the North Korean dictator's motorcade arrived at the Hanoi's Melia Hotel, the White House press corps was booted out of the luxury establishment and moved to a different building.
Kim was coincidentally booked to stay at Melia hotel, where the White House also made accommodations for the American reporters, cameraman and photographers. The hotel was intended to be a filing center during the summit.
The Vietnamese government then tweeted it will be moving the White House press corps to another hotel.
"FYI: the American Media Center will be relocated from Melia hotel to International Media Center at 91 Tran Hung Dao Hanoi#DPRKUSA #HanoiSummit," the tweet read.
CLICK HERE FOR THE FOX NEWS APP
Fox News' Adam Shaw, Madeline Farber and The Associated Press contributed to this report.