Kim Jong Un steps out in Singapore for night out after mysterious travel plans revealed
Kim Jong Un wasted no time checking out the Singapore nightlife after arriving in unique style for the historic summit with President Trump, stepping out late Monday night local time with a phalanx of North Korean wingmen.
Video of the portly potentate prowling the streets of the host city was released live, and showed Kim greeting tourists, taking selfies and visiting sights in the late evening after leaving St. Regis Hotel. The dictator rarely ventures out of the Hermit Kingdom, and has never traveled out of the country in the style seen on the current trip.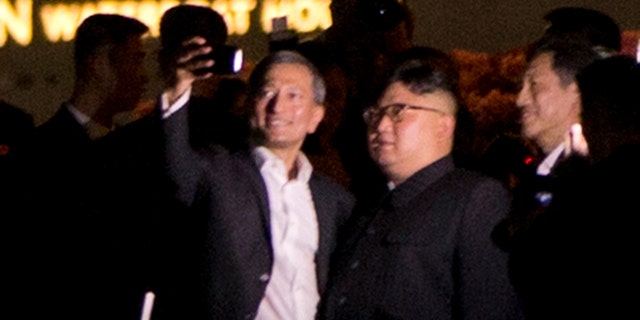 Kim went to the Flower Dome at Gardens by the Bay in Singapore, accompanied with Singapore Foreign Minister Vivian Balakrishnan and Education Minister Ong Ye Kung. Balakrishnan posted a selfie of the trio on Facebook with the caption: "#Jalanjalan #guesswhere?"
KIM JONG UN TERRIFIED SOMEONE WILL KILL HIM AT SINGAPORE SUMMIT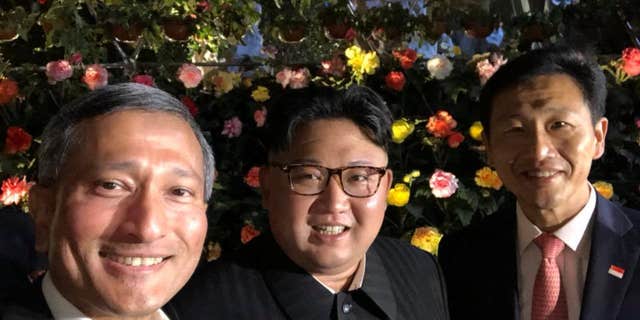 Kim's sister Kim Yo Jong and other top deputies joined the North Korean leader to visit the observation deck at the Marina Bay Sands integrated resorts. His mini tour of Singapore's iconic attractions came to and end around 11:20 p.m., when he returned to the luxury hotel, the Singapore Straits Times reported.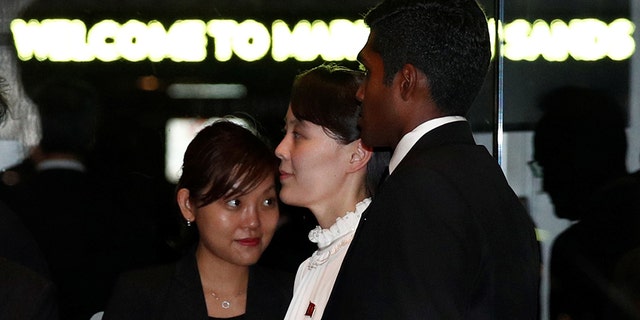 Kim arrived at Changi Airport on Sunday after boarding an Air China Boeing 747 plane in Pyongyang, Yonhap News Agency reported. Though the despot's travels were largely publicized upon his arrival for the historic summit with President Trump, details about his departure remained shrouded in secrecy, especially in North Korea, until Monday.
"Tension was very high in North Korea, hence the secrecy," a diplomatic source told Chosun Ilbo on Monday.
TRUMP TO MEET KIM JONG UN FOR ONE-ON-ONE AT HISTORIC SUMMIT
The regime's Korean Central News Agency revealed Kim used a Chinese charter plane with a Chinese flag displayed on the aircraft, which made it appear a Chinese official was on board. The plane was one of three that departed within an hour — a maneuver believed to throw off enemies looking to take down Kim's aircraft, Chosun Ilbo reported.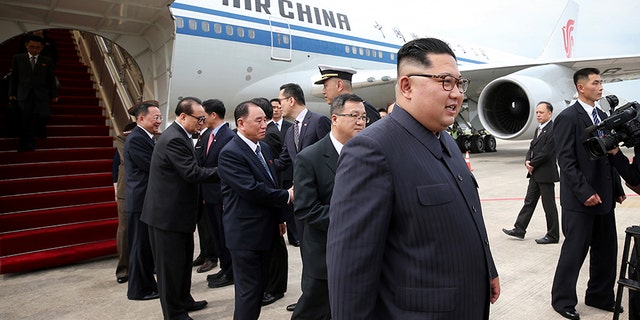 Analysts also told Yonhap it was unusual for North Korean leaders to reveal what type of plane was used for travel.
"Kim who is known as a reasonable leader may have accepted his advisers' recommendations to prioritize safety in aviation," Yang Moo-jin, a professor at Seoul's University of North Korean Studies, told the South Korean news site. "In addition, the charter of a Chinese airplane may have an effect of publicizing China's active support and cooperation to the North Korean people ahead of summit talks with the U.S."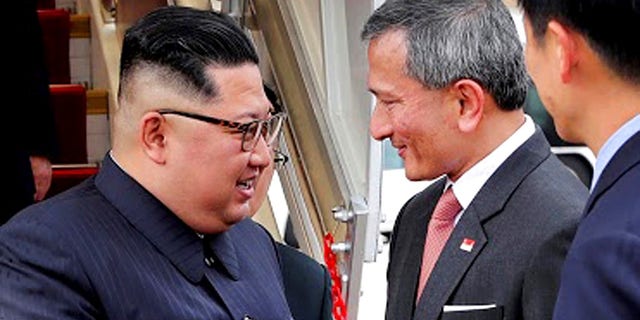 Data also showed the Air China plane had traveled mostly over China, rather the usual route of flying over the ocean, according to Singapore Straits Times.
KIM JONG UN'S LIMOUSINE IS A PORTABLE POTTY IN DISGUISE, REPORTS SAY
One of the planes that departed North Korea was an IL-76 transport plane that brought a bullet-proof limousine and portable toilet for the despot, Chosun Ilbo reported. The despot reportedly brings his own toilet for long trips.
Keeping Kim's stool out of others' reach also prevents details about his health status from leaking to the public, Lee Yun-keol, a North Korean defector who was previously a North Korean Guard Command unit, told the Washington Post.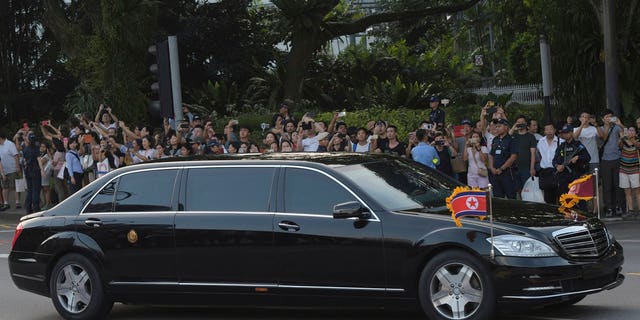 "Rather than using a public restroom, the leader of North Korea has a personal toilet that follows him around when he travels," Lee said. "The leader's excretions contain information about his health status so they can't be left behind."
KIM JONG UN'S RUNNING BODYGUARDS BACK IN ACTION IN SINGAPORE FOR US-NORTH KOREA SUMMIT
Kim and Trump are planning to meet one-on-one on Tuesday. They will be joined only by translators and will spend a couple of hours before admitting their close advisers to the meeting.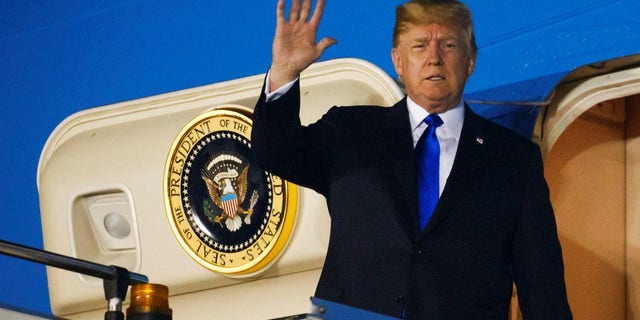 The White House announced Monday nuclear talks with North Korea have moved "more quickly than expected." Trump is planning to fly back to Washington earlier than expected, departing 8 p.m. Tuesday rather than Wednesday morning.
The summit is the first ever between a sitting American president and North Korea's leader. Trump on Monday forecast a "nice" outcome, while Kim spent the day out of view.
The Associated Press contributed to this report.