Jurors in murder trial of former Patriots player Aaron Hernandez expected to begin deliberations this week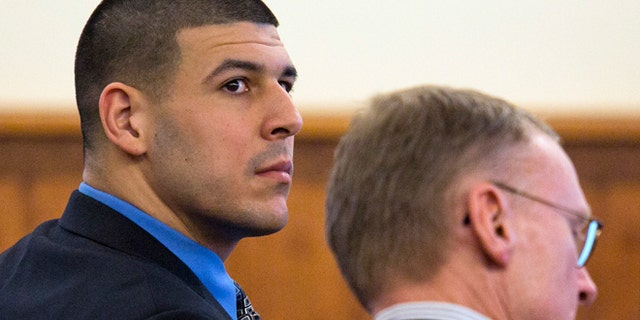 NEWYou can now listen to Fox News articles!
FALL RIVER, Mass. (AP) – Jurors in the murder trial of former New England Patriots tight end Aaron Hernandez are expected to begin deliberations this week after hearing more than two months of testimony.
Hernandez, 25, had a $40 million contract with the Patriots and was a rising star with the team when he was accused of killing Odin Lloyd. Lloyd, 27, was dating the sister of Hernandez's fiancee and was found shot to death on June 17, 2013, in an industrial park less than a mile from Hernandez's North Attleborough home.
Police almost immediately zeroed in on Hernandez after finding keys to an SUV he had rented in Lloyd's pocket.
___
THE CASE AGAINST HIM
Prosecutors say Hernandez orchestrated the killing.
They say he summoned two friends from Connecticut on Father's Day, drove a rented silver Nissan Altima to Lloyd's home in Boston, picked him up in the dead of night and drove him to the industrial park, where one of the three men shot Lloyd six times.
While prosecutors presented no witnesses of the shooting and never found the murder weapon, cellphone records showed the men communicating with Lloyd that night. Surveillance video along the way showed Hernandez driving the Nissan shortly before Lloyd's sister saw him get into a silver car, a moment captured on a neighbor's security camera. Soon after, a toll booth camera caught the Nissan leaving Boston, while Lloyd's phone pinged several cell towers before stopping in North Attleborough for good.
Surveillance video at Hernandez's home showed him holding a black item that appeared to be a gun minutes after workers at the industrial park heard gunshots. A joint found near Lloyd's body had Hernandez's and Lloyd's DNA on it.
___
HIS DEFENSE
Prosecutors never presented a motive. Jurors heard from one witness that Hernandez seemed upset with Lloyd at a nightclub two nights before the killing, and a valet at a nearby hotel testified he saw Hernandez with a gun in his waistband. But prosecutors never explained why he was upset, or why he would put his NFL career on the line by committing murder.
The defense has tried to portray the two men as friends, questioning why Hernandez would kill a man referred to as "the blunt master," who shared his love of marijuana and who could someday have been his brother-in-law. The prosecution has pushed back against that notion, with Lloyd's friends and family testifying that the two were not close.
Hernandez's lawyers have also focused on what they have painted as sloppiness and lapses on the part of investigators, including in their handling of one shell casing that had Hernandez's DNA on it. A state police crime lab scientist acknowledged it could have been contaminated by chewed blue bubble gum that was stuck to it before it was found by police.
___
THE BOSTON CASE
Even if he is found not guilty in Lloyd's killing, Hernandez will not be released from custody. He has pleaded not guilty in a 2012 double slaying in Boston. In that case, prosecutors say Hernandez shot two men after one of them accidentally spilled a drink on him in a nightclub. Police did not connect Hernandez to the Boston case until after Lloyd's killing.
Prosecutors tried to use the Boston case in the Lloyd trial, suggesting Hernandez might have killed Lloyd because he knew something about it. The judge wouldn't allow it.
A trial date in Boston has not been set.
___
THE JURY
The 10 women and 5 men who remain on the jury have appeared engaged and interested during the trial. Twelve will be asked to decide whether Hernandez is guilty. Three will be randomly chosen as alternates immediately before deliberations begin. The judge has said she expects jurors to receive the case on Tuesday or Wednesday, after the defense rests and both sides deliver closing arguments.
Like us on Facebook
Follow us on Twitter & Instagram