Joseph Kony's first-born son seeks to reunite with warlord father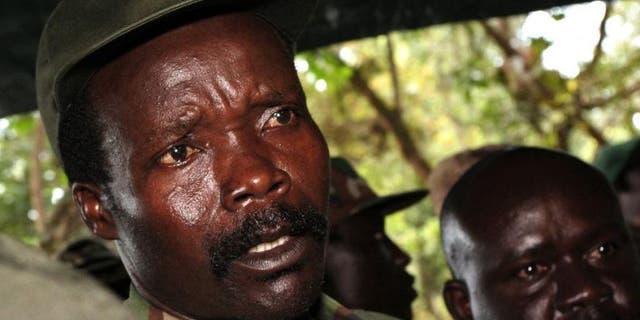 NEWYou can now listen to Fox News articles!
As the first-born son of Joseph Kony, Moses Rubanga Kene is still paying for the sins of his father — but that hasn't stopped him from loving the Ugandan warlord.
"Your father can do things that are not good, but still he remains your father," Moses told the Daily Beast in an interview published Tuesday. "And I love him like other people love their fathers."
Speaking publicly for the first time ever, Moses opened up about his life in Uganda during his dad's infamous reign of terror in the 1990s and 2000s when he was leader of the Lord's Resistance Army.
The 26-year-old said that while most people would likely stay away from his father, he hopes to eventually see Kony again one day now that Uganda and the US have ended their decades-long hunt for him.
"I believe he will come out of the bush," Moses said. "I have hope."
With years of atrocities still fresh in his mind, Moses described how he and his mother were forced to deal with the fallout from Kony's crusade of death — despite living in another part of the country at the time.
"Since the war hurt so many people, they look at Joseph Kony's family as a family of murderers, as a family that don't deserve to live," Moses said. "The best thing I can do nowadays is try to keep my identity discreet…Because people will start pointing fingers, start discriminating."
Moses told the Daily Beast that Kony sent him away in the early 1990s to northern Uganda, where he learned about his dad's brutal ways through word of mouth.
"They said, being the first born, I'm going to grow up just like my father," recalled Moses.
He said his mother was repeatedly thrown behind bars and abused when he was a child as a result of her relationship with Kony.
"She was being arrested here and there. You know, accusations of being a collaborator with the rebels," Moses said.
On one occasion, soldiers from the Ugandan military came looking for Moses when he was a kid — in hopes of burning him alive — but by the "grace of God," he said someone stepped in and saved him.
Moses' mother, who was abducted by the LRA as a teenager and forced to be Kony's "wife," was not so lucky.
According to the Daily Beast, she was physically abused by Ugandan soldiers for years and raped by them on numerous occasions. She later died from AIDS when Moses was just 8-years-old.
"My mum was really happy and she loved people," Moses said. "She loved bringing people together, sharing stories, laughing. Those are the memories I have of her."
Moses has reportedly met Kony at least two times in the past. The last encounter they had together came during peace talks with the LRA in modern-day South Sudan, sometime between 2006 and 2008, when Moses was a teen.
"He wanted to see me and know I was being treated well and I was alive," Moses remembered. "He was asking about studies, he was advising me that my future lies in education, that I need to study hard."
While Moses hopes to see his dad again one day, he understands that war has likely changed him forever.
"I don't agree with his actions, the things he did," Moses said. "The only person who can really explain it is him."
He added, "I say: 'God, I didn't ask to be like this, it was all your plan.' So I just ask God to give me the strength to keep going on and keep progressing in life."
Click for more from the New York Post.